The Silence's message is so overpowering, so overwhelming that a stellar cast, with all its charisma, aura and star power, pales in comparison to the subject at hand.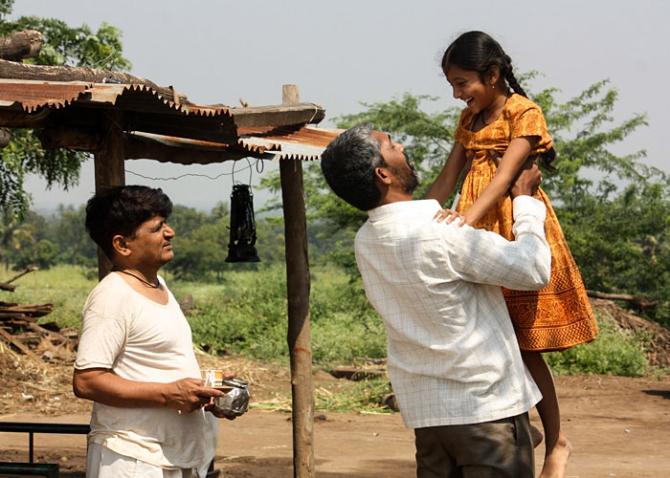 Director Gajendra Ahire's The Silence tells a poignant tale of a 12-year-old girl who is sexually molested, her struggle to cope with it, and her breaking the silence to overcome it. It makes for a compelling watch, especially for parents with adolescent girls and for women who may have faced sexual harassment from their family members, including spouses, and colleagues at work.
Through the characters of Chini (played by Vedashree Mahajan and Mugdha Chaphekar), her elder sister Manda (Kadambari Kadam), and Chini's Mami (Anjali Patil), Ahire paints a wide canvas of how women at every stage of their lives fall prey to violence: physical, mental, sexual and verbal.
Throughout the film, Ahire hammers the fact that rape or sexual assault is not about sexual satisfaction: It is about opportunity, power and misogyny.
Give any normal male -- it could be anybody: your mother's brother, your father's brother, distant uncle, neighbour, watchman -- an opportunity to unleash his carnal instincts and he will become a molester. The degree of severity can change depending upon how vulnerable the prey is and the circumstances at that point in time.
The Silence's Chini, who has had her first period, is sent to her mama's home (Nagraj Manjule) by her widowed father (Raghuvir Yadav).
Manjule takes the girl home in a bus. There are people around and he behaves normal. Later, he takes his niece to a fair, where he again behaves like the normal, playful uncle.
And then he takes Chini to his godown and the monster within takes over.
He knows there is nobody lurking around.
He knows his niece is vulnerable.
He knows his niece, at such a tender age, will not have the courage to speak out against her mother's brother's atrocities.
So he takes advantage of the situation.
Ahire stresses the reality that given an opportunity, a rapist within a male surfaces in no time.
There is no graphic rape scene but the mumbled cries of the innocent Chini, sleeping next to her mami later that night, even as her rapist mama sleeps atop a bed -- women on the floor and men on the bed again symbolises the divide -- is quite chilling.
Earlier, when Chini enters her mama's godown, the flutter of the pigeons' wings is equally chilling and portends what's likely to befall her.
This is where Ahire uses all his experience as a director -- with 42 films under his belt, many them award-winning -- to lay bare the fate of women as sexual objects.
Though Manda, facing sexual harassment at her workplace, and Chini's mami facing sexual and physical violence at her husband's hand, do touch upon how women are treated in contemporary Indian society, The Silence focuses on Chini's story.
Based on a true story, The Silence shuffles between flashbacks as a young Chini witnesses a sexual assault on a Mumbai local train and her past flies past her eyes.
The assaulter, a normal office-goer like you and me, senses an easy opportunity -- a lone female passenger in the ladies' compartment -- pins her down and lets himself loose upon her.
This reminds Chini of her own demons that she must silence to lead a normal life along with her sister in Mumbai.
In both the cases, and through the length of the film, Ahire hammers the fact forcefully that given an opportunity, any normal male can become a molester.
Aiding Ahire's direction brilliantly is the dialogues and screenplay by the director himself and producer Ashwini Sidwani.
All the producers, including Sidwani, Arpan Bhukanwala and Navneet Moradabadi, must be applauded for backing a project that might not rattle the box office but even then, have soldiered on to bring this harrowing story on screen and create an awareness about the sexual exploitation of women at home, workplace and within the confines of societal contracts like marriages.
Films like The Silence need to be made regularly to bring out the dangerous, unpalatable reality that monsters like Chini's mama are no more hidden in dark alleys, waiting for their prey.
These predators have now come out in the open, encouraged by centuries of women's exploitation and objectification. And they are not strangers but someone known to you, someone you trust blindly.
Films like The Silence need to be made also to bring out the fact that women no more are taking it lying down.
The Silence is the tale of three gutsy women, who break their silence when faced with sexual exploitation and misogyny. The film must be applauded for its nuanced treatment of a subject that is always shoved under the table.
Rediff Rating: