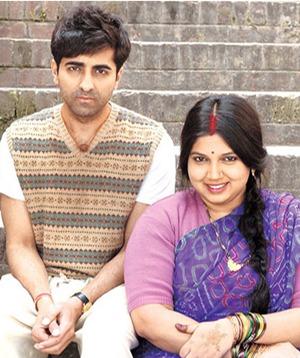 And it all looks like warm, well-written fun!


The very idea of an overweight romance is, tragically enough, an unconventional one for the movies; no matter what all those Sonakshi Sinha hits say, we're supposed to pretend they don't count.

Yash Raj Films seem to be, however, pulling out the stops in putting together a flavourful comedic ensemble for their latest, Dum Laga Ke Haisha.

Starring Ayushmann Khurrana and newcomer Bhumi Pednekar, the new film directed by Sharat Katariya and produced by Band Baaja Baraat director Maneesh Sharma, looks to be a Haridwar-set comedy about a sassy girl of a significant size wedded to a sheepish boy who can't quite measure up to her.

He hates examinations, she wants to be a schoolteacher, but despite their diametrically opposed natures, he has to participate in a wife-carrying race with her piggybacked to him.

It all looks like warm, well-written fun -- not least because Sanjay Mishra is in the midst of it all, making Juhi Chawla jokes.

Super.

Dum Laga Ke Haisha releases February 27, 2015.