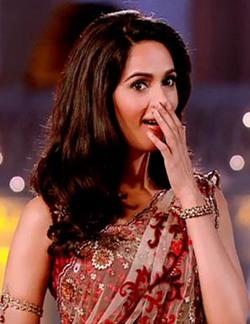 Bachelorette India: Mere Khayalon Ki Mallika, as bad as it is, doesn't stand to score even on the counts of being unintentionally funny because it reeks of desperation, feels Nishi Tiwari.

How did it get to this?

When Mallika Sherawat burst on the silver screen with her 2003 Hindi film debut Khwahish -- a film that unabashedly cashed in on her bold image and 17 onscreen kisses -- she became an overnight star.

She scaled greater heights with Mahesh Bhatt's super successful raunchy thriller Murder in 2004.

But it wasn't just her unabashed sexuality that got her all the attention.

For one, she didn't act coy even in real life and spoke freely about the patriarchal family she came from and how her decision to make a career in Bollywood led her conservative Haryanvi father to disown her.

So instead of writing her off, we waited for the determined, free-spirited, spunky, supposedly talented Mallika to shine, you know, as an actress.

Unfortunately, all we got was a bunch of bad films, embarrassing red carpet appearances at international events, awkward pictures with Hollywood A-listers she bumped into during her brief Los Angeles sojourn and suchlike.

Think all that was cringe-worthy? It did not even match the inaugural episode of Mallika's television debut, Bachelorette India: Mere Khayalon Ki Mallika, last night.

With this reality show that airs on Life OK, the actress follows in the footsteps of such Indian television luminaries like Rakhi Sawant, Rahul Mahajan and Ratan Rajput, who starred in similar shows to find their real life soulmates.

Hosted by actor Rohit Roy on a set so magnificent, it may shame Sanjay Leela Bhansali's art director, Bachelorette India's inaugural episode pushed for the single most pertinent question to be asked at this point: How much of Mallika can one take in a day?
The 'karodon dilon ki aur husn ki' Mallika arrives on a scooter a few minutes after we're made to believe that she's inside a palanquin on a decorated elephant, because she must constantly break the mould.
The show begins with Roy addressing questions skeptics are asking about the show.
Is it scripted? Why is she doing it? Is it for publicity?
Mallika answers all the questions with a hurt expression on her face because she really is looking for normalcy in her life, since, in her own words, her world is a 'make-believe.'
And what better way to find a normal relationship than going on dates and trying to get to know a person on national television, right?
Her suitors are just as articulate -- all 30 of them -- they greet her individually with 'You're so beautiful,' while she looks at them with vacant eyes.
If you ever questioned Ms Sherawat's acting abilities, this show will put all your doubts to rest.
No matter how hard she tries to respond naturally to praise, surprises and 'unforeseen' glitches, it seems painfully forced.
She smiles through even the cheesiest opening lines that the contenders throw at her. Sample this: Aapke papa chor hain kya? Kyunki aisa lagta hai ki unhone aasman se do tare chura ke aapki aankhon mein daal diye hain (Is your father a thief? Because it seems like he stole two stars from the sky and put them in your eyes).

The next contestant, presumably anxious himself, asks Mallika after exchanging pleasantries if she's nervous.
Another hopeful, 63-year-old Mr Batra brings a set of self-help books for her and instantly wins brownie points.
All of them are awkward, anxious and comically clueless which would be fine if they at least managed to stand out. Unfortunately for them, they don't.

Also unfortunate is the fact that the show, as bad as it is, doesn't stand to score even on the counts of being unintentionally funny because it reeks of desperation.
If you watch reality shows solely to hone your trolling skills, Mallika Sherawat and her new show are treasure troves you can't afford to miss.
Rediff Rating: