A great premise is squandered with a soapy ending. Still, it is definitely a one-time watch, states Prateek Sur.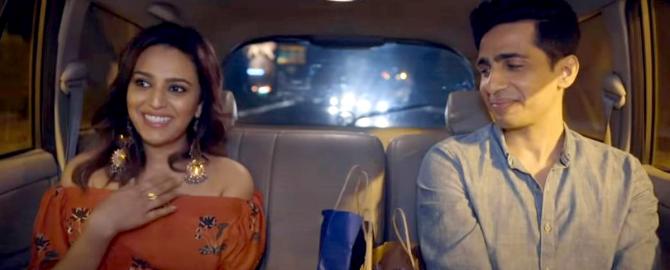 We have all wanted to have one last meeting with our exes, where we could discuss what really went wrong.
It never happens in real life, but Shashank S Singh's directorial Dobara Alvida makes this fantasy come alive -- two exes come face to face in a shared cab.
They have no place else to go and are stuck together for the entirety of the cab ride.
Will they sort out their differences?
Will they end up hating each other even more?
Will they ignore each other?
Well, that's what the plot holds for you.
Gulshan Devaiah and Swara Bhasker are in their usual form. Their body of word is so vastly different from the common rut of actors that they immediately connect with you with their relatable characters.
The storytelling by writer-director Shashank S Singh is brilliant.
In a cab journey, he makes two characters fall in love, fight and break up but on an amicable note.
What's great about the shoot is that despite being former lovers, there is not a single instance where flashbacks of their romantic times are shown.
What the makers didn't get right was the climax.
The title track, by Krsna Solo, is a good song, but placing that song at the climax, without any dialogue, makes the story fall flat.
To add to this, you have the introduction of flashback scenes from 5 minutes ago of the same cab ride. There was absolutely no need to show those scenes in sepia as flashbacks.
Deepak Nambiar's cinematography could have been extraordinary with varied shots of the cab from different angles but sadly, we have just the same shots of the protagonists inside the cab.
The editing by Manas Mittal is crisp and it makes sure that the story never sags.
Dobara Alvida may have a clichéd title but it has a simple premise that could have been explored a lot more than what Singh does.
Had the treatment of the climax not been one of the most stereotypical ones, this would have been one of the best large short films.
Sadly, a great premise is squandered with a soapy ending. Still, it is definitely a one-time watch.
Dobara Alvida streams on YouTube.
Rediff Rating: