There is action, drama, emotion, comedy -- everything in equal measure and lots of stylish sequences featuring Rajinikanth.
Clearly, Darbar is a visual treat for fans, says Divya Nair.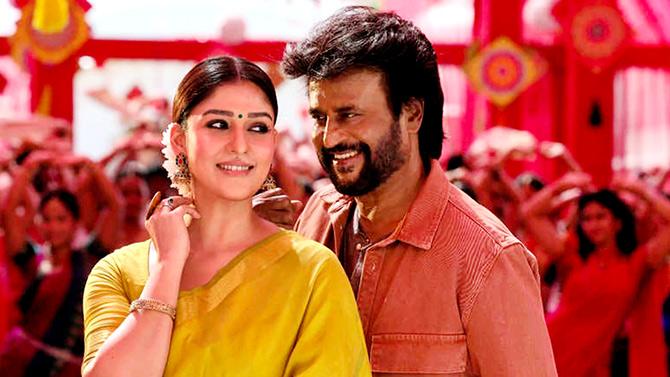 I am sorry Rajini Sir, I watched your movie in a multiplex and not in an old-fashioned single screen theatre. I am apologetic because the experience can never be the same.
As a true fan, I found it boring to enter the multiplex, show my ticket, sit back and watch the film without any interruptions or whistling.
I really missed the ceremonial paal abhishegam, celebratory dance and drum beats before entering the theatre. (Click here to see what we mean)
The INOX theatre in Kalyan, where I watched the film, had a disappointing crowd of 20 to 30 people -- these were mostly office-goers who had requested a half day from work and some who had brought along their enthusiastic mothers. More than 80 per cent of the theatre was empty, which may not have been the case in Aurora, Mumbai.
In Darbar (meaning court), Rajinikanth plays Adithya Arunasalam, a single father and a 'mad cop' (technically, the Mumbai police commissioner) with three rules:
1. He will not leave a job assigned to him midway until he decides it is complete.
2. He will not spare anyone who will come in the way of his duty.
3. He will not shave his beard until he completes his assignment.
The last one may be insignificant because Thalaivar has a beard almost throughout the movie.
When Adithya nabs his first big criminal Ajay Malhotra (Prateik Babar), a drug dealer who also sends innocent girls into flesh trade -- you want to rejoice with Adithya and co. But soon, you will realise that the cops have only scratched the surface, and Ajay Malhotra is not the real villain.
There are several plot twists and a poorly sketched out backstory to tease and thrill you.
The first half, punctuated with gravity defying action sequences and punchy dialogues rendered by the hero cop, will definitely entertain you.
Rajini establishes that he's not your regular lovable cop who does all the things audience love.
Unlike most of his films where violence and action were restricted to blood-stained clothes, the sound of bullets, weapons and cracked bones, Darbar makes an exception and shows you amputated body parts.
He will break rules or rewrite them and stop at nothing if someone messes with his family, comprising of his daughter, and the police fraternity.
Thalaivar even references the late M G Ramachandran, when he says: 'In some of his films, MGR would take the first three hits from the enemy -- not to add to the thrill, as the audience would like to imagine -- but to gauge the enemy's strength, understand who their allies are and strike back with the correct strategy.'
Suniel Shetty, as the villain, is no match for Rajini's grandeur and charisma, but he tries his best to keep up with menacing gimmicks.
Director A R Murugadoss deserves applause for mostly sticking to the plot. He could have cut the movie by 20-30 minutes if he had done away with unnecessary song and dance sequences.
For example, what was the point of having Thalaivar sing and dance to a lame song with a bunch of background dancers when he was actually called to locate a girl's missing gold chain?
There are some positives as well.
After a long time, we get to see some comic relief in the form of Rajini wooing Nayanthara, with help from Yogi Babu. A good looking lady has always been Thalaivar's weakness in all his films -- it brings out his shy, childlike demeanour, portraying him as a romantic hero.
Sadly, the music by Anirudh Ravichander fails to evoke any magic. Unlike Kaala, where the lyrics had so much to express, Darbar's songs and lyrics are easily forgettable.
Overall, the makers have tried to incorporate everything that makes a masala entertainer in Darbar, and are largely successful. There is action, drama, emotion, comedy -- everything in equal measure and lots of stylish sequences featuring Rajinikanth. Clearly, Darbar is a visual treat for fans.
You will walk out of the theatre wondering how this 69 year old looks so young and charismatic and carry a film like this on his shoulders.
Rajini has an answer for that in the film: 'Namburavangalikku vayasu verum oru number (to those who truly believe, age is just a number).'
Whether or not Darbar becomes a hit, Rajinikanth proves there is no entertainer like him.
Rediff Rating:

---
Divya Nair spurned an acting career to become a journalist. While she is not working on Rediff features or playing with her two-year-old son, Divya catches up on Malayalam and Tamil movies. She can be reached at divyan@rediff.co.in