Dabangg 3 is the kind of indulgent rubbish that dispels the fundamentals of film-making to highlight its hero's virtue and vigour at any cost, sighs Sukanya Verma.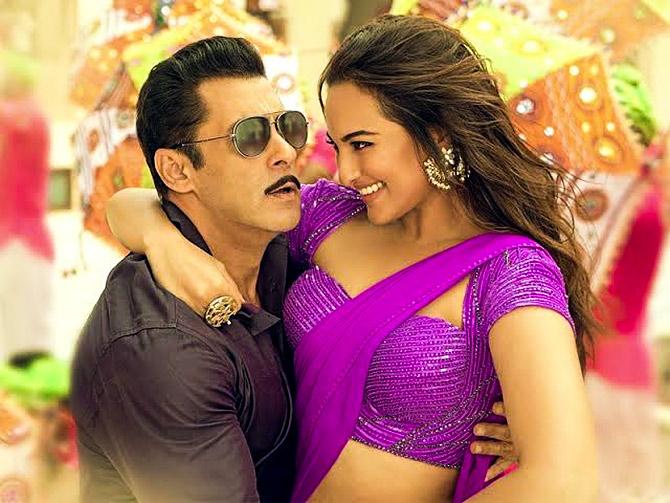 When the Abhinav Kashyap-directed Dabangg came out in 2010, Salman Khan's flippant, brash, disposition proved to be a delightful fit for the comic chops and audacious antics of cop Chulbul Pandey.
With a punch and a line, 'Robin hood' Pandey swaggered his way into pop culture.
Two years later, its sequel by producer turned director Arbaaz Khan cashed on its popularity by playing so spectacularly safe, what emerged was all too formulaic if not entirely futile thanks to Bhai full steam.
Seven years down the line, the darling of the frontbenchers has repeated the gig so many times over in slow-motion, presuming schlock like Dabangg 3 will carry forward Chulbul Pandey's legacy is beyond foolhardy.
In the latest, auto-piloted by Prabhudeva, the 50-plus superstar takes off his shirt, takes off his pants too. But the only thing he bares is a desperation to succeed.
Trapped in an image puffed up beyond recognition, Salman now plays a version of what's expected out of him. It's as exciting as watching Om Shiv Puri.
Once a picture of spontaneous tomfoolery, Chulbul Pandey's frivolous fun is reduced to a wind-up toy whose manual reads fight, dance, jest, repeat.
A shoddily put together mess, of which Salman and Prabhudeva share screenplay credits, Dabangg 3 is the kind of indulgent rubbish that dispels the fundamentals of film-making to highlight its hero's virtue and vigour at any cost.
Its action amounts to forcefully drawn fights where threats look like gym subscription flyers and confrontation a VFX-aided duel.
Random gyaan slips into the dialogues commenting on everything from dowry, gutkaa, paan, paani. Dolly Bindra is whacked and winks to make no point. A battery of cops growls or groans to make Pandey look good.
The goon with a Wanted mobile ringtone shows up like a wall lizard to make a joke nobody gets.
Vinod Khanna's younger brother Pramod stands in for his late sibling to bizarre effect. Salman's younger brother Arbaaz repeats his Loki behaviour to no effect.
Salman and Sonakshi's still-to-be-potty-trained seven-year-old son wants to watch his uncle do the deed. And wit like 'why are you carrying a gulab jamun in your pocket?' occupies its innuendo-heavy writing.
Lacking the calibre to create something fresh, the makers pick on the most popular attributes of the original -- the catchy dialogues, the quirky name by scribbling the sloppiest possible Chulbul Pandey origins that does little besides prolong the Dabangg 3 torture to nearly three hours long.
What ensues is a flashback resembling banian ads featuring a wrinkle-free Salman doing his bit for Beti Bachao Beti Padhao except the contender (a suitably doe-eyed Saiee Manjrekar) of this slogan is intended as more biwi than beti.
There's also Sudeep, his foreboding presence spills over from past to present, as the proverbial bane of Chulbul's existence. Except his villainy is so embarrassing in its provocation, the only thing you notice is his designer belt fetish.
Sonakshi Sinha's catchy 'thapad' line in the first Dabangg underlined her hit debut. In Dabangg 3, she is the only one to say the most meaningful thing ever said in this movie -- 'News nahi padhte?' She's right.
The real dabangg folk are out there on the street while the make-believe hero has long overstayed his swagat.
Rediff Rating:

---
Sukanya Verma is the Principal Movie Reviewer for Rediff.com.
She can be contacted at mailto_sukanyaverma@rediffmail.com
---