The Yami Gautam-Sunny Kaushal starrer has enough twists and turns to keep you engrossed, observes Namrata Thakker.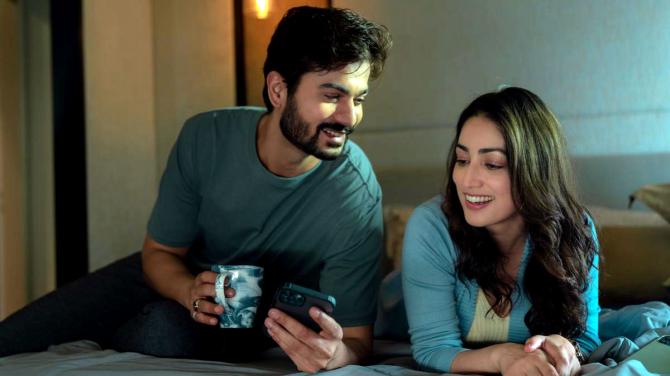 Ankit Sethi (Sunny Kaushal) is a businessman, who deals in diamonds. Neha Grover (Yami Gautam) is an air-hostess, who falls in love with him.
But the way their love story unfolds isn't interesting and neither is their chemistry on screen.
Anyway, Ankit and Neha's love life hits a rough patch when he gets embroiled in a money matter involving badass goons.
Ankit tries to handle the situation, but fails. When there's no option left, Neha agrees to steal diamonds to pay off Ankit's debt.
Ankit and Neha decide to carry out their plan mid-air while flying from Al-Barkat to Delhi. But things go awry when their flight gets hijacked by terrorists.
Do Ankit and Neha succeed in their diamond heist? Or does the hijack ruin their planning?
You have to watch the movie to find out.
And yes, it's definitely worth a watch.
Directed by Ajay Singh, the thriller starts off on a shaky note with the romance angle, but the story takes off once the plane gets hijacked.
The first half seems a bit rushed with some unnecessary drama and loopholes, but in the second half, the story -- and the actors -- shine through.
As soon as the hijacked plane lands at Kullu airport, the makers start throwing in twists and turns at full speed and that's what makes Chor Nikal Ke Bhaga engrossing.
Along with the story, the lead actors go into fourth gear, and it's a treat to watch Yami and Sunny play their respective parts with wickedness.
The movie features Sharad Kelkar and Indraneil Sengupta in important roles and they are pretty decent in their limited screen time.
Chor Nikal Ke Bhaga could have been a superb thriller if the story was crisper and better written.
Having said that, the movie is entertaining for the most part. The fact that its runtime is little under two hours works in its favour.
A shoutout to Yami Gautam for one good performance after another on the OTT platform.
Sunny has been consistent with his acting, but he needs to try something out of the box.
Give Chor Nikal Ke Bhaga a watch and you won't be bored.
Chor Nikal Ke Bhaga is streaming on Netflix.
Chor Nikal Ke Bhaga Review Rediff Rating: