Hands down, the star of the show is Rajkummar Rao, observes Sukanya Verma.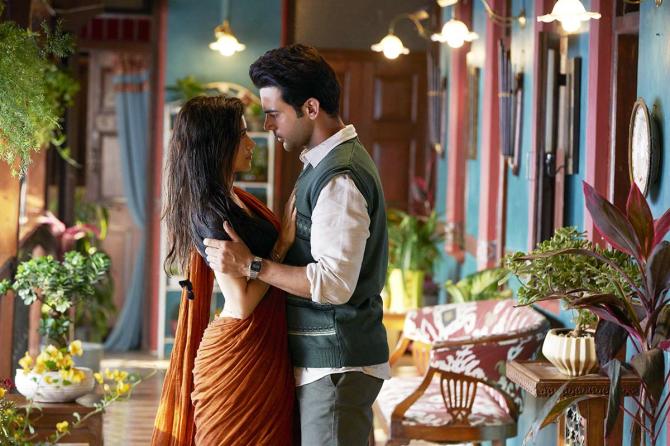 Hansal Mehta and Rajkummar Rao have produced some of their most dramatic and bold work (Shahid, Citylights, Aligarh, Omerta) in collaboration.
Compared to those, Chhalaang provides for a lightsome change of pace.
In this formulaic underdog tale, a doltish physical education teacher of a small town school in Haryana challenges his more qualified rival and demotion causer to a competition and prove his worth in everyone's eyes.
It's the age-old hare-tortoise brand of clash where the unassuming long shot bests the overconfident hot favourite.
Only here, the dark horse is a puerile slacker in desperate need of coming of age and the source of his sleepless nights is a proud professional doing his job.
Chhalaang opens with Mahender Hooda aka Montu's (Rao) irate mom (Baljinder Kaur) trying to wake him up while the man-child mumbles the pointlessness of it all.
Though constantly berated or patronised, Montu is alarmingly comfortable in his refusal to grow up.
Or nepotistic privileges.
A classic case of daddy making 'job lagwado' calls to family friends, the irony of his ineptness is underlined in how the laziest person in town lands the role of a PE instructor.
When not gobbling free food in former teacher-turned-colleague Shukla (Saurabh Shukla) and halwai buddy Dimpy's (Jatin Sarna) company, scoffing at the nerds in his class or happily giving away his period to teachers behind in syllabus or trolling elderly couples for romancing in public places as anti-cultural activities, Montu quarrels over paid leaves with the school principal (Ila Arun) while the tailor takes down her measurements.
In an already unconducive scenario, it's no surprise nobody takes Montu seriously.
But when Neelima (Nushrratt Bharuccha), the stylish new computer teacher arrives on the scene, Montu turns over into a new leaf overnight.
She sees right through his 'Chaudhry complex', but warms up to him anyway.
Just so that her modern, independent young woman identity is asserted in the only way Bollywood understands, Neelima does the obligatory 'Daru pilaoge?'
Every party needs a spoilsport and Coach Singh (Mohammed Zeeshan Ayyub) is Chhalaang.
Dashing, dynamic and dedicated, he is everything Montu is not.
In short, he is a threat, a wake-up call Montu is compelled to attend lest he spend rest of his days as pushover.
A standard 'sher-kutta' war of words is exchanged ensuing in contest between the school's cream of the heap versus bottom of the barrel.
No points for guessing who trains who.
Given its North Indian setting, where the male ego is prevalent enough to overlook the sanctity of a profession, such silly faceoff doesn't seem all too farfetched.
Written by Luv Ranjan, Aseem Arrora and Zeishan Quadri though, Chhalaang is devoid of surprises and tick marks all the traits of every single sports drama -- melodrama, motivation, obstacles, can do spirit, training montages and the all-important emotionally-charged climatic speech.
While some of the tricks Montu employs to train his team are amusing, some are outright questionable.
As are the arm-twisting tactics to coerce parents (pure cardboard, by the way) into sending their kids to participate.
Rather than familiarise us to the young bunch we are meant to root for or dwell deeper in Montu's bittersweet relationship with his impish kid brother (a delightful Naman Jain), Mehta often digresses to show its stand on patriarchy, gender equality and children with special needs.
None of it is out of line but feels rather calculated in its dispensed wisdom.
Chhalaang's most genuine attribute are its actors.
Satish Kaushik as Montu's serene father sharing pearls of wisdom over Scotch is a treat.
Baljinder Kaur's eternally protesting mom brings on the spunk.
Saurabh Shukla's reliable support and Ila Arun's spontaneous sass spice the proceedings.
As competent Mohammed Zeeshan Ayyub is in Chhalaang, he is shockingly sidelined for a formidable foe.
Ditto for the delightful Naman Jain, you'll remember him as the adorable Katrina Kaif fan in Bombay Talkies, whose romantic arc is abruptly nipped in the bud to focus on a routine hubba hubba.
On the other hand, Nushrratt gets some of the meatiest lines which she bungles with her wobbly Haryanvi accent.
Hands down, the star of the show is Rajkummar Rao.
There's not much challenge for him in terms of histrionics or characterisation.
What he infuses Montu with is tons of earnest, endearing energy.
From quitter to go-getter, his transformation is smooth and plausible.
Even if Chhalaang doesn't establish the camaraderie between them, Rao wears the air of someone who gets through his students and inspires them to win.
Rediff Rating: