Captain Marvel is all about women empowerment, yet it's never preachy, says Urvi Parikh.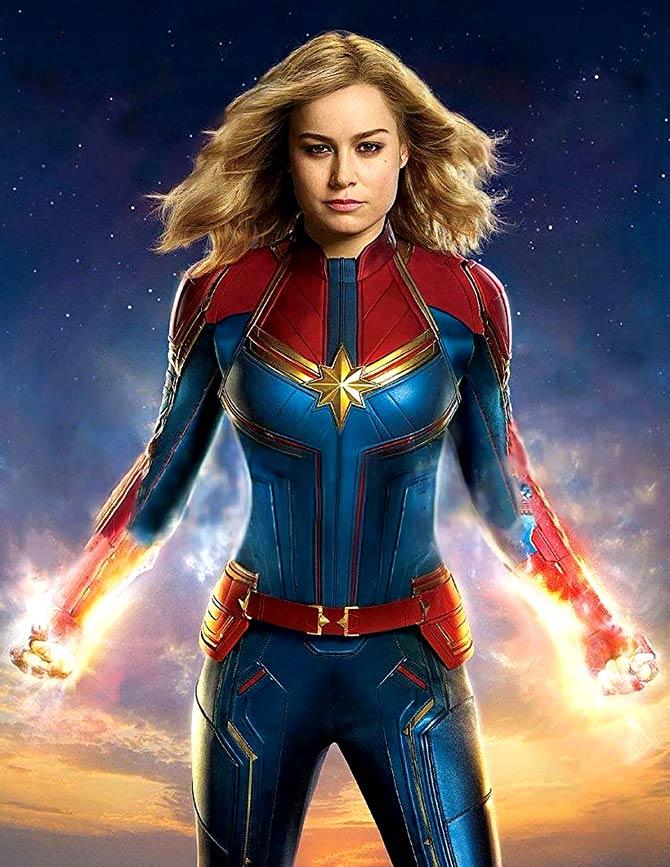 Marvel Studios had another thing coming when DC Universe played their cards right and released Wonder Woman, which was not only critically acclaimed, but commercially loved.
Hence, at 2016 Comic Con, the announcement was made of the first female superhero standalone Marvel Comics Universe film -- Captain Marvel. Brie Larson was the chosen one.
When the trailer came out, I had my inhibitions about the casting and went to watch the film with minimum expectations.
After walking out of the theatre, I had a new perspective. It was proved yet again that Marvel can never go wrong with its casting.
Brie becomes Captain Marvel with ease and panache.
Captain Marvel revolves around the war between Kree and Skrulls and how it leads to Carol Danvers getting to know more about her past.
Her tag-along partner includes Agent Nick Fury (Samuel L Jackson) as they unravel more about Carol's life and save the world.
Brie digs deep into, what is, the strongest MCU superhero to date and comes out powerful. The Oscar-winning actress uses her wit and charm to draw you in and her camaraderie with Samuel is the USP of the film.
It's refreshing to see Agent Coulson (Clark Gregg) back on the silver screen and tap into Fury and Coulson's past as well. Jude Law is the latesy entrant in the MCU and was perfectly cast as Yon-Rogg.
A special mention to Lashana Lynch (Maria Rambeau, Danver's best friend) and Akira Akbar (Monica Rambeau, Maria's daughter). Look out for the cat Goose as well, who will leave you stumped.
The recent slate of MCU movies like Black Panther and Thor: Ragnarok sunk their teeth into human emotions which worked wonders for the films. Similarly, Directors Anna Boden and Ryan Fleck breathe life into Captain Marvel with all their heart and a pinch of traditional MCU humour.
While the movie is all about women empowerment, it's never preachy.
The VFX effects are brilliant which does not come as a surprise, while the action sequences are believable, which makes it more raw.
Seeing Carol Danvers become Captain Marvel is a sight to behold and just like Monica looks at her aunt with pride and glee, so do we.
The film is also an ode to the 1990s, whether it be the addictive soundtrack with nods to Nirvana, Elastica, etc or the journey back to the age of pagers, Blockbuster and Radio Shack.
For those who await Avengers: Endgame with bated breath, Captain Marvel will leave you happy and even more impatient for the April 26 release.
Without any spoilers, the end credits will leave you gasping, like I did.
Rediff Rating: