Sreehari Nair reviews Ayyappanum Koshiyum.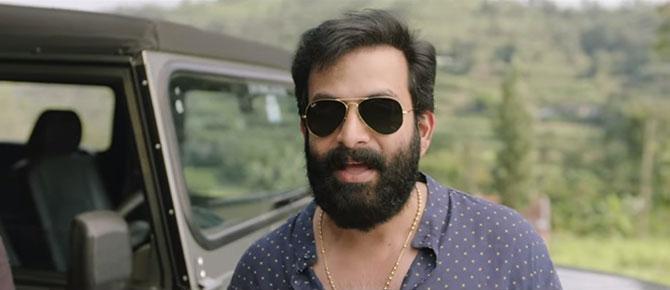 Sachy's Ayyappanum Koshiyum starts off as a Man versus Man story and, very slowly, builds into something more sweeping and grand -- into a Man versus Wild story.
In green as Eden Attapadi, Biju Menon as Ayyappan Nair and Prithviraj Sukumaran as Koshi Kurian test and taunt each other for 2.5 hours, before going for broke in the last 30 minutes, but all through this sparring, there runs another layer of rebellion.
Neither of the two men, it seems, can be left satisfied by a mere subduing of the other's ego; their chief adversary, what both unconsciously wish to conquer, is nature itself.
Sachy underscores this point, of nature being the third player in this double portrait, but without any show of artistry or without laying the metaphor on too thick.
Nature blows her conch and the rivalry gets underway.
We hear the trumpeting of elephants, just minutes before Koshi's car is intercepted by Ayyappan's team of policemen and, before the sub inspector plants two slaps on Koshi's privileged cheeks and strips him of his mundu.
Later, when Koshi avenges his humiliation by stripping Ayyappan of his uniform, they become two ex-law enforcers (Before he picked 38 as a good age to retire, Koshi was a sergeant in the army), each now trying to mark out his territory by destroying the other's fortresses.
Sachy shows us the men acting out their rage, and he then shows us their smallness in the face of Attapadi's unstoppably fertile land, where the jungle seems out to reclaim pieces of civilization and our heroes are but two dots on the map.
Ayyappanum Koshiyum may have its roots in those dialogue-dense, testosterone-flashing Malayalam superstar vehicles of the early 2000s, but the film's aftertaste is closer to a study in paranoia.
This is a tale, of masculine pride carried to its comical extremities, where the excesses of men are given their due, and then undercut gently by larger forces: Personal histories, encroaching jungles, and time-honoured customs whose echoes now offer music to the madness.
In the climactic fight scene, set in a market square, we see the two men, plastered in mud, turned into their own shrines, and for effect, we hear, not a thumping background score but, ritual ululations.
To those who view current Malayalam cinema simply as a haven for progressive ideas, Sachy's uneven yet brilliant picture may seem like a rude disruptor.
And yet, this is precisely what's great about it -- that it is neither a call for violent men to take stock of their actions, dust their pants, and become better citizens, nor is it a brazen celebration of its self-mythologising heroes (like Simmba was, like Asuran was, like Sooryavanshi promises to be).
Ayyappanum Koshiyum is an attempt to get at certain basic truths.
It's about the very masculine drive of wanting to transcend nature, and about men exploring the depths of their depravity for their five seconds of 'honour'.
We feel the clear-headedness of the picture's sensibility in its hiss-and-brawl sequences, where we are never quite sure about whom we should be rooting for.
After all, these are men who, despite their intelligence and courage, can leave goodbyes unanswered and lunches unfinished, if and when the opportunity to settle an old score presents itself.
There's more glory, I think, in documenting such aggression, than in reciting a 3-page monologue on the importance of non-violence.
In a sense, it's the complete absence of the reformer's zeal that allows Sachy to express the scepticism that men who demonstrate such tendencies can never perhaps be cured of their sickness.
Even in the finale, which presents Ayyappan and Koshi as milder versions of their past selves, a title-card appears with the message: 'A happy ending...at least for now'.
What makes Ayyappanum Koshiyum come together in our heads is our knowledge that it does not belong to the canon of the Malayalam New Wave; that it's the shameless machismo of the 1990s and 2000s Malayalam cinema, brought up to date.
The film represents a homecoming of a specific kind, the kind that leaves you happy and alert, while also giving you vertigo.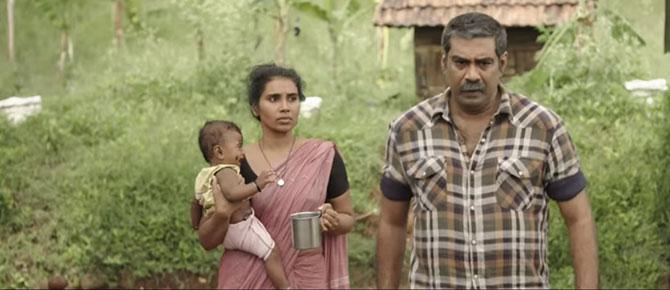 This giddy homecoming can be traced in cinematographer Sudeep Elamon's capturing of the actors's faces.
If the defining aesthetic, of some of the most exciting Malayalam films of these last few years, has been the relegation of the hero-figure to the bottom of a long shot, then Ayyappanum Koshiyum is a journey in the opposite direction.
Here, heroes get their close-ups.
But then, these close-ups turn out to be just as emasculating: They reveal sleep-deprived eyes, faces ageing prematurely from the weight of underachievement, lips working hard to shape a few evasive punchlines, and macho confidence on the verge of being taken over by anxiety and fear.
The spirit of these diluted close-ups comes roaring out in Koshi Kurian, a character that may very well be Prithviraj's homecoming as an actor.
His performance in Driving License, which came out last year, had clearly released something in Prithviraj.
On the level of pure craft, that film showed us that he was now projecting his confidence differently.
The image conscious acting was gone, and he was drawing directly from life.
There he was, playing the hero, while at the same time, turning his heroism into an aside.
Sachy, who had also written Driving License, in this movie, allows Prithviraj to go further into the idea of conflicted heroism.
And the actor sketches Koshi Kurian, putting to good use, his own Anxiety of Influence.
Those with my kind of magpie-like memory would remember that the first half of Prithviraj's career was built on media whisperers anointing him 'The next Mohanlal'.
And how did Prithviraj respond to such inane and simple-minded comparisons?
By reimagining for Keralites, the lowest grade of Hollywood thrillers, and promoting those efforts as examples of Malayalam cinema going international.
With Ayyappanum Koshiyum, one gets the feeling that he's back to channelling Mohanlal, but look closely and he's also critiquing Mohanlal, his brand image, his complacency, and his failure to escape his circle of Yes Men.
In short, everything that's right now hurting Mohanlal the actor, Prithviraj gives to Koshi Kurian.
Koshi is a privileged son of the soil whom the soil doesn't know anymore.
And Prithviraj plays him like a boy prince who's becoming aware of the changing realities, and of the brute in himself.
When Mohanlal got slotted into those all-knowing, all-permeating characters toward the end of the 1990s, it was his friends and well-wishers who were responsible for creating that image -- they may have done it out of their love for him, but it also stunted his growth as an actor and may have stunted it beyond salvation.
In this picture, Prithviraj seems to be using his idol's charisma, the beats of Mohanlal's acting (when he was really good), but Koshi Kurian is such a marvellous performance, ultimately, because it suggests also the dangers, of charisma being taken too seriously and, of idolatry coming back to destroy the idol.
In mounting Koshi, as an emperor intent on wasting himself, as a tragicomic fool, Prithviraj may have gone beyond B-school declarations such as 'I want to be Malayalam cinema's ambassador to the world', and gone straight for the self-defeating marrow of the average Malayali.
In settling with his self-love, he buys more time from us.
The slight snorting and the random tilt of the head don't feel like affectations, and his line readings now come out of a relaxed mouth.
There's one sequence of him asking Ayyappan for a 'lift' and there, he generates reverberations even as he swallows his dialogue.
Prithviraj is only half the show, and it helps that dominating the other half is Biju Menon as Ayyappan Nair.
Unlike his co-star in the film, you don't catch Biju acting; yet he manages to change from a law-keeper religiously applying slaked-lime over betel leaf into a bloodthirsty pagan, becoming grander, wilder and, more isolated with every passing frame.
Probably no other Indian actor working today can let you know as fast and economically as Biju can that he's playing a man with tremendous inner reserves of strength.
It's typical of Malayalam cinema's evolution over these last few years that, while its big names have been forced into mid-life crises, actors like Biju have undergone a process of astonishing inner migration (his is as great a transformation story as Fahadh Faasil's).
Biju has grown less mannered with time; as if nothing that age has thrown at him disconcerts him.
Something about Biju Menon suggests that he has 'given up' and this fatalism feels like a more attractive feature than the vanity of the young.
Ayyappan Nair wears his uniform like an armour of calm; and when stripped of this uniform, he regains his tribal instinct, responding to the injustice meted out to his lot, the call of the hills, and the heroism-hungry people of his land who'd rather see him as a vigilante than as a khaki-clad policeman.
Sachy levels with everyone and the villagers's complicity in furthering the madness of the two men, though not emphasised, is persistently there.
The plot is, in a way, an incursion on Sibi Malayil's Kireedam, where the rivalry between two men soon turns into a social spectacle.
But the debt to Kireedam is felt more intensely in another scene.
The best bit in Malayil's movie (at least in my opinion), is one where Sethumadhavan, the protagonist, engaged in a running feud with the village rowdy, receives a gift from his ageing grandmother (played by Philomina, that genius hag of an actress) -- and it turns out to be her dead husband's knife.
A shocking scene, almost Shakespearean in its tone, it suggests how the impulse for killing is often passed on, from one generation to another.
In Ayyappanum Koshiyum, Sachy recreates this brilliant scene, when Koshi, now on the run, gets delivered a bag from his father.
The contents of the bag are as follows: Two sets of fresh mundu, a bottle of alcohol, and a revolver.
Daddy's orders are pretty clear.
'Dress up your shames, soothe your frayed nerves, and come out shooting.'
In a masterstroke of casting, Sachy gets Ranjith, the composer-in-chief of wayward Malayali masculinity, to portray Kurien John, the father.
And it's close to a purifying experience for Ranjith: he plays Kurien for retro valour, the performance strikes you as comical, and yet, the rigidity of his temperament points to a deeper, tragic truth.
Old Kurien John spends much of the film's running time stoking the fires of his masochism and is set back only once when Ruby, his daughter-in-law, stands up to him.
(Anna Rajan, who plays Ruby, is as poorly treated by the camera, as her character is by those in the movie).
The scene of Ruby confronting Kurian is a rare event in Ayyappanum Koshiyum, which, for the most part, derives its texture from the Strindbergian view that the man-woman relationship is a divine comedy arising from the sexes inhabiting separate worlds that hardly overlap.
Seen in this broad way, Ayyappanum Koshiyum is a work of Malayalam cinema's old guard -- where the men lived by the Hemingway code ('If it makes me feel good, it must be good'), and the women, it was implied, were happy and protected within this system.
The films of the Malayalam New Wave have been trying to show us what women *actually* feel when men lead such errant lives.
Sachy's approach, on the other hand, is more open.
He sees those Hemingwayesque men not so much as evil as innocent.
And these men intuitively seem to know that their way of life is finished.
Ayyappanum Koshiyum draws us in using those familiar turn-ons (the verbal cross-fires, the trading of power-positions), but gives us no release-points.
And Sachy, by excluding the women from the affairs of the street, gets us up close with their resilience.
Plus, without ever commenting on it, he shows us how the wised-up male characters, such as the circle inspector who is Ayyappan's superior, and Koshi's subservient-yet-judicious driver (who may very well be the father that Koshi never had), acquire their good sense from their feminine, nurturing side.
By approaching with generosity the self-mythologising man, Sachy at once, rescues him from the mould of the 'massy hero' whose exploits our films often blatantly celebrate and, elevates him from the status of the toxic figure thought of only in snub-worthy terms.
When film-makers talk about how the emancipation of women, or that of the historically oppressed, is the final artistic frontier, they sound more like marketers than artists.
As it stands now, there's a bigger artistic leap to be made in recording diligently the tensions generated in a man, who once had the world at his beck and call, but who now finds that same world increasingly turned against him.
Studying carefully the stiff patriarch, and his reactions to the new social order, falls outside the purview of the social crusader, and so, it becomes the duty of the artist.
'When will this Ayyappan and Koshi season end?' the sane circle inspector, in this movie, wonders at one point.
Sachy, however, isn't concerned with sanity, and the scope of this film extends beyond the Ayyappan and Koshi Season.
Its true subject is the autumn of the patriarch.