Broken But Beautiful 3 is a typical ALT Balaji show which delves into new age relationships, observes Prateek Sur.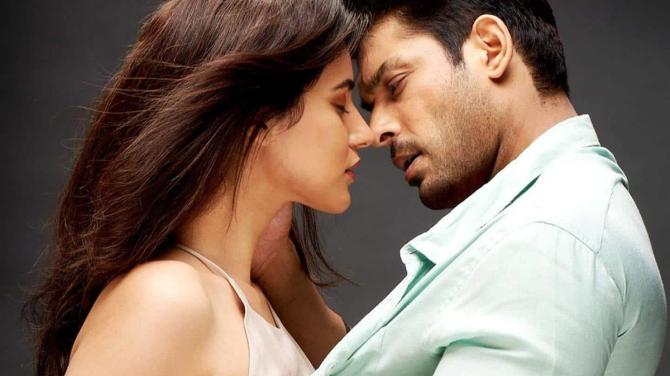 In the first two seasons of Broken But Beautiful, you're made aware of a type of love that is destructive in itself.
Things end up with both woman and man sacrificing for each other and ending up making a spectacle of a love story, eventually not ending up together.
The third season of this Web series takes all of this self-sabotaging love and pushes it a notch higher.
Sidharth Shukla as Agasthya Rao and Sonia Rathee as Rumi Desai take the baton ahead perfectly from Vikrant Massey and Harleen Sethi in the new season.
You would be pleasantly surprised with Veer and Sameera's cameos in this season. They come at such a juncture that you're just about to walk away from the show, and their little cameo just gets you back even harder onto the show wanting to know what would happen next to Agasthya and Sonia.
That placement was a masterstroke by Director Priyanka Ghose.
There was enormous hype around the show thanks to the presence of the Bigg Boss 13 winner Sidharth Shukla as the lead, and he doesn't let us down.
As the hot-headed artsy playwright, he is apt.
You will be reminded of his angry young man shades from Bigg Boss 13.
He hurls expletives in every second line but when that volatile passion of love comes along, he mellows down a bit and indulges himself in this self-inflicting pain caused by love.
Sidharth embodies the character to perfection -- not only in his looks but even in spirit. It seems the character was meant to be played by him and none else.
Sonia Rathee makes a fantastic first impression.
She looks like a bubbly girl-next-door character at the start but by the beginning of the second episode, you're almost certain that she is not just that.
Her character is troubled with the confusion of why she is falling so head over heels for this new man in her life. She is torn between her childhood love for Ehan Bhatt as Ishaan Rana and her newfound sexual interest in Agasthya.
Ehan Bhatt was not just the eye candy as perceived in the trailers, and he manages to come up with a really mature performance.
Taniya Kalra is absolutely fantastic too.
The dialogues are the weakest in the entire project. Just because the younger generation uses expletives doesn't mean you have to incorporate them in the dialogues.
However, there is something good about the writing and Priyanka Ghose hasn't missed thinking like millennials. Just that the crass, cringeworthy, dialogues were totally unnecessary.
Broken But Beautiful 3 is a typical ALT Balaji show which delves into new age relationships and not the age-old concepts of romance and relationships.
The show stands tall on Siddharth Shukla's past laurels and Priyanka Ghose's direction.
If you like ALT Balaji romances, this show is a must watch for you.
Rediff Rating: