Bloody Daddy is not really made for OTT, but that's where it ends up, notes Deepa Gahlot.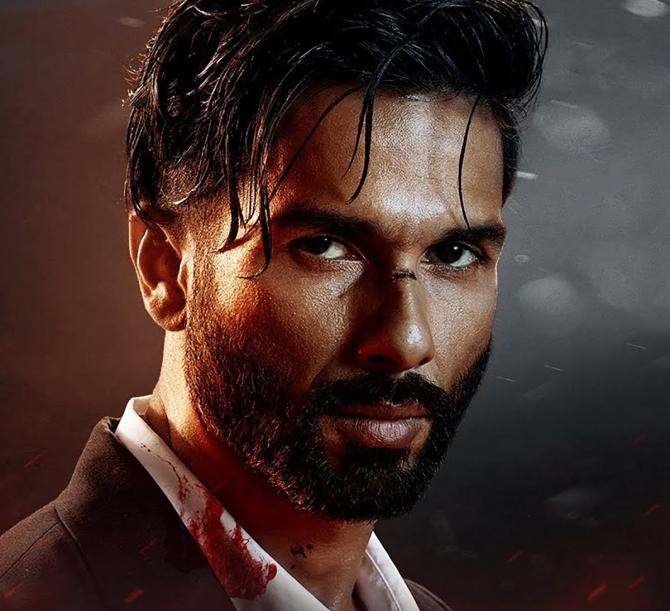 This seems to be one of those films that got made just because a star was available and so a decent budget could be drummed up -- not too high because most of it is shot at one location.
No time to write a script, most of the American and Korean films are taken, so hey, here's this 2011 French film that will work.
How to update? Throw in COVID references. Genius!
So Ali Abbas Zafar's Bloody Daddy is a remake of Frederic Jardin's Sleepless Night, which the Tamil industry reached first and made Thoongaa Vanam in 2015, but who'd remember?
It's the tail end of the pandemic, so Delhi streets are plausibly empty when two guys race a car, ram into it, and lift a bag containing Rs 50 crore worth of cocaine.
During the shooting melee, the mask of one of them drops and his face is revealed.
Sumair (Shahid Kapoor) is a narcotics cop who worked this heist with his cohort Jaggi (Zeishan Quadri).
Before he can figure out how to proceed, he has to deal with sulky son Atharv (Sartaaj Kakkar), who is supposed to be spending quality time with him, and is given an earful by his ex-wife for being an irresponsible father.
Then, the kid is kidnapped by Sikander (Ronit Roy), the furious owner of the bag, as well as a seven-star hotel in Gurugram.
Sumair must return the bag and rescue his son, so the action shifts to the blindingly garish hotel, which is in the midst of a big, fat, wedding, with the nonstop chaos and noise it entails.
Of course, the bag goes missing, two other cops Sameer (Rajeev Khandewal) and Aditi (Diana Penty) are sniffing around looking for the drugs and for the elusive Sumair.
Sikander's buyer (Sanjay Kapoor) is sitting in his suite, getting impatient, and a straightforward transaction turns into a maze of deception, murder and chases through the crowds, the kitchen and the labyrinthine corridors of the hotel.
What could have been a dreary progression to a foregone end is saved by the humour of Sumair's street-smart jugaad at every step.
The way he co-opts the help of two Nepali cooks and an eager to please newbie bartender is funny.
Strange though, that in a seven-star hotel, security is conspicuous by its absence and they haven't heard of lactose-free milk that their victim demands.
Despite his desperation and love for the brat which he struggles to demonstrate, Sumair is not a likeable or sympathetic character.
In a burst of Kabir Singh-like petulance, he kicks over the banquet of the newly-weds, for no reason.
Sikander and his henchmen do not seem menacing enough for the viewer to believe that Atharv is in any real danger.
What Zafar does capture well is the vulgarity of the Delhi nouveau riche and the frenzied live-it-up attitude of people getting out of post-pandemic claustrophobia.
With tongue firmly in cheek, a brutal shootout is orchestrated as Badshah prances on stage singing Survive.
The performances are serviceable.
Shahid Kapoor (too stylish and distinctive a hairstyle for a Delhi cop!) keeps up the tension on his face.
Rohit Roy gets the hang of his character of a jumped up thug, who cannot quite believe the opulence of the surroundings he created, and does not like the idea of anyone getting the better of him, not the cop, not the other gangster.
With its slick cinematography (Marcin Laskawiec) and breathless pace, Bloody Daddy is not really made for OTT, but that's where it ends up.
Bloody Daddy streams on Jio Cinema.
Bloody Daddy Review Rediff Rating: