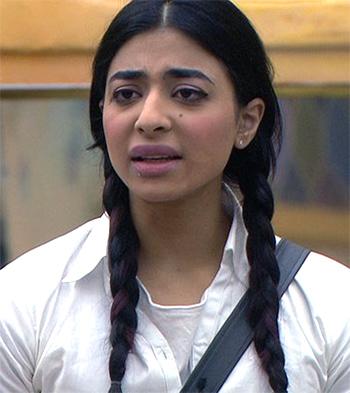 Was she missing her boyfriend whose animated t-shirt she fondly wears inside the house, asks Divya Nair.
The Gold Mine task finally came to an end and Manu and Lopa were both declared inefficient in their secret task.
Rohan did a fine job of protecting his treasure by keeping Lopa away from stealing the gold.
Lopa came across as an idiot in the task.
Had she used her head and planned it well, she had numerous opportunities to trick Rohan and get Manu to loot half the treasure.
Manu and Lopa failed as a team while Rohan obviously had the full support of Bani, Gaurav and Rahul who stood by him.
It is another story that Rohan is a bad captain and can't distribute responsibilities evenly, which is why there have been more cat fights and arguments in the house.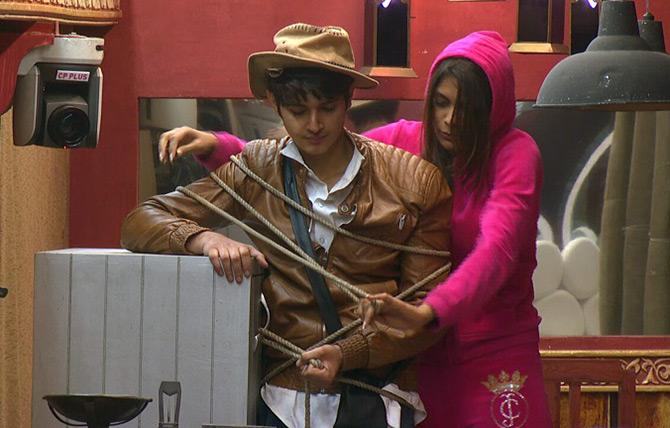 IMAGE: Rohan does a fine job of protecting his treasure from Lopa.
Earlier in the day, Bani was cribbing that the housemates don't cooperate in finishing household chores and Mona took the remark personally.
Gaurav, who came in Bani's support, blasted Swami Om for his behaviour and was in no mood to heed bluffmaster Baba's blabber.
As if this wasn't enough, Swami Om came out in the garden area and when Manu was checking on him, told Rohan that Rahul Dev may have plundered the loot. Eahul lost his cool and slammed Baba.
VIDEO: When Rahul Dev almost hit Swami Om.
It was a defining moment to see Rahul Dev, who has been quiet and composed on the show, use the word tatti to describe Swami Om. Chee chee chee!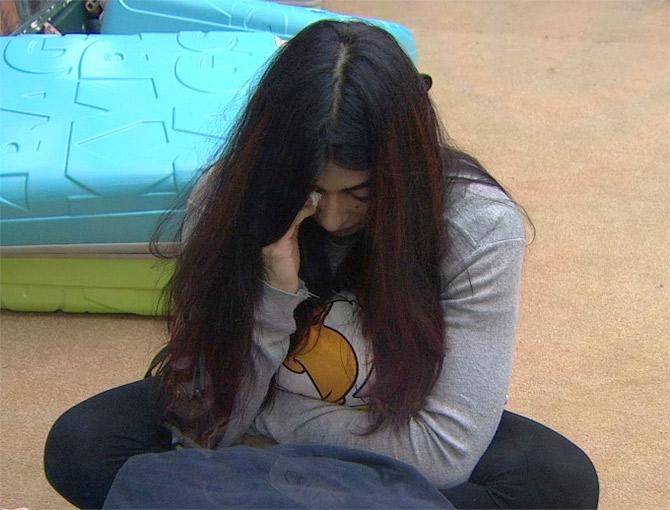 IMAGE: What made Bani cry?
There is something about the Bigg Boss house that connects you to reality.
There are times when we were surrounded by people, and yet feel so lonely, lost and misunderstood. Bani was going through a similar phase in last night's episode.
Was she missing home?
Was she missing her boyfriend whose animated t-shirt she fondly wears inside the house?
She hid those pictures under her hoodie away from the prying eyes of Bigg Boss as she sobbed away.
Outside, Bani was seen wiping her tears and telling Bigg Boss that she wasn't having fun any more and I agree with her. No one is having fun in the house.
Can we get the wild card entries please?