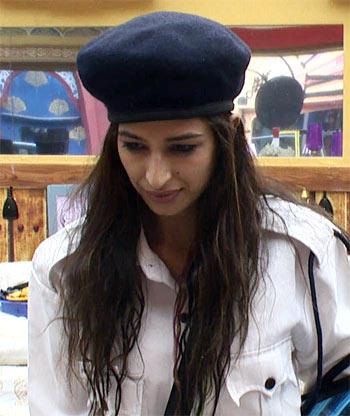 The baap beti and their shock and awe moments: Will it win TRPs, asks Divya Nair.
The highlights
The Taxi Stand task is announced for the next captaincy.
Bani, Manveer, Priyanka compete for the captaincy.
Priyanka fights with Lopa, Rohan.
What's garam
The Taxi Stand task is a fair and interesting task for the housemates to compete for next week's captaincy.
While Bani and Manveer are taxi drivers who can earn points for ferrying people in the house, Jagga is a police officer who can collect money via tolls and penalty.
Among the three, whoever has the most money will compete for the captaincy.
Among the housemates, the member with the most money left at the end of the task will compete with one of the three challengers for the captaincy.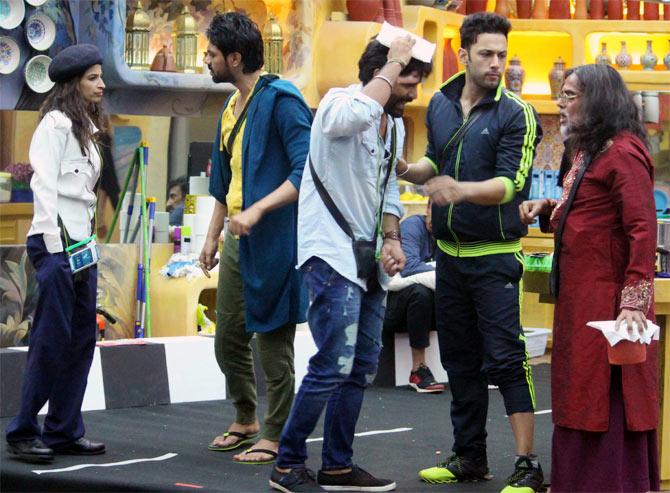 IMAGE: The housemates engrossed in the taxi task.
Jagga sets her own rules, picks up fights and tries to extort money from the housemates for any silly reason.
She came across more as a ruffian than a cop. No one, including Rahul or Jason, strangely objects to her rash behaviour.
Lopa loses her cool when Jagga tries to search Lopa's pants. But Jagga is persistent and eventually gets the younger woman to cool down and pay up.
Beti to beti, baap re baap!
At the other extreme is Swami Om who refuses to ride to the washroom for Rs 100 points and pees in a cup in the kitchen.
Yuck! Yuck! Yuck! Yuck! Yuck! Yuck! Yuck! Yuck! Yuck! Yuck! Yuck! Yuck! Yuck! Yuck! Yuck!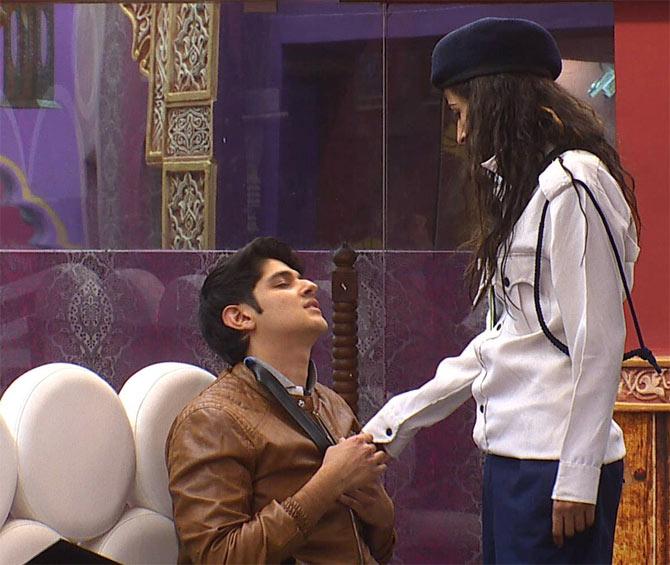 IMAGE: Priyanka targets cry baby Rohan.
Jagga's next target is cry baby Rohan who she penalises for not taking a single ride!
Obviously, Rohan is not going to pay up and the two get physical. Jagga is almost dropped to the ground and lo! Baapuji comes to her rescue.
He implies that Rohan is trying to kill his daughter and uses foul language.
Bluffmaster Baba in verbal diarrhoea mode!
What's thanda
Why didn't Lopa, Jason and Rahul raise their voice against Priyanka's abrasive conduct?
Were they protecting their 'celebrity' image? Or did they believe they could never win against the loud mouth?
VIDEO: Yucky! Baba pees in a mug in the kitchen. Priyanka demands money from Rohan, Jason and Lopa.
And Bani who successfully resisted Priyanka from two major fights was seen getting emotional because she was getting lesser rides than Manveer.
C'mon Bani, didn't Salman ask you to manage your emotions?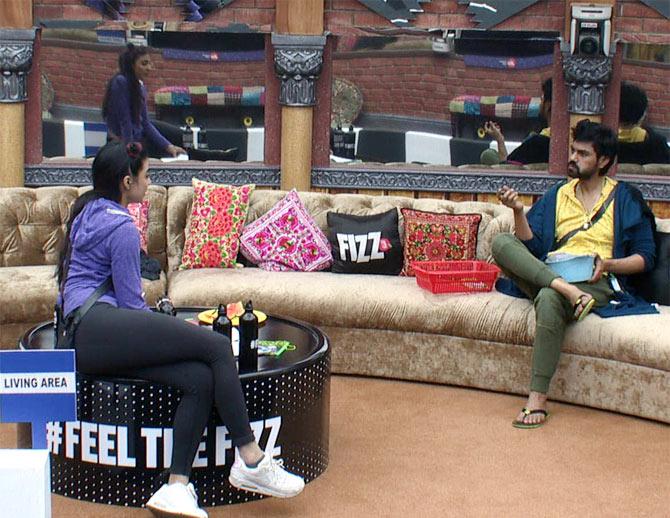 IMAGE: Bani asks Gaurav Chopra for help.
No one in the house is worth your tears and tantrums.
So play your game and stop being so dependent on Mr Plastic Man aka Gaurav!