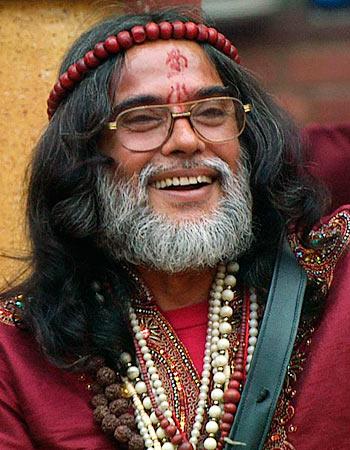 Tista Sengupta is sorry to see Swami Om evicted.
However much I dislike Swami Om's bakwaas, he's the only one entertaining Bigg Boss 10 viewers.
He left us laughing when he told Lokesh that it was because of him that Bollywood stars Rekha, Hema Malini and Karisma Kapoor are successful.
Now that he has been evicted and moved to a secret room, we wonder who will brew up some fun in the house.
And though I wasn't too shocked to see Swami Om go, I wonder how his stay in the secret room will make the show more entertaining.
It would have been more interesting to have sent Bani, Lopa or Nitibha to the secret room, and then watch them get back into the house and wreak havoc.
Hang on a second! Weren't there two beds in the secret room?
Does that mean someone is going to join Swami Om soon?
I can't wait to see who that's going to be!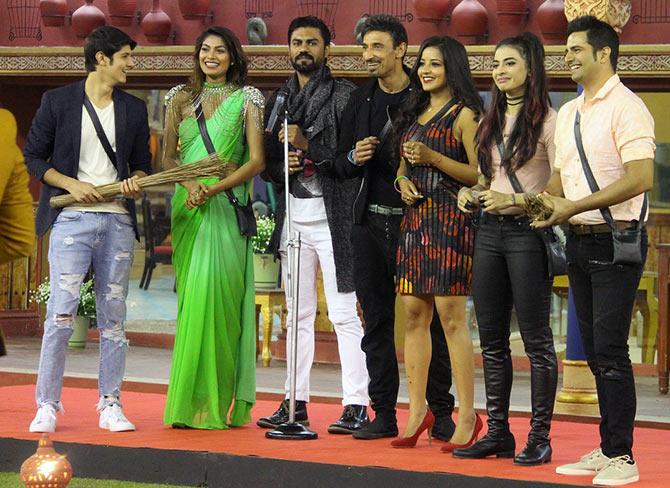 IMAGE: Rohan Mehra, Lopamudra Raut, Gaurav Chopra, Rahul Dev, Mona Lisa, Bani and Karan Mehra on Bigg Boss 10.
How can I forget the high-voltage drama on Friday's episode when Bani, Lopa and Mona took part in a task for immunity?
Although Mona quit after a point, things got messy between Lopa and Bani.
Lopa won the task but the cold war between the girls continues.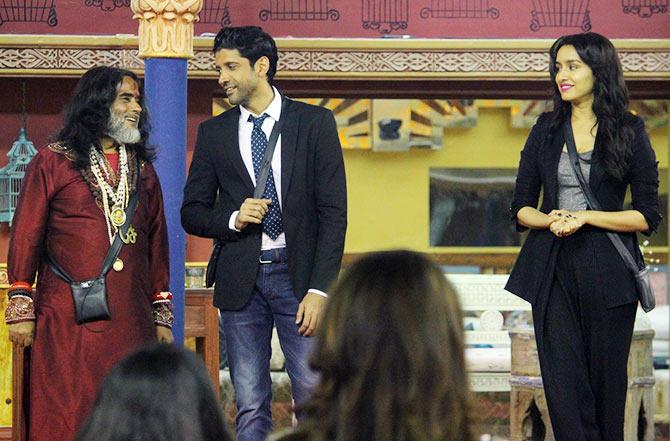 IMAGE: Farhan Akhtar and Shraddha Kapoor chat with Swami Om in the Bigg Boss house.
Weekend Ka Vaar with Salman Khan was power-packed as usual.
Salman took digs at the house mates. And like he has from the beginning of Bigg Boss 10, been in splits over Swami Om's outrageous statements.
Rock On 2 leads Shraddha Kapoor and Farhan Akhtar were in the the house to promote their movie and joined Salman on the show later.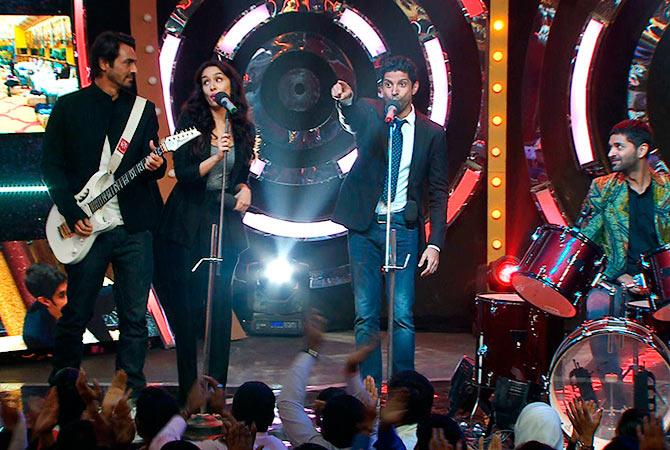 IMAGE: Arjun Rampal, Shraddha Kapoor, Farhan Akhtar and Purab Kohli perform on Bigg Boss 10.
It was cute to see Farhan and Salman together -- after all, their dads, the magnificent Salim-Javed, have written some of the biggest Hindi movies together. Sholay, Deewar, Trishul, Kala Pathar, Shaan, Kranti...
Swami Om impressed Farhan and Shraddha with his head banging act while Nitibha Kaul showed off her singing skill.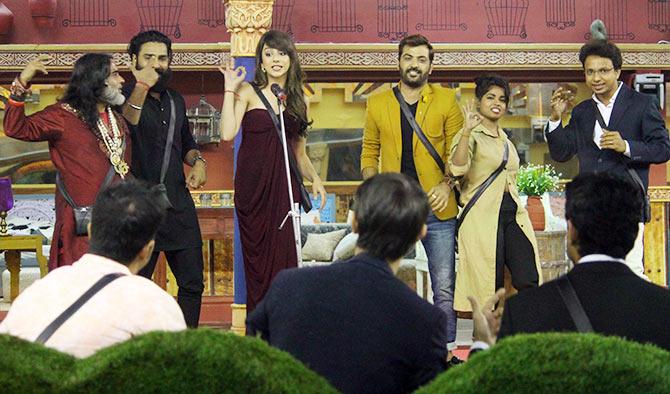 IMAGE: Swami Om, Manveer Gurjar, Nitibha Kaur, Manu Punjabi, Lokesh Kumari Sharma and Navin Prakash on Bigg Boss 10.
Lokesh took me by surprise when she turned rapper.
Describing her housemates in a fun rap, she is currently the cutest person in that hell house.
Farhan and Salman exchanged notes on Swami Om, and said the bizarre baba had self-declared a walk-on-water scene their dads had written in Shaan.
The contestants will battle for the Immunity Medallion this week.
Whoever wins the prized bauble will remain immune throughout the show.
Quite a twist, eh?