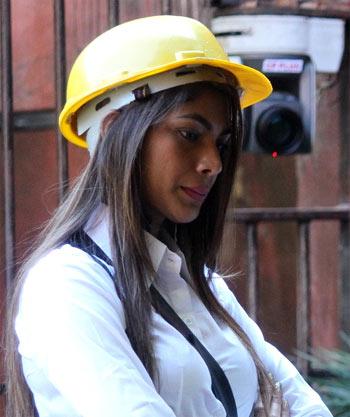 Why Tista Sengupta wants Lopa and Manu to be disqualified...
Day 28's episode starts off with a luxury budget task, the BB Gold Mine, in which contestants have to dig gold from a muddy pit in the garden.
And Swami Om is a one serious gold digger!
For the first time, he is obsessed with a task and just doesn't want to leave.
Did 'GOLD' get him pumped up?
Meanwhile, Lopa is given a secret task.
She has to partner Manu and steal the gold from the vault in which Rohan -- the owner of the gold mine -- keeps it.
If they win, they will become the next contenders for captaincy.
If they fail, Rohan will continue with his captaincy for another week.
When Lopa mentions the task to Manu, it doesn't seem he understands what 'secret task' means.
Although he doesn't reveal much, he discusses the task with Manveer and the 'always-so-loyal' Swami Om.
Really!
VIDEO: Nitibha calls Swami Om a 'disgusting man'.
My request to Bigg Boss is that even if Lopa and Manu win the task, they should be disqualified.
In spite of being told they can't discuss the task with anyone, why talk about it? Not done guys!
And Manu, remember when celebrities were given a secret task to click pictures in the 'Raja and Rank' task, you weren't even aware of it!
Now you know why celebs sometimes play the game better.
So stop cribbing and giving gyaan. Start following Bigg Boss's instructions properly.
On the other hand, Lopa is trying hard to impress Rohan with her sexy thumkas. Rohan surprises us with his intelligence. He figures out why Lopa is hanging out with him.
Minutes later, we hear a heated argument between Swami Om and Nitibha.
While the gyaani Guruji warns Nitibha not to mess with him as she is nominated for this week's eviction, Nitibha tells him she won't give in and instead, he should threaten his 10,00,000 followers who may listen to him. She calls Swami Om 'badtameez.'
When Rohan steps in to cool things down, Nitibha gets into an argument with him. An angry Nitibha tells Rohan she will throw away all the gold. Many thanks, Rahul, for calming Nitibha down.
Rahul requests Swami Om to speak respectfully with women. The hyper Guruji starts speaking in a higher pitch, and that doesn't go well.
Rahul's glare is scary enough to shut Swami Om up for a while.
Did Rahul just have his biggest moment in the Bigg Boss house?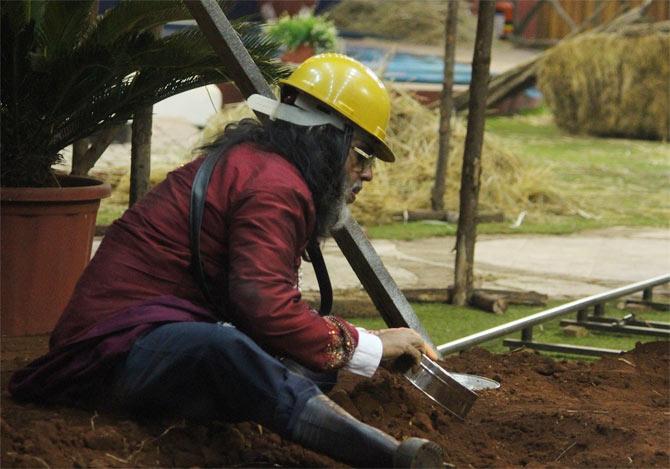 IMAGE: Swami Om gets obsessed with digging gold!
Next, we see Lopa and Manu discuss the task, but she doesn't want to ditch her 'goody girl' image. She doesn't want to lie and steal.
Guess she forgot that Rohan already knows what she is up to? So silly!
Seeing her attitude, an irritated Manu tells the camera that Lopa isn't a good choice for the task; that she places friendship before the task.
I hope Lopa gets to see what her new buddy Manu thinks of her via this video footage. I can't wait for the drama that will unfold next.
Lopa decides to steal the gold when Rohan is asleep. But he wakes up and the secret task isn't completed.