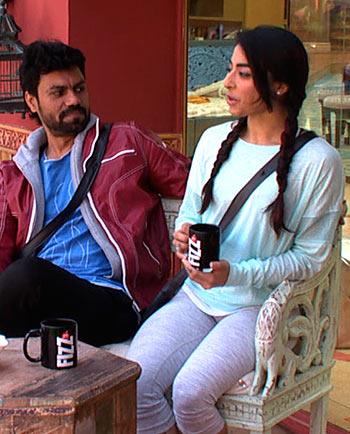 Manveer, Rahul, Lokesh and Navin are nominated for eviction this week.
Tista Sengupta brings you the latest from the Bigg Boss house.
Did you know that Gaurav's mother wants her son to marry 'a tall, fair, caring Punjabi kudi who can help manage Gaurav's anger issues'?
If you fit the bill, you can perhaps reach out to Mrs Chopra with a marriage proposal.
When Gaurav revealed this to Bani, he also mentioned he 'could be a good father and husband,' but 'isn't a good boyfriend' as he has a lot of flaws.
What's going on in Bani's mind?
She has been trying to get to know Gaurav.
Does it mean she's interested in him?
Are they going to be the new couple in the Bigg Boss house?
Meanwhile, Manu managed to convince Manveer to shave his beard. But Manveer, let me tell you, even without that unkempt beard, you still look like a ruffian.
On the other hand, Rahul -- who had been challenged to convince Navin to give up his participation in any immunity task till the end of the season -- failed and was nominated for this week's eviction.
As was Manveer, who could not convince Rohan to wear a dress.
Next up was Karan in that 'hot' nomination seat.
Even though Bigg Boss explained the task twice, Karan failed to understand what he had to do.
Was Bigg Boss speaking in an alien language, Karan?
Amid all the confusion, Lokesh nominated herself to save Karan.
And damn! She did regret it big time.
BTW, I think Nitibha is quite a clever player. When Navin took the nomination seat and asked her give her make-up kit to Bigg Boss for the entire season, she told Lokesh she wouldn't put her teammate in the danger zone just to retain her make-up.
Honestly, if she really had such noble thoughts, she wouldn't have hesitated to support Navin.
But, after a lot of thought, she refused.
Babe, don't think we missed your smart play!
We have seen a few inmates complain about Bani's temperamental issues of late.
She might have snapped at many in Tuesday night's episode, but I think her reaction was self-explanatory as she was put in a bad spot by Lopa because of a stupid misunderstanding.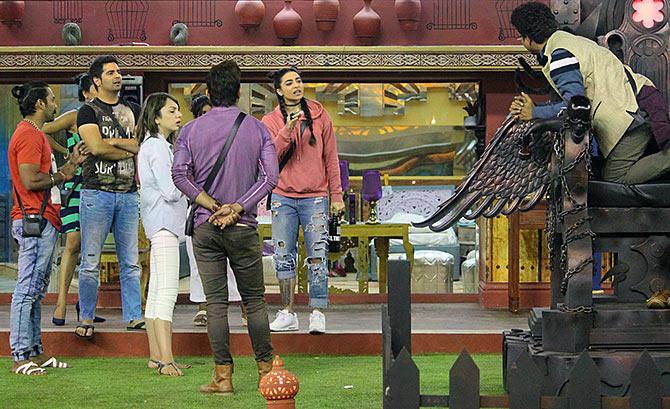 It all started when Lopa told Navin -- who had promised Nitibha he would request Lopa and Mona to let her use their make-up -- that Bani informed the celebrities Navin would steal Lopa's make-up kit for Nitibha if required.
Navin immediately confronted Bani.
And boy, then appears the khatarnak Bani.
She lashed out at Lopa for all the chaos created. Lopa apologised later, but I don't think she really meant it.
Another tough day came to an end, with Manveer, Rahul, Lokesh and Navin nominated for this week's eviction.
Note: A teaser from the latest promo shows Swami Om is back in the Bigg Boss 10 house with a bang. Stay tuned to know what happens next.