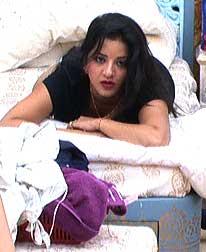 Priyanka, observes Divya Nair, tries all tricks to turn Manu and Manveer against Mona, but Mona stands like a rock in her path!

Highlights from Tuesday's episode:
Babaji is a chor!
Mona loses her cool; Priyanka and Mona have a spat
Rohan fails as a captain
Bani celebrates her birthday
What's garam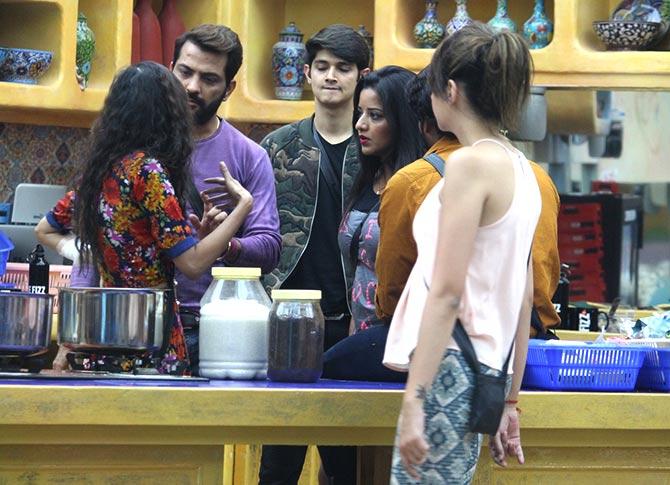 Can anyone explain what kind of a human specimen Baba Om is?
Maybe ISRO scientists can send him on a manned Mangalayan mission to Mars for a social experiment.
The episode starts with Manu and Manveer catching bluffmaster Baba hide a spoon in their pillow. Baba says it will protect him from asur shakti.
**insert bhramaand theme background music here** Everyone is equally surprised!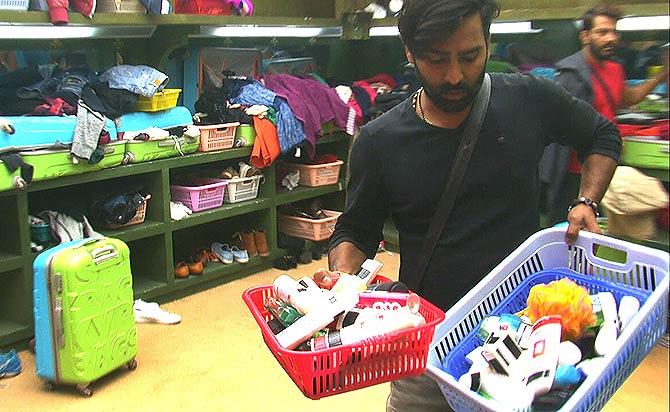 Soon after Manu and Manveer show pyaari beti Priyanka Jagga what a hoarder Baba is.
Baba, it is revealed, stole Lopa's deodorant and her intimate wash too. Baba defends himself, saying he didn't steal it and was merely saving it up for his beti.
In a never ending speech, he adds that he had saved them so he could sell them when he exits the house and make some money.
And all of us were thinking Baba was going to make a movie on his life and become a crorepati.
Dear janta, please listen to what Baba thinks about you.
'Janta gayi bhaad mein! Chahe andar rahoon ya bahar main winner rahoonga!'
Jai ho Babaji ki! What confidence the man has!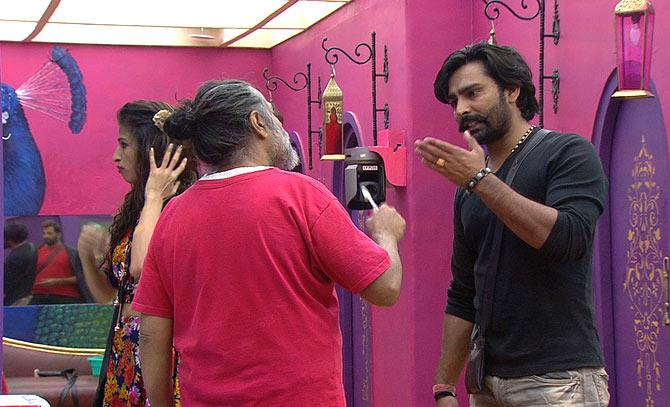 After all this melodrama, Baba looks at his loot, sheds some magarmach ke aansu and scores some sympathy points with the bullies who apologise and promise not to trouble him again.
Soon he is seen scheming with Priyanka, telling her how badmaash Manveer and Manu never lose an opportunity to prove him wrong.
All this is overheard by Mona who intervenes and puts Baba in his place.
When Priyanka defends Baba, Mona tells her to mind her own business.
At this point, Priyanka flaunts her poor English skills and tries to get away, but Mona is in no mood to listen.
Mona is finally coming out as a strong player. Bravo Mona!
Priyanka appears trying to flirt with Manu and dislikes Mona who is closer to him, which is understandable.
Doesn't she understand that Manu is committed? :))) Just like her? (wink wink)
What's thanda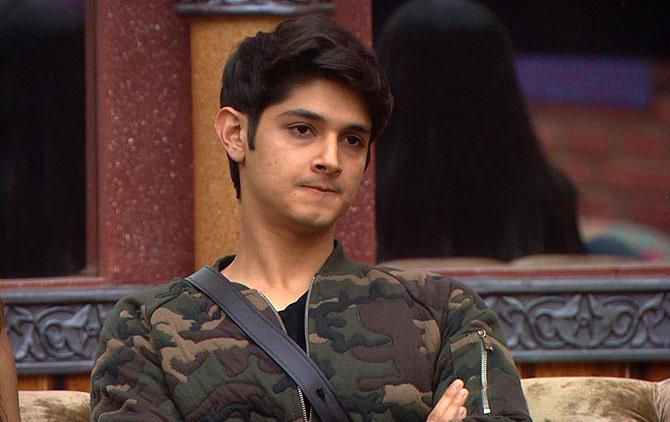 I had almost forgotten that Rohan is the captain of the house.
I am not surprised that the housemates forgot too.
Bigg Boss summons Rohan to the confession room and tries to drive some sense into him.
But ghamandi Rohan, as Baba calls him, tells Bigg Boss he needs more powers as captain to make the housemates listen to him.
Aww Rohan beta, Complan piyoge ya Bournvita, I wanted to ask him.
Obviously, Bigg Boss has no time to babysit Rohan, so he is sacked as the cry baby captain.
**Slow motion Yay!**
And a cake arrives -- a protein cake, no less -- to bring in Bani J's birthday.
And only her buddy Gaurav, who makes a face, gets to taste it.
The birthday girl warns everyone else not to touch her cake without her permission.
What a special way to celebrate one's big day and also take sweet revenge!