When the post-pandemic audience wants large-scale entertainers, Anubhav Sinha has the courage to make a film that determinedly veers away from escapism, applauds Deepa Gahlot.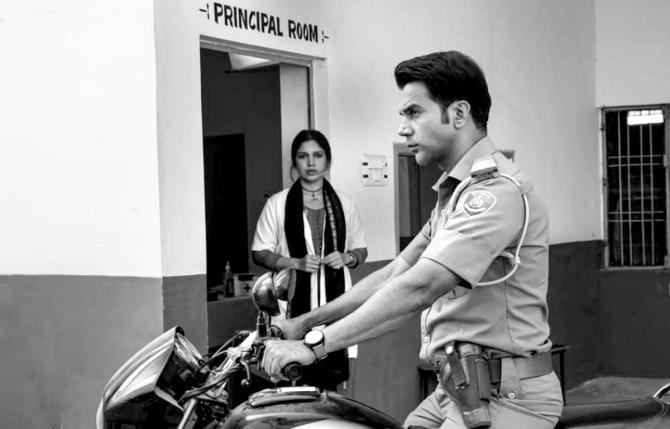 Looking at the signs of prosperity, at least in urban India, it seems as if people are eager to forget the trauma of the COVID months.
Typically, those hit the hardest were the poor, who are the most neglected when there is a resource crunch. It is this social tragedy that Anubhav Sinha wants to highlight in Bheed, enhancing it with caste conflicts.
The film is based on a true incident, when migrant workers and their families trying to reach their villages were stopped at the Delhi-UP border by the police, without any arrangements for food and shelter.
It portrays one day in the life of a cop, Surya Singh (Rajmummar Rao), who has been hiding his caste identity behind a phony name. He is also romancing an upper caste doctor, Renu Sharma (Bhumi Pednekar), aware that he may not be accepted by her family.
On discovering his caste, his Yadav superior (Ashutosh Rana) gives him charge of a crucial check post, where migrants are to be stopped.
What he believes to be an honour that will make his colleague (Aditya Shrivastav) envious, turns out to be a nightmare. He is unable to empathise with the desperate and starving poor but he is also not capable of the cruelty required to spray men with sanitiser (a reported incident, like another used in the film of migrants sleeping on railway tracks, being mowed down by a train).
Sinha's black and white film is confined mostly to this one dusty location, where people are forced to wait for someone in authority to decide on their fate, whether it is the anxious workers who just want to get home, an obnoxious entitled rich woman (Dia Mirza), or a don't-you-know-who-I-am political flunky.
In the background looms a swanky mall, strangely built in the middle of nowhere, and even more unbelievably, not looted by those who went before this bunch, even though it is stocked with food, unlocked and unguarded till Surya and his team put up barriers.
Within this limited space and time, Sinha makes the difficult attempt to bung in a whole lot of issues -- anti-Muslim sentiments expressed by a Brahmin security guard (Pankaj Kapur) escorting a bus full of his people, including a sick man, obviously infected with the coronavirus; rural unemployment, media sensationalism (a television crew is conveniently around), the labeling of the dissenter as Naxal, and above it all, the scourge of rampant casteism).
At least some of it comes across as token ticking of the right cause boxes (Sinha's recent films like Anek, Thappad, Mulk and Article 15 were also cause-based with varying degrees of complexity and verisimilitude).
However, the horror and suffering of the pandemic and the resultant lockdown are never properly conveyed. Hardly anyone wears masks, and there appears to be no fear of the highly contagious virus.
Maybe to avoid lurid melodrama, Sinha ends up detached.
There is, for instance, the incongruous sight of a kid on a rocking horse; the TV anchor and her cameraman have a weird Incredible India conversation...
More than the misery of the people stuck at the border, the film focuses on Surya's angst and his awakening.
But the image that stays in the mind is that of a determined young woman, pedaling furiously on her cycle with her drunken father seated behind.
In reality, there was mishandling of a crisis, leading to suffering and death -- the film ought to have been cathartic -- but after picking an obviously non-commercial subject, Sinha and his co-writers (Sonali Jain and Saumya Tiwari) shy away from discomfiting the audience with the full force of the tragedy. Only some statistics are listed at the end.
Rajkummar Rao can always be depended upon to deliver a fine performance as the troubled cop.
He is supported well by Ashutosh Rana, Aditya Shrivastava, Pankaj Kapur and Bhumi Pednekar.
Even with its many shortcomings, the film makes some crucial points about the old problems that modern India is still unable to shake off.
When the post-pandemic audience wants large-scale entertainers, Anubhav Sinha has the courage to make a film that determinedly veers away from escapism.
Bheed Review Rediff Rating: