Had the drama been sustained through the two-hour narrative, Bhavai would have had more impact, feels Joginder Tuteja.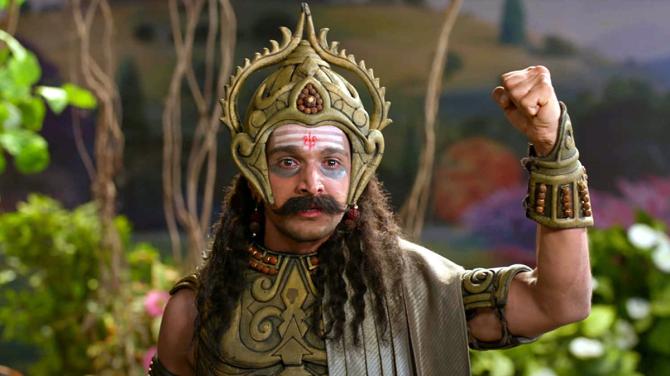 Bhavai (earlier titled Raavan Leela) turns out to be a clever case of the legend of Ramayana integrated into the lives of real characters.
Back in time, Manoj Kumar had made Kalyug Ki Ramayan where the actor (playing Hanuman) came down to earth and mingled with the common man. It was more of a VFX laden affair.
In case of Bhavai, Pratik Gandhi plays an onstage Raavan, though the inner him is Ram.
How he amalgamates the two characters is what Bhavai is about.
Director Hardik Gajjar takes some time to set the stage for the film, which is set in Gujarat.
The timeline is not conveyed specifically in the film in order to give it a timeless appeal with an almost folklore set up but the absence of cellphones, partial electricity and people earning even Rs 100 conveys that Bhavai is not set in the current times.
As an unemployed son of a pandit whose inner calling is to become an actor, Pratik gets excited when a 'nautanki mandli' led by Rajesh Sharma and owned by Abhimanyu Singh arrives at his village to host a Ram Leela.
All he wants is to play a part, big or small.
He gets his big break by playing Raavan.
While he alternatively mesmerises as well as shocks the audience as well as his co-stars with his thunderous act, he also falls in love with the onstage Sita (played by Aindrita Ray).
But intolerance brews when the organisers, local netas as well as 'dharmik junta' realises that onstage Raavan and Sita are reciprocating each other's love.
On the face of it, Bhavai has a complicated story since the characters are something else on stage while having a different equation off it.
Moreover, the scenes that follow are required to organically coincide with each other.
There are hints which convey the real life emotions of the characters via their stage characters. But it all plays seamlessly, which works well in favour of the film.
That said, one would have expected more tension and urgency in the narrative.
Though the film reaches an all time high when Pratik turns into Raavan for the first time and explodes on stage, the pace goes down wherever things happens off stage. Pratik's family life with his father (Rajendra Gupta), brother and sister-in-law could have been handled in a better way.
Things improve whenever the film moves back to the stage as well as backstage but apart from that, the interest level isn't maintained well.
There are too many songs in the film, and while the love songs do well, the same can't be said about the devotional songs.
Also, due to the village set up, the film has a constrained look.
As a performer, Pratik does well every time he dresses up as Raavan.
It looks like he has got into a different persona altogether, which shows how well he demarcates the characterisations.
Aindrita looks really beautiful and her innocence goes in her favour. She has an equal part to play in the film.
Abhimanyu Singh is fine though he could have been more menacing.
Rajesh Sharma is reliable as ever.
Ankur Bhatia, who plays an electrician during the day and Laxman on stage during the night, is good.
Rajendra Gupta is melodramatic while Flora Saini (playing Kaikayi) is fair.
The film tries to make a statement on the politics of religion and how some things can never change.
Had the drama been sustained through the two-hour narrative, Bhavai would have had more impact.
But one can see that the director wanted a folklore kind of feel in his storytelling and that gives a different kind of touch to the film.
Rediff Rating: