Bhaag Beanie Bhaag is neither hilarious nor engaging, complains Namrata Thakker.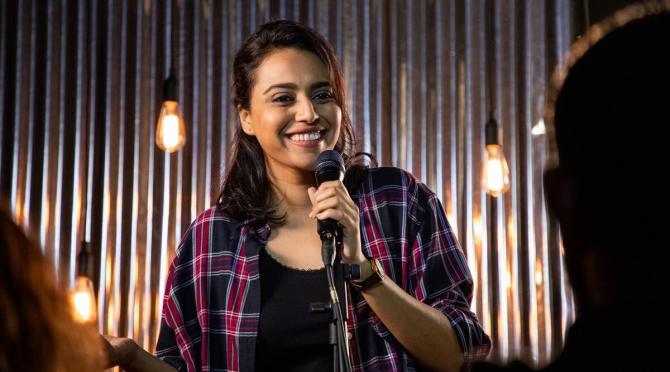 The Web series Bhaag Beanie Bhaag, directed by Abi Varghese, Debbie Rao and Ishaan Nair, stars Swara Bhasker in the title role.
The comedy-drama also features Mona Ambegaonkar, Girish Kulkarni, Dolly Singh, Varun Thakur and Ravi Patel.
In a nutshell, the six-episode show is about Beanie (Bhasker) following her dream of becoming a stand-up comedian against all odds.
The premise of Bhaag Beanie Bhaag reminded me of the hit American show, The Marvellous Mrs Maisel, a period comedy-drama about a housewife making it big in the male dominated stand-up world in the 1950s.
While the American series is totally worth a binge watch, the same cannot be said about Swara's show.
Yes, it is refreshing to see Swara in a light-hearted comedy and while she tries her best to tickle our funny bones, she fails miserably.
The credit for that goes to the writers.
Since Ravi Patel is the co-creator of the series and also a stand-up comedian in real life, one would expect him to come up with a funny script.
Or at least, he should have nailed the writing part for all the stand-up acts in the show.
But even that doesn't happen.
We don't get to see Swara taking the stage often and when she does, her jokes just aren't funny enough.
I didn't crack up listening to her at all, and that's the biggest let down.
Bhaag Beanie Bhaag does not build its characters either. Everything just happens without the makers getting into the details. For example, Varun's character Arun is initially shown to be very inconsiderate.
But after Beanie breaks her engagement with him and later when they meet at a wedding, Arun is suddenly shown as the ideal man who says all the right things and is very understanding.
Yes, people change but such a drastic transformation is too bizarre.
Acting wise, Swara seems earnest in her efforts but there are times when it looks like she is trying too hard. Especially when she tries to make us laugh.
Girish Kulkarni and Mona Ambegaonkar, as Beanie's parents, are fun to watch. Their comic timing, acting and chemistry are in sync with the flow of the story and they steal the show.
Varun Thakur and Dolly Singh are pretty decent.
As for Ravi Patel, just like Swara, he tries hard to entertain us with his jokes, but fails. Having said that, both he and Swara are quite good in the emotional scenes.
I was really looking forward to see the show as I was totally blown away by The Marvellous Mrs Maisel.
Unfortunately, Bhaag Beanie Bhaag is neither hilarious nor engaging.
Rediff Rating: