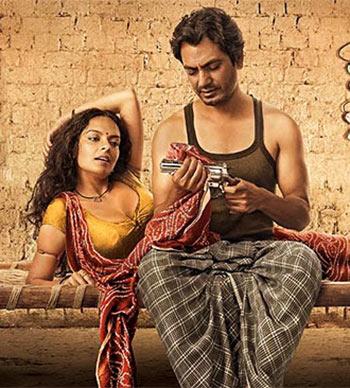 By the time the film hits half time, Prasanna D Zore wanted to run away.
Have you heard of Kushan Nandy?
>Have you heard of Ghalib Asad Bhopali?
Have you heard of Nawazuddin Siddiqui?
The film's director (yes, Nandy) and story-/scriptwriter (Ghalib) may not have much to lose from making Babumoshai Bandookbaaz but given the audience's huge expectations from Nawazuddin, he's probably going to get a walloping from his fans.
Babumoshai Bandookbaaz will rank among those films one should give a miss.
Nawaz is, no doubt, a powerhouse performer. He attracts viewers towards films simply because of his presence in them, and Babumoshai Bandookbaaz is no exception.
It is Nandy's placid direction and the film's glacial pace with which things happen on screen that kills the crime thriller.
The story revolves around Babu (Nawazuddin), a cool as a cucumber, 'short, dark, and handsome' assassin, who goes about popping bullets into his prey without batting an eyelid.
The film also revolves around two other assassins, Babu and Baanke (Jatin Goswami, who holds his own admirably against Nawazuddin), whose egos make them dare each other in a game of one upmanship, as they task themselves with killing the same loonies -- Murli Sharma, Divya Dutta and Anil George -- who have been thrown in to further glaciate the film's tempo.
The opening sequence where Nawazuddin introduces himself as an 'outsourcer' to his quarry and then pumps bullets into him from close quarters raises your expectations.
By the time the film hits half time, you really want to run away.
The film kills one's enthusiasm as it struggles to keep pace with unexpected narratives that Ghalib keeps shooting at the audience.
The film must get an award for the sickest dialogue one ever heard from a female actor on screen: 'Main zindagi bhar teri rakhail banke rahoongi agar tu un done ko bhi maar de (I will spend the rest of my life as your mistress if you kill two more people). Wah, Ghalib!
The dialogue becomes more sickening as it comes from a woman (Bidita Bag, as Nawazuddin's wife Phulwa), who has been gang-raped by three men, and she eggs Nawazuddin on to kill two of them by promising to spend the rest of her life as his mistress.
Amid all the treachery, double-crossings, blood and gore, Nawazuddin and Goswami go about the task of enthusing the film with their guts and chicanery, but fall flat time and again, thanks to Nandy's helmsmanship.
The director, in his effort to get your attention, brings forth a lot of kinkiness to the proceedings.
Like one of the film's villains asks a masseur to undress his wife and massage her to get his dose of arousal before having sex with her, or the same villain later masturbating while having phone sex with his wife even as certain death looms over his kinky head.
The director makes vain efforts to weave a string of narratives and subplots into a meaningful and engaging whole.
Instead, he haemorrhages the audience's intelligence, and succeeds in killing the film.
The film won't be remembered for Nandy's direction or Ghalib's plot.
Babumoshai Bandookbaaz will be remembered as Nawazuddin's worst film yet.
Rediff Rating: