For audiences craving something new, Axone leaves a good impression, notes Joginder Tuteja.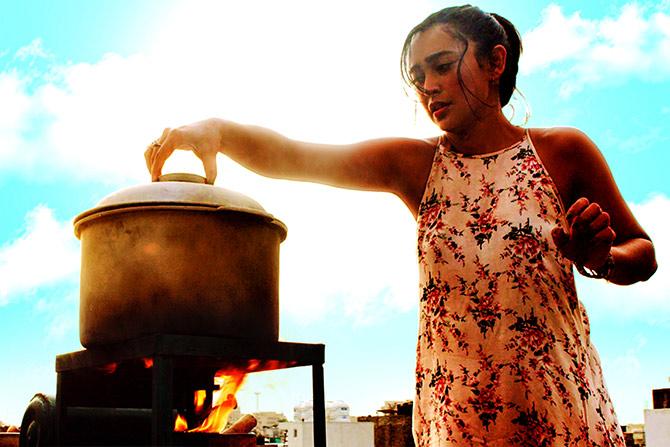 'Yaar, mujhe bhi North East ki ek girlfriend dilwa de. Mere dost to naa ek dum se jal jaayenge.'
If you studied at Delhi University in the 1990s, the chances are either you or a male friend made such a statement.
A north easterner is unfortunately looked upon as an outsider, a foreigner, in many parts of India.
That's the world Director Nicholas Kharkongor, who directed Mantra, explores in Axone (pronounced 'Akhuni') on Netflix.
A delightful film assembled by the Shillong-based film-maker who brings all his understanding of the North East into play in Axone, this is a slice-of-life film which cooks up a dish in the course of 12 hours as the story unfolds.
Axone is set in in a Punjabi neighbourhood in Delhi where a bunch of friends from the North East stay.
A young woman from Nagaland (Asenla Jamir), who is getting ready to appear for the civil services exams, oscillates between a sudden interview and a virtual marriage -- her friend (Lin Laishram) wants to make this wedding a dream no less.
She is supported by a young woman from Nepal (Sayani Gupta) who prefers to be identified as a north easterner, a guy who has just turned 30 (Tenzing Dalha) and who operates a grocery store specialising in North East food products and a musician (Lanuakum Ao) who is depressed after being a victim of racism.
With a set up like this, Axone could well have turned out to be an offbeat affair, but this is where Nicholas gives it a nice touch by means of stage and setting.
The stage is to find a way to cook Axone, come what way, despite all the adversities involved since they live in a Punjabi neighbourhood.
The landlady (Dolly Ahluwalia) continuously bickers with her 'jobless jamaai' (Vinay Pathak) and a hilarious grandson (Rohan Joshi, who is ''jaan'.
This is what ensures that Axone is never dull.
You are left guessing why the characters are doing what they are in the initial scenes. Then you get so engaged in how Axone will be cooked, if the friends can make it happen, if their emotional highs and lows will come in the way, if there will be a change in the way the North East versus Rest of India divide is perceived.
The moment Rohan's character appears comes on the scene, Axone goes on a high.
The same holds for the scenes involving Sayani. She looks far younger than she is and brings in a rather cute North East tonality to her dialogue delivery.
Lin is ultra confident and quite the find. She needs to be seen more often in our films.
Tenzing is charming and stands tall in the frame.
Asenla, who makes a late appearance, is gorgeous and so natural.
The only actor who disappoints is Lanuakum. Perhaps it is his dull characterisation, but he is depressing in every scene, taking away the vivacity of the story.
The best part of Axone is its story.
For audiences craving something new, Axone leaves a good impression and makes quite a statement on racism without beating around the bush or shouting from the rooftops.
Recommended.
Rediff Rating: