What goes in favour of Asur 2 is its pace and novelty, even though the approach has all the hokiness of a comic book, observes Deepa Gahlot.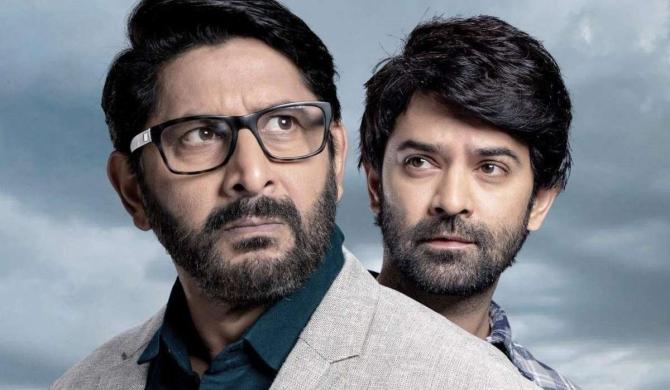 The second season dropping more than three years after the first means that the memory of Asur: Welcome To Your Dark Side has dimmed.
It would have fallen right out of the mind if it hadn't been different from the usual crime shows streaming by then.
The mix of crime and mythology was somewhat enjoyable. A good cast was an added factor.
Asur 2, created by Gaurav Shukla and directed by Oni Sen, starts where the first ended, with the mask-wearing ghoulish serial killer getting away.
Forensics expert Nikhil Nair (Barun Sobti) lost his daughter, which ended his marriage to computer wiz Naina (Anupriya Goenka).
The other CBI guy Dhananjay Rajput (Arshad Warsi) ended up in a monastery, where he is given pep talks by a scarily wise monk, Anant (Atharva Vishwakarma).
Nusrat Saeed (Riddhi Dogra) is still around the CBI offices looking frazzled, so is the techie Rasool Shaikh (Amey Wagh) and their ineffectual boss Awasthi (Pawan Chopra).
Lolark Dubey (Sharib Hashmi) was, sadly, killed in the last season.
The bright new investigator Ishani (Adithi Kalkunte Shyamaprasad) has more sense than all the others put together.
People are still dropping dead in random order, and the 'Asur' is challenging the team to catch him.
Every episode begins with an episode from the past of Shubh (Vishesh Bansal), the evil boy genius, who kept up his serial killing ways and grew up to be the cops' biggest headache (Abhishek Chauhan).
Asur 2 starts off well enough, then gets increasingly far-fetched.
More crowded too, since ATF's Paul (Meiyang Chang) and his team crash the party to no great effect.
Nikhil-Nusrat are carrying on one investigation, Dhananjay (abandoning the monk's robes) and Naina do their own rampaging, and Shubh's killings get more brazen.
There is plenty of elementary philosophising too, while Shubh leaves clues in corpses, hacks into whatever network he wants and manages to set up an AI den that would be the envy of Silicon Valley.
The guy has no faith in righteousness or morality, and has delusions of creating a new world order.
Using the dark web, he has gathered a following of people who do his bidding. The masses are like sheep, the series seems to say, who can be manipulated by anyone with the ability to tap into their greed or insecurity.
What goes in favour of Asur 2 is its pace and novelty, even though the approach has all the hokiness of a comic book and expects too much suspension of disbelief.
If the viewer is willing to do that, then it is an entertaining watch.
What it also gets right is that new wars for world domination will be fought through the control or misuse of information through the web.
AI is already shaking things up, even at the innocuous level of ChatGPT.
Naina's finger flying over the keyboard as she averts crises with seconds to spare is more thrilling than thugs parading with guns.
The actors look tense all the time, as they are supposed to, with one man leading them a merry dance.
Arshad Warsi looks suitably grim and Barun Sobti so dishevelled that someone should have offered him a comb and wet wipe!
The kid with his air of total cool and inscrutable smile walks away with this season.
And, there is a hint of more to come.
Asur 2 streams on Jio Cinema.
Asur 2 Review Rediff Rating: