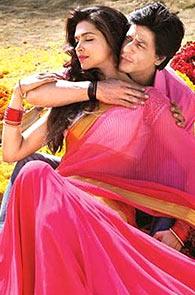 Chennai Express is a full throttle masala entertainment ruled by Shah Rukh Khan's star power, writes Aseem Chhabra.
Post YOUR reviews here!

Rohit Shetty has said he does not make films for intellectuals. Which is fine, but to be honest I have had problems with Shetty's previous films - always loud, ultra violent, often crass and packed with crude humor.

But in Chennai Express Shetty does something smart - he ropes in the star talents of Shah Rukh Khan and Deepika Padukone and in the process he smoothens some of the rough edges that were evident in his previous works.

There is still enough loud noise in Chennai Express, some over-the-top background score, exploding cars and stereotyping that would drive the politically correct critics to take a plunge into the ocean in Ramashwaran.

But Chennai Express is also a journey into Shah Rukh Khan nostalgia, many times following the pattern of Dilwale Dulhaniya Le Jaynege - the plot, the songs, dialogues, Rahul's earnest position that he will not elope with the girl he loves, until her father approves of their relationship. (yes, Khan is once again Rahul in this film). And there are many more references to Khan's other films.

I watched Chennai Express in a nearly packed theater in New York City with the audience laughing-out-loud at practically every dialogue of Khan, clapping and whistling. I was amused at times as well, although certainly not at much as the audience.

As the film progressed I realized a few things. Sometimes critics should not be separate from the audience. In fact, I think critics should sometimes watch films with the audience and they might see a whole lot different film. As a critic I can advice the audience that most of Chennai Express is loud, very mindless. But I will also say that it is harmless.

I realize there is value to this brand of Bollywood and it is not going to go away. Its purpose is to entertain the audience. And that is where Chennai Express delivers.

Hey, the film is an homage to Ranjnikanth, hence the Lungi Dance song. And even critics rarely trash Rajnikanth's films. As Khan says way too many times in the film - one shouldn't underestimate the power of the common man. And there is some truth in it.

Chennai Express is a full throttle masala entertainment ruled by 47-year-old Khan's star power. He works so hard in film - in playing a comic character, in breaking out into dances, being the romantic Khan that Yash Chopra, Aditya Chopra and Karan Johar have defined in their films, and ultimately the violent, action hero.

Khan knows he is there to entertain the masses - not much different than Rajnikanth, and he works at it with gusto and the madness of his energy. That is what makes him a star and so appealing to the audience I watched the film with in New York. And that is what makes Chennai Express work.

Khan is well supported by a woman, half his age, but a star on her own. Padukone is delightful in the film - beautiful, smiling, and often a lot more playful and funny than Khan.

In Chennai Express Padukone is a serial runaway bride who gets caught by her large-sized cousins and brought back to her father who is a local don. During one such journey from Mumbai in a train called Chennai Express she meets up with Khan who is carrying his grandfather's ashes – presumably to immerse them in the ocean in Rameshwaran, even though he is actually planning to escape to Goa (don't ask!).

The film's plotline is full of holes, often implausible: a Tamil-speaking sardar turns out to be a lone north Indian in a village in Tamil Nadu and also the local police chief (or was he just a constable?); Khan and Padukone, on the run from the henchmen of her father, keep getting support from other villagers – clothes, a fabulous house to stay in and jeeps to escape; the jeeps start on their own – no keys required; and during one of his escapes, Khan lands in a boat run by oil smugglers operating between India and Sri Lanka.

There is so much silliness in Chennai Express, but the film does not take itself seriously.

And then there are some charming moments in the film, especially some of the songs: the lyrical and romantic Titli and Tera Rastaa Main Chhodoon Na, and Kashmir Main Tu Kanyakumari, a song with pointless lyrics, but a grand scale production. The film has a colorful look - a production design laced with bright appealing colors. Often the rural settings look artificial, yet they are appealing.

As expected the film ends with the Lungi Dance song. As the song played, I heard many people whistle. I almost sensed some people dancing in the darkness of the theater. It was fun to watch the song on the big screen, the energy with which Khan and Padukone danced to Yo Yo Honey Singh's performance.

Still I could not help but think that only eight months ago, Singh was one of the most hated musicians in India for his Balatkari song. His New Year's Eve concert was canceled in Gurgaon after a signature campaign. How short out memories are. Eight months later Singh is resurrected, back with a bang, singing for one of the biggest films of the year. And hardly anyone is bothered by that!
Rediff Rating:

Also read: Raja Sen's Chennai Express Review: Chen-nahin!
Review: Chennai Express is a rollicking trip to nowhere!