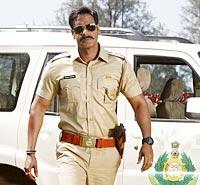 Aseem Chabbra feels that the real star of the film Singham is its sound team. Post YOUR reviews here!

In Rohit Shetty's mass-masala movie Singham, Ajay Devgn plays an upright, honest and do-gooder cop who goes way beyond the training and duties of a regular Indian Police Service officer.
He will stop to push a cart if its wheel is stuck in the mud; play with little kids; become a part time no-interest loan financier to settle a dispute between two people in his village, especially if someone is about to get married and it is their 'izzat ka sawal'.

Devgn's Bajirao Singham is almost the village panchayat, who is blessed by hundreds of drum beating men. His ritual bath in the village pond at night is accompanied with a beautiful display of floating lit lamps, and people dressed in red costumes praying, perhaps for his well-being.

After the bath, Singham walks bare-chested with mysterious smoke rising behind him, subtle dramatic lighting, to the beat of drums and what sounds like Hindu shlokas. He sometimes walks in slow-motion -- that means he is cool. And sometimes leaps at the bad guys -- that means he has lion blood flowing throwing his veins.

Singham is followed by a continuous soundtrack -- mostly the melody of the title song sung by Sukhwinder Singh. But in the second half of the film, when he decides to finally take on the evil Jaykant Shikre (a very loud and over-the-top Prakash Raj), Singham's personal soundtrack changes to religious shlokas -- as if his forthcoming actions, beyond what is allowed by the laws of the land and his training at the IPS academy, are justified and sanctioned by something above everything else -- God, Hinduism, its texts and its hymns.

Remake of a hit 2010 Tamil film, Singham is critical of the Indian politics and society. Time and again, the film's characters make observations against India's flawed and corrupt system.
The film's three writers: Hari, Yunus Sajawal and Farhad Sajid seem to be disappointed with the way India has shaped out to be. They have little faith in the law. Most cops in the film, baring Singham and a couple of his subordinates when he is posted to Goa, are shown to be corrupt or at least have an attitude that do they not give a damn.
The politicians are the guilty party. As Shikre says toward the end of the film -- from 1947 to 2011 no minister has been arrested in India for crime and corruption.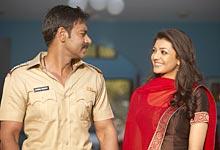 The film makes it very clear -- without the existence of Singham, the good cop, India has no hope. I wonder why no has thought of making him the president or the prime minister of the country!

The film opens with the big dramatic dance sequence celebrating our hero -- it feels like it is Holi, but it is not, as Devgn and the backup dancers strike a pose with as their hands becoming the claws of tigers.
The first half of the film takes its time in establishing Singham's character, his world, his romance with Kaavya Bhosle (Kajal Agarwal, a chirpy, but weak actress, who has a bad habit of rushing through her lines and strangely enough bears a slight resemblance to Devgn's wife Kajol).
In a long fight sequence, Singham beats up a fat bad guy who has snatched Kaavya's green dupatta. And she is so shamed by the dishonour that she wraps herself in a black dupatta.

There is the parallel story about Shikre, who makes money kidnapping rich people and has the protection of the Goa's top cops and politicians. But Singham and Shikre's path do not cross, until almost the intermission.

In the second half, Singham is posted to Goa -- as a punishment, where he is now in the world run by Shikre. He is frustrated and almost gives up hope. But just when he decides to leave, a depressed and overweight kid looks at Singham and begs him to stay back. "Uncle aap nahin hongey to yeh mummy ko marengey," the kid pleads with Singham.
The kid's mummy is Megha Kadam (Sonali Kulkarni), whose husband committed suicide in the opening sequences of the film, but all of that is too complicated to explain here.

Finally, Singham walks up to what looks like the entire Goa police force gathered with their families for a reception. He asks each of those cops to look into the eyes of their family members. Burdened with a sufficient sense of guilt, the reformed cops take off on 'mardon wallah kaam' to deal with Shikre, who by now has been elected for the political office. The method they chose to deal with Shikre may be unethical according to the Indian laws, but then it goes fine with the film's near anarchist attitude.

The dialogues are often hilarious, sometimes unintentionally. Singham to Shikre: "Tu corruption sey paiday hua gandi nalee ka keeda hai."
Shikre to Singham: "Yahan mera music system bajta hai!"
A jaded junior cop to Singham: "Main bhi yahan angry young man ban key aya tha. Lekin in logon ne mujhey Gandhi Ji ka bandar bana diya - na dekho, na bolo, na suno!"

The performances have Bollywood written all over them. Devgn is mostly a caricature of an action hero. His best moments are when he is really angry, gritting his teeth and cracking his knuckles as he gets ready to beat up the bad guys.

The real star of the film is the sound team. Singham is packed with a lot of bone crunching sounds, and loud action moments. Gone are the days when Bollywood films just featured dhishum-dhishum in the fight scenes. Now there is every possible jarring loud sound one hears, as Singham whips up the bad guys with his belts and smashes their bodies on the ground, against walls,.

The fights are long, painful and yet fun to watch. But I never understood why with all the beating they take from one man, none of the bad guys are even slightly injured. There is no bone broken, no cut, not even a bruise. There is violence and yet no after affect of violence. And I am sure that is fine for the Indian censors.

Rediff Ratings: