Of the six out of eight episodes shared by Netflix, I finished all in one effortless go, says Sukanya Verma who applauds this well-made thriller.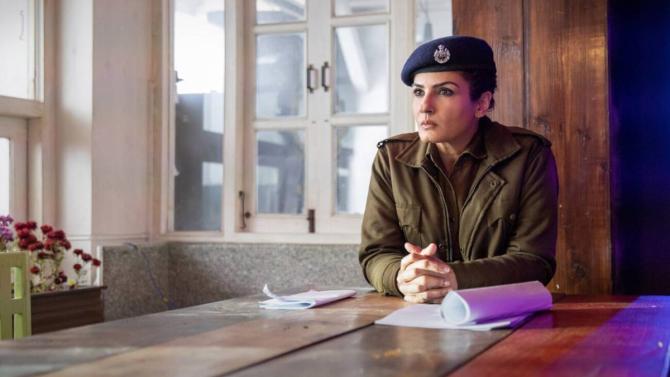 A French teenage tourist's body is found hanging from a tree in a scenic hill station in Himachal Pradesh.
Overnight, all the town folk turn suspects and its serene November sights acquire a sinister air.
But Aranyak gives us time to mull over the people and premise as well as savour its murky mood across a copiously designed web of deceit and lore evoking a Nordic noir.
Director Vinay Waikul's suspenseful police procedural penned by Charudutt Acharya, with additional screenplay by Sumit Purohit, taps into merits of long form television giving its protagonists enough flexing space to warm up and lay bare in what would otherwise feel overstuffed in a movie.
The medium has its pitfalls too, especially when the contrivances and loopholes draw unwanted attention. And yet, Aranyak is mesmerisingly cinematic.
Of the six out of eight episodes shared by Netflix, I finished all in one effortless go.
By virtue, whodunits are designed for curiosity.
But more than the mystery, its the gradually growing equation between colleagues-in-khaki -- Kasturi Dogra (Raveena Tandon) and Angad Malik (Parambrata Chatterjee) -- that gives Aranyak its lingering edge.
They aren't damaged or demoralised to the extent of Jaideep Ahlawat's cop in Paatal Lok but there is a feeling of kinship in their desire to see a high-profile case through to the end.
Cool, crisp air and chilly occurrences engulf the fictional, fabulously filmed Sironah (actually Dalhousie and Manali) as it is thrown into the limelight for all the wrong reasons.
None of that noise or sensational headlines screamed out by news channels torment its remote space.
Nestled in the icy mountains overrun by a forest of tall, towering trees, its cozy quaint cafes and fairy tale homes have more to worry about in the face of constant threats by man, beast and a fabled blend of the twain referred to as the Nar-Tendua by believers.
Fear for the lattermost is revived after a young girl is found raped and killed in the exact same manner as nine others before her in a series of brutal episodes that took place 19 years ago. What ensues is a slow-burn exploration into who did it -- man or myth?
Inspector Kasturi is a day away from a year's sabbatical and focus on her kids when the big case she has waited for since forever falls in her substitute Angad's lap. It's too tempting to let go and in a refreshing turn of events, she does not.
Angad isn't in the mood to step down either. Egos clash and a game of one-upmanship erupts.
Kasturi has strong instincts, but her investigation lacks finesse.
Angad is sly and methodical, but doesn't have the patience for small-town provisions or lack of it.
His outsider's perspective and her local's familiarity lead to much jugalbandi until they develop a mutual respect for each other's professionalism.
Kasturi's strained ties with her bitter husband (Vivek Madan) and recurring flashbacks of Angad's son's abduction are somehow connected to the case as is every single person inhabiting this populous pahadi mystery.
Be it the deceased girl Amy's junkie mum Julie (Breshna Khan), her drug peddler boyfriend from Pondicherry (Ajeet Singh Palwat), a minister unwilling to part with her political clout (Meghna Malik), her sex offender son (Tejaswi Dev) out on parole, his brainy best friend (Pratyaksh Rajbhatt), his cautious district collector daddy (Lalit Parimoo), a hotelier-turned-Rajya Sabha hopeful (Zakir Hussain), his anti-anxiety pill popping beti (Priyanka Sethia), her nervous groom-to-be (Indraneil Sengupta), Kasturi's sexually-active teenage daughter (Taneesha Joshi), her racy messages recipient classmate turned tour guide (Wishvesh Sharkholi), his ailing daddy (Kapil Sharma), the local cafe owner (Danish Iqbal), his suspecting housewife (Dakshina Sharma), the forebodingly staring house helps and hotel managers or the magic mushrooms in the woods, Aranyak is teeming in distrust.
Lack of CCTV cameras and a forensics-illiterate administration delay the process considerably, but Kasturi and Angad are determined to unearth the truth in a cesspool of crime, corruption and politics wherein the issue of consent and forest encroachment are mildly touched upon.
Only it's not two but three cops trying to solve the case.
Kasturi's father-in-law and retired policeman Mahadev turns up his psychic energy to the hilt as he embarks on a solo search for the culprit whom he believes to be out of the grasp of logic and sense.
Considering the number of actors on the roll call, of which all, barring the Caucasians, are cast suitably in their respective parts, it's not surprising that Aranyak forgets about a few for long spells and returns to give a glimpse more as courtesy than consequence. Things get a tad heavy-handed when Aranyak begins to tie up the loose ends even though it never loses sight of its ambition.
A good deal of it is signified in Raveena Tandon's stoic, solid act.
She has always peaked best in characters that focus on her innate strength and capabilities.
But as Kasturi, the actress ensures her dazzling confidence and tenacity are as affecting as her gently expressed empathy and disgust. Whether it's her complete inaptitude in the kitchen or a glorious moment when she puts her uncouth husband in his place, Raveena packs in a punch.
The streaming space is an oyster for this feisty actress.
Her compelling dynamic around Parambrata, wonderfully restrained and discerning in a role of equal importance, is reason alone to root for this thriller.
Aranyak streams on Netflix.
Rediff Rating: