If you are looking a entertaining film or even a meaningful one, Anwar Ka Ajab Kissa isn't for you, notes Namrata Thakker.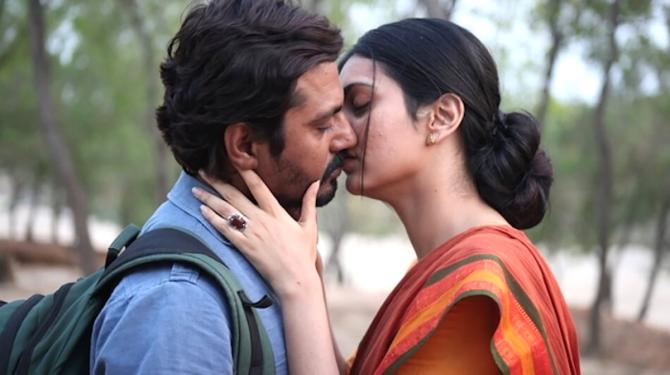 Anwar Ka Ajab Kissa was supposed to release in 2013.
The film has now found its way to the OTT platform and is currently steaming on Eros Now.
It revolves around Mohammad Anwar (Nawazuddin Siddiqui), a lonely private detective who often shares his deepest feelings with his dog Lalu.
The love of his life, Ayesha (Niharika Singh) is married to someone else.
Apart from work, Anwar has nothing to look forward to in his life, so he takes a lot of interest in his cases.
How he interacts with his clients and tries to help them forms the crux of the story.
With a runtime of two hours, Anwar Ka Ajab Kissa seems too long, considering the story has hardly anything to offer.
It's evident that the movie was made a long time ago because of the way it has been executed.
Since the film is about Nawaz's character and how he navigates through life while yearning for his long lost love, he is in every scene, from start to end.
Though Nawaz is always a delight to watch, after a point, he doesn't engage you either in this slow paced drama.
Still, Anwar Ka Ajab Kissa is worth watching only because of Nawaz.
Except for Nawaz, none of the characters make an impact.
It seems as if the director brought non-actors on board to keep things real and authentic, but that does not work.
There are times when the camera is only on Nawaz even while he interacting with someone in a scene. So it's bizarre when you don't see anyone else in the frame, only him, even when someone else is saying the dialogues.
Niharika Singh and Pankaj Tripathi hardly get any screen time.
Tripathi arrives at the very end of the film and while one would expect him and Nawaz to create some sort of magic. They don't.
Overall, Anwar Ajab Kissa isn't typical Bollywood fare.
Neither is it an artsy or indie film.
It's lost somewhere in the middle and that's the biggest letdown.
Apart from Nawaz, the casting is disappointing and the movie is bizarre.
Some characters pop out of nowhere and disappear just as easily.
As an audience, if you are looking a entertaining film or even a meaningful one, Anwar Ka Ajab Kissa isn't for you.
If you are a Nawaz fan or want to observe his acting and take away few lessons from him, then give this one a watch. But bear in mind, your patience will be tested.
Rediff Rating: