Antim: The Final Truth is so done to death that even criticising it feels like an exercise in monotony, feels Sukanya Verma.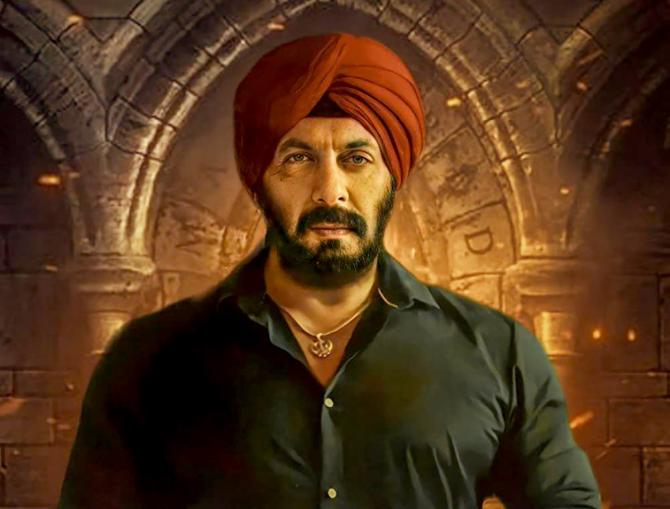 Another Friday.
Another iteration of crime does not pay.
Antim: The Final Truth is so done to death that even criticising it feels like an exercise in monotony.
But since the title is so resolute about the truth, let me not hold back.
Mahesh Manjerekar's wannabe Vaastav posturing as a remake of Marathi flick, Mulshi Pattern is the kind of hackneyed shlock where you can predict exactly what is transpiring on screen while your face remains buried in a phone.
Some movies are designed to pay no attention and Salman Khan's latest screams trash.
For those of us still recovering from that monstrosity called Radhe, Bhai's strutting stud pose and ultra-tight khaki uniform in Antim shows no signs of remorse.
This time, he adds Sardar and kisan to his pedigree, throwing in a line or two about the greatness of the community (Jis din yeh Sardar ki hategi sabki phategi), being a farmer's son et al while mouthing the daftest lines, 'Is duniya main kuch nahi tikta sivay plastic ke.'
What's on paper is a plain cop playing sly games to finish off gangs and corrupt netas.
What emerges on screen is a superman showing off his clean shaven chest and fruits of working out at every single opportunity.
Give me his humble Sardar act in Heroes over this swaggering peacock any day.
It may not feel like one but Salman and his mercurial Punju accent are a mere supporting presence in Antim.
He is also the producer. And the sole purpose of this crummy product is to make us reconsider brother-in-law Aayush Sharma's talents.
It's been three years since his debut Loveyatri, but his solitary expression hasn't budged an inch.
Tanned up, beefed-up, he plays Rahul, a poor guy raised on protein shakes throwing fits of rage over his farmer father's (Sachin Khedekar) exploitation by the rich, political and felonious.
And in true Bollywood logic, he overpowers them by becoming one of them.
Except Rahul's righteous daddy disapproves of his son's misdemeanour.
No matter how much he enlarges those eyes, they don't have the poor little bad boy vulnerability of Sanjay Dutt.
Sharma's Rahul is an unlikeable, reckless hothead.
Both his romance and rebellion stem from irrational rage and an unfair privilege the script paints him with.
Although Sharma looks rather believable, enjoying it.
There's a moment in this Pune-based masala when a crime scene becomes a setting for a battle of brawn between Salman and Sharma. And it gets intense to the point of comical.
Antim: The Final Truth is far from funny though.
Every frame of this junk is teeming with greasy, bulky men in big gold chains or Maharashtrian clichés like the obligatory lavani item number and Ganesh Chaturthi celebration.
Women are either sorry figures in tears or objects of desire arriving at their third trimester at the blink of an eye while the booming background music's single-minded goal is to damage your eardrums.
There's Jisshu Sengupta reduced to a commonplace henchman peeing in his pants. From romantic interest in women-oriented vehicles to just another goonda, what a comedown.
After surviving 142 minutes of mind-numbing lawlessness and zero consequences around people pointing guns and darting bullets in an all-you-can-kill buffet, I wish I could truly say this was the Antim not nth time.
Rediff Rating: