Leaving aside the predictability of the stories, Ajeeb Daastaans is a good watch, says Prateek Sur.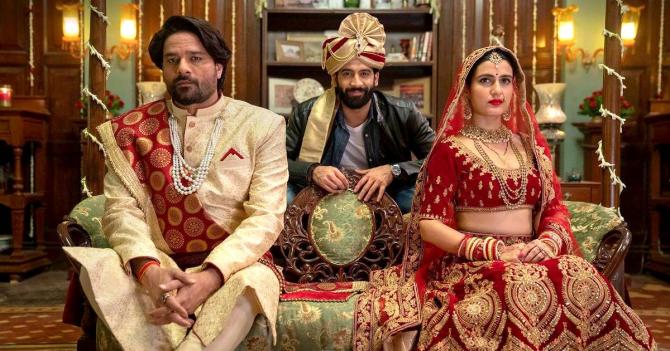 We all have heard of dysfunctional families, right? But what about dysfunctional relationships that we have with people who are not family?
Ajeeb Daastaans explores such fractured relationships that we end up building knowingly or unknowingly over the years.
Four strikingly different stories are sewn together using the common thread of unexplored relationships.
Talking about performances, newbie Armaan Ralhan stands tall. He is a perfect blend of good looks and raw acting. He manages to get the dialect perfectly and that makes his performance even better.
Then we have Aditi Rao Hydari, who is known for playing numerous bubbly characters. But, this time, the intensity with which she gets perfect onscreen cuteness is commendable. Her chemistry with Konkona Sensharma is fantastic.
Shefali Shah pulls out a stunner of a performance. Her banter with Manav Kaul is something you will remember long after the film is over.
You will be surprised that Jaideep Ahlawat is not putting too much on the plate. Then suddenly, in the last five minutes of his segment, he blows you away.
Fatima Sana Shaikh tries hard to be the sexy, hot, desperate housewife but it doesn't work.
Overall, though, the performances are surprisingly good.
Among the four stories, you will be most surprised by Neeraj Ghaywan's Geeli Pucchi. Like his debut film, Masaan, the layered writing in Geeli Pucchi underlines Indian society's socio-economic imbalance in every scene.
The climax of Raj Mehta's Khilauna will make you pull your hair out as you wonder what just happened. You will end up remembering the scene over and over just to ensure you and the story are on the same page. It is a stellar ending to a rather monotonous tale.
Shashank Khaitan's Majnu is quite predictable, especially if you have seen the trailer. However, as you think the curtain is closing on this tale, the real story hits you hard.
Ankahi by Kayoze Irani demands your praise. Without a doubt, Boman Irani's son makes an impressive start as a director. The story will not only make you think about your personal relationships, but also underline what true relations should be like.
The way the stories have been set in small neighbourhoods of small towns increases their impact tremendously.
I would not say the stories are spectacular as there is an underlying sense of predictability in all of them.
While you are left surprised with the way the ending unfolds, you have a fair understanding of where each story is headed by the middle of each segment. That predictability kills a bit of the fun.
The music is excellent. The background score in Geeli Pucchi is stellar and you'll be humming it long after you are done watching the film.
Ajeeb Daastaans is Karan Johar's way of expressing broken and fractured relationships within the milieu of unexplored spaces.
Leaving aside the predictability of the stories, it is indeed a good watch.
Rediff Rating: