'What really works is the core story, the characters who come together, the twists and turns, and, above all, Sushmita Sen,' notes Joginder Tuteja.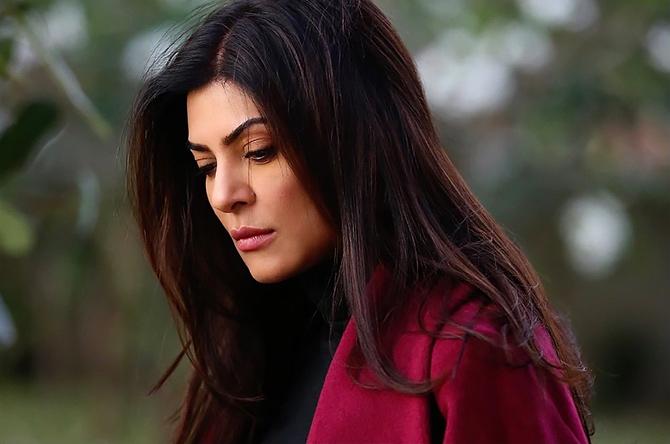 'Not Bob, Bob mausa.'
The grace with which Sushmita Sen gently, yet firmly, reprimands her 13-year-old daughter to draw a boundary when it comes to addressing the newest member in the family on whom she has a teenage crush, makes one realise that the actress has been severely under-utilised in the industry.
Sushmita pretty much nails it in this Ram Madhvani (Neerja) Web series, which has Sandeep Modi and Vinod Rawat as additional directors.
She has grace and poise, and when she uses a Hindi cuss word just once in the series, it is for a reason and a purpose, and doesn't seem out of place.
That's the best part about Aarya -- nothing is out of place, right from the premise to the characters to the plot points to the overall storytelling.
It is well balanced as well as realistic, without getting too gritty or dark.
Unlike the kind of narrative Indian audiences have started getting used to (Paatal Lok, Special Ops, The Family Man), this is a slow-paced drama.
Tej Sareen (Chandrachur Singh) runs a pharma company in Rajasthan as well as an illegal drug business with supplies being sent all the way to Uzbekistan.
Wife Aarya Sareen (Sushmita Sen) and later, their three kids know all about it. After all, it's a family business.
The kind of urgency that was seen in a similar set up, Narcos, is not present in Aarya.
There is just one sequence in the series when a container exchange needs to be done in a race against time (the cop is played deftly by Vikas Kumar) where you feel an adrenaline rush. Otherwise, be it a thrilling sequence, a dramatic encounter or a big reveal, it is all done slowly.
This is also due to odd placements of retro songs that Ram Madhvani experiments with right through the series.
While the song Bade Achche Lagte Hain (Balika Vadhu) is done to death, there are a dozen similar numbers that arrive at the oddest moments.
What really works is the core story, the characters who come together, the twists and turns during the proceedings, the surprise factor, and, above all, Sushmita Sen.
You like the manner in which she channelises everything good and bad happening around her. Be it the sudden responsibility of managing her funds to figuring out her dispute with family members -- her father played by Jayant Kriplani and her brother played by Ankur Bhatia -- and friends (Namit Das and Sikandar Kher) or dealing with a suave ganglord (Manish Chaudhary), she is just up there.
Chandrachur Singh is adorable in a short, yet important, part, and should be seen more.
Sikandar Kher's part could have been fleshed out, but he is almost silent as a character.
Namit Das enacts the part of an immature, impulsive, man who wants to build an identity of his own well.
Manish Chaudhary comes across like a man who has been this character for decades.
As Sushmita's sister and sister-in-law, Priyasha Bhardwaj and Alexx O'Nell are appropriate.
Had Aarya been seven episodes -- instead of nine episodes -- long and paced much faster, it would have had a better entertainment quotient.
It is a rare Web series which can be watched with the entire family.
Rediff Rating: