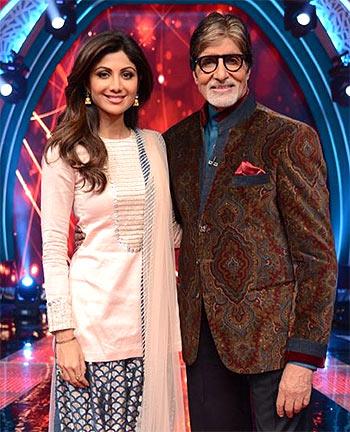 The concept is beautiful. Amitabh Bachchan is fabulous. But Aaj Ki Raat Hai Zindagi still doesn't get it right, feels Tista Sengupta.
It's amazing to see Amitabh Bachchan back on television.
His excellent hosting skills and charismatic screen presence is intact, as he brings Aaj Ki Raat Hai Zindagi to our TV screens every Sunday. The show is an adaptation of the British series, Tonight's the Night.
The show focuses on unsung heroes, who have done something altruistic for the society.
Quite an impressive concept, isn't it?
The intention of spreading smiles by focusing on the positive things around us is good, but the question is this: How good is it?
The makers perhaps wanted to shift our minds to something positive but lack of solid research, with zero attention to the product's packaging, they may have a tough time getting its viewers to watch another episode.
Not that they don't try. The makers bring in famous faces to entertain us through the show as well.
The idea is simple.
Recognise a person who has brought change in the lives of many. Bring them on the show and compliment them with some celebrities. Mr Bachchan talks about their work, and appreciates their noble deeds.
And so we have:
Hemlata Tiwari, who has formed a group of blind musicians, who used to make a living singing at railway platforms.
Suresh Agarwal, who provides shelter to poor outstation cancer patients in Mumbai.
Mark and Yvonne D'Souza, who deliver home-cooked food to senior citizens.
Siddharth Zagre, who encouraged and supported his wife Rashmi, who went on to become a sub-collector.
Stars celebrate their accomplishments by performing on their favourite numbers -- Amruta Khanvalkar grooved to a Lavni number, Shilpa Shetty and Alia Bhatt saluted the heroes for their incredible work and comedy king Kapil Sharma left the audience in splits with his one-liners.
But it was really Amitabh Bachchan who held the show together, with his keen style narrating these inspirational human interest stories.
Let's hope the next few episodes leave long-lasting impressions.
Rediff Rating: