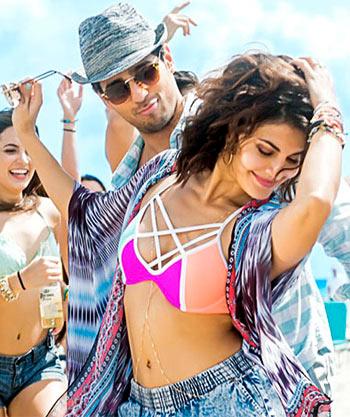 'The way the daredevil feats are set up, they don't have the maniacal feeling of actual gun battles, or good jazz, or a whacked-out dance performance -- they just don't provide you that giddy tingle you go looking for in such films,' feels Sreehari Nair.
Consider this a working hypothesis: I think the worth of a movie can often be measured by how it changes your relation to alcohol.
2009
A friend and I walked out of a screening of Raj and DK's 99 eager for a drink.
This we proclaimed, 'is the best Hindi movie of the year.'
An endlessly inventive caper glittered with actors -- Kunal Khemmu, Soha Ali Khan, Boman Irani, Simone Singh, and Mahesh Manjrekar -- all giving their best performances up until that point, 99 had a new spirit, a new tongue, and it was a movie that my friend and I decided, had to be analaysed between two sips and a smack of our lips.
Another year.
Another self-inflicted social experiment.
2014
I walked into an evening-show of R-D's Happy Ending with the same friend -- this time, both of us pre-drunk for the screening. And it didn't take us long to realise that perhaps we should've been braver about our consumption.
Thirty minutes into the film, with it now becoming increasingly evident that the air had gone out of Raj and DK's vision almost completely, my friend and I sat sobered down in our seats.
Talk about how bad movies can be great buzzkillers!
Going by this past history with Raj and DK, I felt as though it was only a natural progression that the director-duo's latest, A Gentleman, had to release on what I supposed would be a dry-day here in Mumbai.
For this is a film designed to keep you closer to abstinence than to joy.
While their 99 and Shor In The City may not have projected a fully formed sensibility, they clearly had something personal in them -- in that they represented a discontent against neat characters, character types, and the usual filmic devices.
Those two films were artistic endeavours by guys who seemed so taken by the movies that they were constantly looking to turn the smallest of reality around them into cinema-worthy moments.
In A Gentleman, we see very little of that early promise and too much involvement of the pressure groups.
This film is a nose gay for Studio Filmmaking.
It's a good example of what happens when talented filmmakers sell their souls.
Snorkeling off their basic gagster sensibility, Raj and DK's A Gentleman is pitched as a celebration and satire of spy movies.
The protagonist Gaurav (played by Sidharth Malhotra) is a man bubbling with self-content despite the monotonies in his life.
We can sense there's something dark lurking in his past and something sinister brewing in his sunshine-filled Miami neighbourhood, when we see Gaurav driving to work offering the same respectful look to a bunch of ducks who cross his car and a group of 'chicks' who pass by it.
The hammered pleasantness in those scenes may remind you of the overtly cute introduction scenes of Blue Velvet, which scenes acted as a prelude to the horrific story that followed.
Gaurav's too happy to be Gaurav: The regular guy with the usual side glances.
However, unlike the protagonist of Blue Velvet, Gaurav's not about to go down a rabbit hole here; on the contrary, it's the rabbit hole that's out searching for him.
Because Gaurav, the clean-cut yuppie, we're shown, has a subversive history: he's actually Rishi, who once belonged to a gang of orphans who worked for Colonel (Suniel Shetty): An ex-serviceman who sells corporate deals under the garb of patriotism.
Colonel is a man who leaves no evidence, and Shetty playing Colonel gives us no evidence of his acting skills -- in a scene where he's shown sitting in a room watching television, he seems to be looking over the screen.
In this section though, Raj and DK show off some light touches, getting at some of the fantasies that men carry from their earliest childhood -- of working as a team, performing deadly secret missions,and making hairbreadth escapes.
The chase and fight sequences, in this section have a dazed-out quality about them and they tap into this infantile consciousness of grown-up men.
As for the rest of the film, in the way the daredevil feats are set up, they don't have the maniacal feeling of actual gun battles, or good jazz, or a whacked-out dance performance -- they just don't provide you that giddy tingle you go looking for in such films.
The film tries to double cross the audience by stacking Gaurav's past against his present, without any explanation of the shifting timelines, and with only the names of the cities where the action is taking place, emerging on its waters.
Like with this grand conceit that really isn't as labyrinthine as it makes itself out to be A Gentleman isn't half as clever as it presents itself to be.
The jokes and the con jobs are all mounted using elaborate set ups but you can guess at the punchlines and denouements from a distance.
Sidharth Malhotra with his neatly laundered clothes, is relaxed (as both Gaurav and Rishi), but he has no flair for self-parody -- you don't respond to the freak hidden inside the proper manners.
Also, when he goes for sentimentality, he's all synthetic autumn leaves-like.
Then there's Jacqueline Fernandez as Kavya, the Lois Lane to Malhotra's Clark Kent avatar, who uses him to run errands, is repelled by his straightness, and who shrieks when she comes to know how lethal he actually is.
He constantly wants to open himself to her, but she's forever telling him to quell his vapours.
He is kind of a warlock, she is kind of a witch, and when they roam the streets of Miami, he rides a bicycle and she roller-skates by his side.
Fernandez acts her hips out, is sufficiently vapid, but there's no heat in her scenes with Malhotra.
There's a mandatory Sex after World Domination sequence between the two, and when it happens, you'll wish the world hadn't been dominated so easily.
The biggest con job in the film is its editing, with the cuts not even mildly concerned with maintaining continuity of emotion.
Darshan Kumar, as Yakub, one of Shetty's trusted boys, tries to keep the continuity going in his sequences by perpetually holding onto his breath -- I hardly ever saw the man exhaling.
The humour is closer to the Imtiaz Ali brand of humour, which essentially means using Indian small phrases in foreign locales.
There are references to Neeta Travels, Puran Poli and Desi swear words, all uttered in the vicinity of unsuspecting Americans: The over-contrast is supposed to tickle us.
In both 99 and Shor In The City, a lot of the fun came through in scenes of straight behaviour under desperate circumstances.
Those movies were about nervousness that became funny when powder puffed by proper etiquettes.
A Gentleman is an assumed piece of filmmaking, where the small-concerns-interrupting-big-moments kind of humour doesn't quite fit the slapdash setting.
In fact, Raj and DK's low-keyed style of joke-making just doesn't seem right for this film.
When the characters keep on saying 'Seat belt please' before stepping on the pedal and driving off, or when a shootout scene is disrupted for the right kind of signal ('Roll', 'Whistle', 'Help'!), those numbers don't anoint the staples of this genre, but instead, make them seem exhausting.
To understand how mismatched Raj and DK's energy-valences are for this movie, you only have to watch for their favourite actor Amit Mistry (who in 99, gave one of last decade's finest comic performances) struggling to find any tuning in his scenes here as Jignesh, the Gujarati small-goon in Miami.
There's s only one moment in the movie that had me laughing out loud, and it involved Rajit Kapur (playing Kavya's dad) who comes visiting Sidharth Malhotra, and who gets fixated at a rolling pin drilled deep into a kitchen wall.
Kapur's reaction in that sequence felt like a village bumpkin suddenly offered a preview of a Cubist painting.
There's also an innovatively thought-up scene of Malhotra and Darshan Kumar getting stuck inside a car wedged between two buildings in Mumbai, where the horror of their situation dawns upon the two, but they soon starting punching each other like two kids.
That scene though is so shoddily designed, the kinkiness never comes through.
Despite wandering off to Miami for the longest time in wallpaper-like locations, Raj and DK's love for Mumbai becomes apparent in the way they shoot the city's many curious faces and narrow by-lanes.
And that's when you realise how they may have betrayed their own talents starting Go Goa Gone.
The noise of the crowd, the badly phrased banter of the unthinking mob, the music in the butcher's knife, the tiny dreams of little people, these asides were the true essence of Raj and DK's first two movies, and it seems like they've stopped stepping out and recording them.
Instead, it's a boardroom-to-boardroom existence that they now find comfort in.
The result being that they today appear to be in cahoots with the same forces they started out rebelling against.
And that's not something to drink to, I guess.
Rediff Rating: