Sanjay Mishra is the saving grace of Subhash Ghai's forgettable comedy-thriller, 36 Farmhouse, observes Namrata Thakker.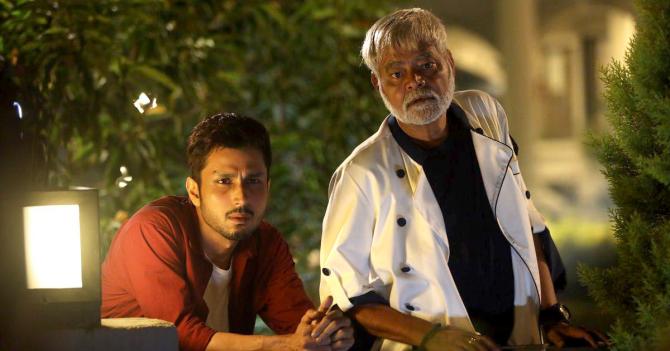 Written by Subhash Ghai and directed by Ram Ramesh Sharma, 36 Farmhouse is set amidst the backdrop of the lockdown and revolves around a few eccentric characters who end up in a mansion.
Padmini Singh (Madhuri Bhatia) is the owner of a lavish farmhouse and 300 acres of land. When she falls severely ill, her eldest son Raunak Singh (Vijay Raaz) manipulates her into giving away her estate and land to him.
But Padmini has two more sons, and they are at loggerheads with Raunak.
The two sons are filthy rich but they still want an equal share in their mother's property. Because of this dispute, a murder takes place in the farmhouse.
Raunak Singh becomes the main suspect.
The two brothers, who hardly appear in the movie, lodge a complaint against Raunak for killing their lawyer at the farmhouse. The police raids the farmhouse but doesn't find anything.
The rest of the story is about how the murder mystery gets solved and who the actual murderer is.
Sanjay Mishra plays JP, the cook at 36 Farmhouse. He lands the job randomly while he is on his way to his hometown because of the lockdown.
Amol Parashar plays JP's son, Harry. He ends up at the farmhouse because of Antra (Barkha Singh), Padmini's grand-daughter.
Harry is Antra's assistant and is surprised to find his father at the farmhouse.
Then there's Ashwini Kalsekar, who plays Benny, the caretaker who's also a thief.
Story wise, 36 Farmhouse hardly has any meat to keep you engaged. Yes, there's a twist at the end, but that hardly makes up for the otherwise boring story.
Sanjay Mishra is hilarious and the saving grace of this film. But the role doesn't do justice to this actor's talent.
His banter with Amol Parashar is fun to watch, as is his 'affair' with Benny.
Vijay Raaz and Amol Parashar give decent performances.
But Ashwini Kalsekar should stop doing the same sort of roles. She needs to experiment.
Barkha Singh and Madhuri Bhatia are strictly okay.
36 Farmhouse could have been a better watch as the lockdown concept with strange characters stuck in a farmhouse does sound exciting.
But the makers fail to deliver with an ineffective, boring script.
Watch the film only if you're a Sanjay Mishra fan.
36 Farmhouse streams on ZEE5.
Rediff Rating: