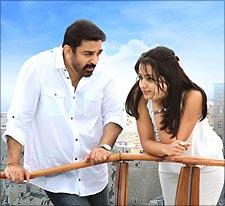 Pavithra Srinivasan reviews Tamil film Manmadhan Ambu. Post YOUR reviews here!
There are several things going for Red Giant's Manmadhan Ambu (Cupid's Arrow), but chief of them all is Manush Nandan's cinematography. The man has simply run rings around luscious locations such as Paris, Barcelona, Rome, Venice and Kodaikkanal, bringing in the sun and the wind right into your face. He deserves a dozen pats in this K S Ravikumar venture, which is an intriguing story woven around romance, sorrow and angst in almost equal doses.
When you have Kamal Haasan playing writer and essaying the lead role, you expect nothing but good stuff. And he doesn't disappoint. Most of the time.
The beginning is intriguing: Popular actress Ambujaakshi aka Ambu aka Nisha (Trisha) arrives in Paris with her friend Deepa (Sangeetha) and her two children, Vishy and Bhagirathi. She looks wan and drawn, obviously in need of a break away from prying eyes. The reason? She's trying to put some distance between herself and her fiancé Madhanagopal (R Madhavan), a wealthy, spoilt business-brat, who's plagued by suspicion and dogs her every step.
Cue to a sensitive and interesting flashback. We see Nisha on a shoot with Suriya; Madhan's parents' subtle disapproval of her lifestyle, her argument with Madhan and their subsequent heart-break. The two decide to give each other some space, but Madhan isn't quite done with his fiancée yet. Drinking with friends, dogged by his mother Indra (Usha Uthoop) and floundering in doubts, he sets a private investigator on her trail: Raja Mannar (Kamal Haasan). The moment the man makes a stylish entrance, to DSP's peppy Who's the Hero, bashing up Parisian thieves, you sit up in excitement.
The first two hours of the movie don't disappoint. There's depth in the characters and storyline. Mannar's efforts to raise funds for his cancer-stricken friend (Ramesh Aravind) and wife Mallika (Oorvasi); Ambu, the golden hearted heroine who might live a seemingly profligate lifestyle, but is a one-man girl; Deepa's monologues on men, ways and means to handle them; the antics of Mr and Mrs Kurup, constantly at Ambu's heels - the characters are all three-dimensional, always true to their selves, and draw you into the movie. The humour is mild, subtle and gives way a lot to deep emotion.
But the winning moment belongs to Mannar and his French wife Juliet (Caroline). In a flashback, he sings the melodious Neela Vaanam, narrating his romance backwards. Picturised beautifully, these five minutes are heart-wrenching and make the entire movie. This deserves unstinting applause.
Post the intermission, the tone of the movie changes, and you're not really sure if that's a good thing. The mood becomes frothy and the slapstick you haven't been looking for, suddenly overtakes all the characters.
In typical Crazy Mohan fashion, all the characters suddenly arrive at one point, kid around each other and though there are genuinely funny moments, they seem contrived. There's the mandatory toilet humour (overdone) and all the comic mandates that keep everyone in fits of laughter. The problem is, the tender love story is lost in the process, and you can't help but feel a pang.
As far as performances go, there's really nothing to say about Kamal Haasan that hasn't already been said. The man owns the screen, especially the flashback romance, and his sorrow for his deeply-suffering friend. His dialogues are realistic and hit the nail on the head.
Trisha continues to perform well (carrying on from her VTV days), and actually emotes. Sangeetha is a hoot with her dialogues, body language and expressions. Madhavan, looking older, does an excellent job as the jealous lover, and keeps you laughing through the slapstick parts. Ramesh Aravind and Oorvasi, though in short roles, bring tears to your eyes. Kunjan and Manju Pillai come into their own during the second half, and have you in splits. Suriya, in a cameo, brings the roof down. The ship, Splendida, is a character in itself, and almost out-performs everyone else.
The live recording evokes mixed feelings. On one hand, it's a different feeling, listening to the actors talk in real time and know what they really sound like; it increases the intimacy. Yet there are times when the extraneous sounds play spoilsport. Trisha and Usha Uthoop speak with extra care, and it rather robs their speech of spontaneity. But it does work most of the time.
Shaan Mohammed's editing shines, while Devi Sri Prasad excels in the background score as well as the songs.
Manmadhan Ambu defies characterization as either a romantic film or a comedy, largely because the two don't mix. Kamal Haasan seems to have wanted to do a serious story, and suddenly been beset with the expectations of a commercial film.
There's little of K S Ravikumar in the film as well, but it's a Haasan film throughout. If you can mould yourself into the appropriate mindset, you can enjoy both.
Rediff Rating: