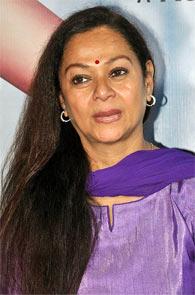 There seems to be no end to Zarina Wahab's troubles.

While her son Suraj Pancholi has been granted bail after spending three weeks in jail in the Jiah Khan suicide case, her actor husband Aditya was recently booked for allegedly assaulting a neighbour.

A visibly distressed Wahab informs that it's a three-month-old complaint that has resurfaced just when things are going wrong for her family.

'Aditya had only gone over to these people's house to ask them to do something about the noisy renovation work in their house. It was disrupting our daughter Sana's sleep.

'Everything seemed fine. Now, suddenly it has been brought up again at a time when we need our friends, neighbours and family to stand by us,' Wahab says.

While the said neighbour alleges that he was roughed up by Aditya and claims to have CCTV footage as evidence, Aditya says he only pleaded "with folded hands"
with him to keep the noise down.
In a rather strange turn of events, the neighbour took off for a vacation with his family right after filing the FIR against Pancholi.
Wahab says, 'I rushed down to their home to request them to postpone their complaint against Aditya until our son is out on bail. But they'd left on a holiday. This is the limit. I don't know how much more of this I can take.
Main bilkul toot chuki hoon
(I'm completely broken inside).
'I didn't shed a tear when my father died. But now I'm constantly crying because of what is happening to my family. It's almost as if some curse has befallen us. Jiah is no more. But her mother is trying her best to destroy us. We've done no wrong. They can bring on as much trouble as they like. We'll fight it out,' says Wahab.
In the picture: Zarina Wahab. Photograph: Abhijit Mhamunkar