'I used to be humiliated.'
'If I'd approach an actor, he would say hello and then turn away.'
'That's when I understood the whole game of the industry.'
'You cannot trust the industry.'
Madhur Bhandarkar faces his challenges head on as he readies Indu Sarkar for release, and tells Rediff.com's Ronjita Kulkarni all about it.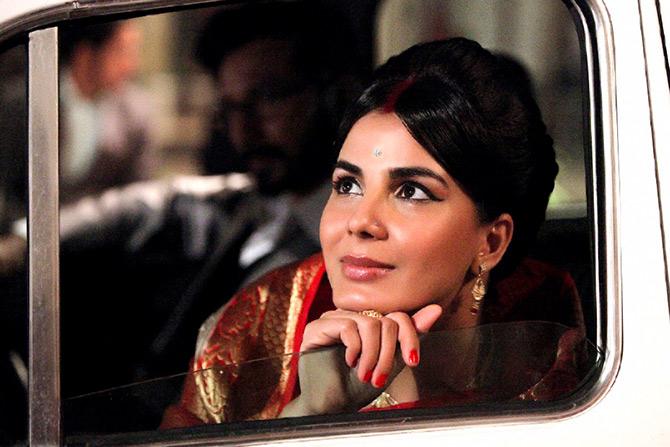 IMAGE: Kirti Kulhari in Indu Sarkar.
Madhur Bhandarkar is upset with the reactions to his new film Indu Sarkar even before its release on July 28.
Congress leaders like Sanjay Nirupam and Jagdish Tytler have demanded to see the film to see how it has treated Indira Gandhi and her son Sanjay.
Sanjay Gandhi's 'daughter' has sent him a legal notice.
And if that was not enough, the Censor Board has demanded 14 cuts in the film, banning words, names and dialogues.
Even as Bhandarkar reels under the political pressure, he looks back at his career, where he has made a lot of controversial cinema.
He also looks back at his humble beginnings of a teenager working in a video parlour.
'I'm still a duffer about how many zeroes there are in 1 crore'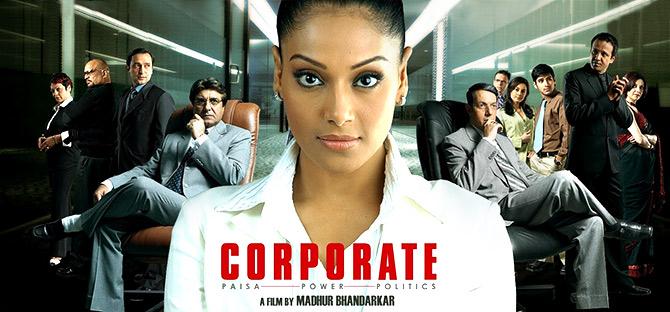 IMAGE: Bipasha Basu on the Corporate poster.
Indu Sarkar may be taking up all his time recently, but it's not Madhur Bhandarkar's favourite film. That would be the Bipasha Basu starrer Corporate, which released in 2006.
"I have been (a part of the world of) Page 3, Chandni Bar and Fashion. But Corporate was a different world for me. I'm still a duffer about how many zeroes there are in 1 crore," Bhandarkar says with a sheepish grin.
He received some of the best compliments for that film.
"An industrialist called and asked 'How did you get it so right?' He said, 'I felt you put a camera in my office and shot it!'
Corporate has become a case study at the hallowed Indian Institute of Management-Ahmedabad.
"I was invited to give a lecture. They liked the line, 'You must do business with the mind, not the heart'," he says, not without some pride.
Corporate deals with the power games between rival industrialists who make the family outsider (played by Bipasha) the fall guy when plans go horribly wrong.
And the film is as far removed from his humble beginnings as possible.
***
'I used to deliver video cassettes to actors, bar girls, the underworld...'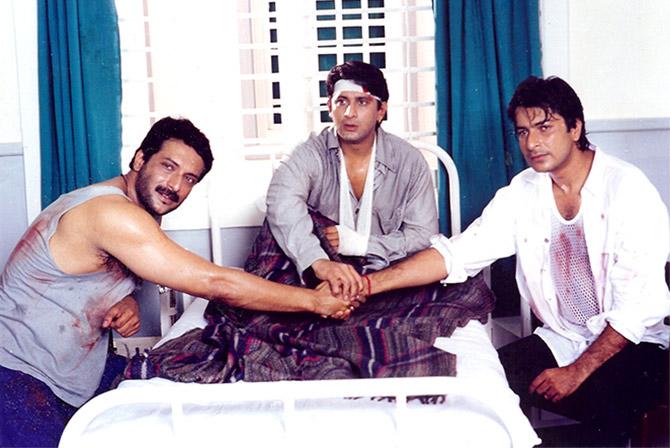 IMAGE: Milind Gunaji, Arshad Warsi and Sharad Kapoor in Trishakti.
Madhur Bhandarkar hails from a humble background, "with no education and a lot of poverty."
After failing Standard 6, he quit school to work in a video parlour, and would deliver video cassettes to customers on his cycle for four or five years.
"I used to deliver video cassettes to actors, bar girls, the underworld, businessmen..." he says, adding that that is where he got his earliest training on human behaviour.
"I would interact with these people. I am a very good observer. I would try to read people's minds," he says.
Among all his filmi clients, he says only Mithun Chakraborty remembers him.
He also became an encyclopaedia of Hindi cinema during this time.
He went on to assist Ram Gopal Varma for three or four years, and quit right after Rangeela's release in 1995.
In the next two years, he set about trying to make his first film.
"When I would narrate subjects to people, they would say it's too Shyam Benegal-Govind Nihalani type. Yeh sab nahin chalta hai. People told me to make a commercial film. Once I was successful, I could try the message-based film," he remembers.
"I was jobless, and needed a break. So I made a commercial film, Trishakti. But when you are insecure, if someone says action daalo, ya chopper daaldo ya item number daal do yaa bikini daal do ladki ke saath, you tend to do it."
"Mentally, I knew the film would not do anything for me," he says.
Trishakti released in 1999 and bombed.
"People wrote my professional obituary," he says, smiling.
The struggle started all over again, as he would either gatecrash film parties or connect with small-time secretaries and ask them to invite him to parties.
"That was the only place you could network. 'Dikhta hai woh bikhta hai', they would say," he says with a chuckle.
"I used to be humiliated. If I would approach an actor, he would say hello and then turn away. Of course, I went on to work with these actors."
"That's when I understood the whole game of the industry. One has to be very practical. You cannot trust the industry, where your friends and enemies change every Friday," he says.
Two years later, he made Chandni Bar, a film he believed in, and it changed his life forever.
***
'My wife finds Chandni Bar very depressing'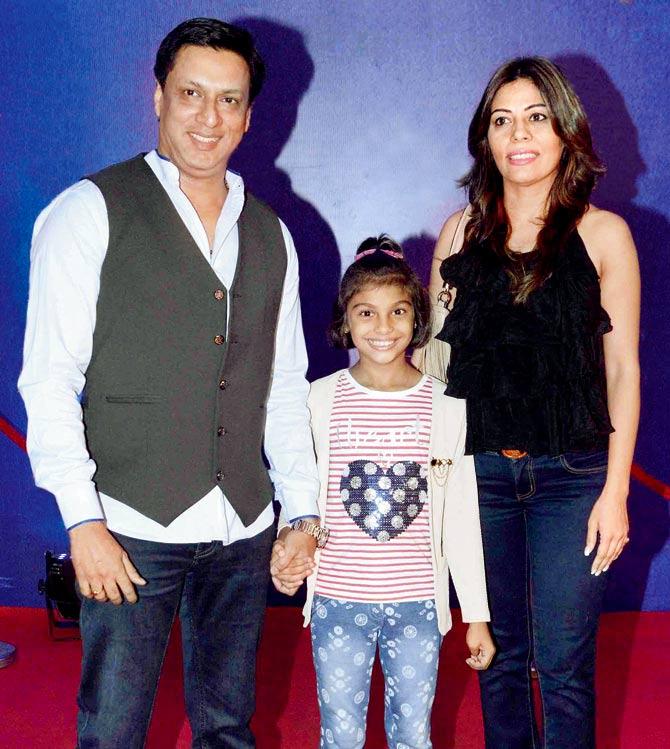 IMAGE: Madhur Bhandarkar with wife Renu and daughter Siddhi. Photograph: Pradeep Bandekar
Chandni Bar may have been a game changer for Bhandarkar, but it is not his wife Renu's favourite film.
"She finds Chandni Bar very depressing!" Bhandarkar says with a laugh.
"She feels you can't watch the film because it's so real and hard-hitting. Recently, I had gone to China, and I was watching it on my iPad -- all my films are on my iPad. I watched the last 25 minutes and felt it was so hard-hitting. I had moist eyes. I wondered how I made that film!"
Renu's favourite Madhur B film is the comedy, Dil Toh Baccha Hai Ji, starring Ajay Devgn, Emraan Hashmi, Omi Vaidya and Shruti Haasan.
"I'm a very humourous person," says Bhandarkar. "So she felt she saw Madhur through this film."
"She didn't like Jail too much because she thought it was too harsh. It was too claustrophobic."
Siddhi, their 10-year-old daughter, hasn't watched his films yet.
"I will show her my films next year, when she turns 11. But she knows the names of my films, I've made her rattafy (memorise) them," the father says with a laugh.
"When someone asks her in school, she should be able to list the names. It's like an exam, I take up and see that she knows the names of all my films!"
***
'I'm not in the 100 crore club'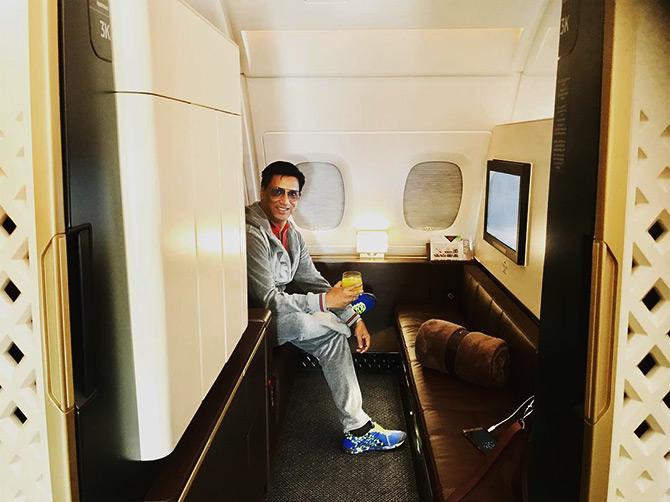 IMAGE: Madhur travels first class to New York. Photograph: Kind courtesy Madhur Bhandarkar/Instagram
Bhandarkar has enjoyed success for 17 years, since 2001, but he doesn't let it get to his head.
He may fly first class to New York but still takes an autorickshaw when his car is unavailable.
"If I want to have roadside Vada Pav, I will have it. I won't think that people are watching me. I wanted to travel by the Metro, and I did. Success won't be there always."
"Newton's Law says that what goes up must come down. I don't have a Man Friday or any chamchas. I'm in the Ekla Cholo zone," he says, referring to Rabindranath Tagore's famous song.
"I'm not in the 100 crore club. I don't have any friends in Bollywood. I'm a very shy person. I can't even tell a star to tweet about my film."
"I don't belong to any camp or coterie. The industry is very superficial. If you are successful, everyone will come to you. If you are not, they will all say that they are busy," he adds.
Bhandarkar recently made Mumbai Mist, a 17-minute short film, starring Annu Kapoor.
"I got a call from the BRICS Film Summit, which is hosted in China. They had seen my work. They wanted five filmmakers -- from China, Russia, Brazil, South Africa and India -- to make films on themes. I was representing India, and they asked me to make a film on a theme where time had stopped," he explains.
"I made a film about an old man living in a metropolitan city, ignored by his family. It's not that they hate him, but they are busy in their own world."
"The son, daughter-in-law and grandchild are all busy. It happens in my house -- I'm in my room, my wife is watching a film in another room and my daughter is on her iPad in her room. It happens. I wanted to show this loneliness and how he finds solace with a rag-picker," he says.
Mumbai Mist will be screened at the BRICS Summit in China in September.
"My films have been critically acclaimed; they have won National Awards," Bhandarkar says. "I'm very content."