'...and be responsible towards it.'
'I am not approaching Chhatrapati Shivaji with Baahubali in mind.'
'Showbiz has nothing to do with relationships.'
'Your relationships are intact because of you and they fall apart because of you.'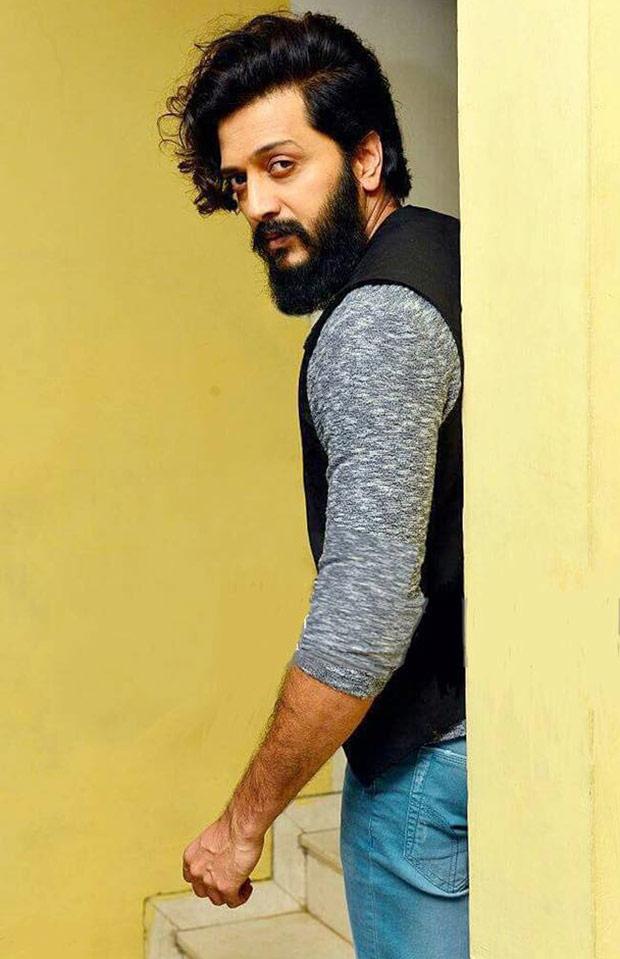 IMAGE: Riteish loves experimenting with his looks. Photograph: Kind courtesy Riteish Deshmukh/Facebook
Riteish Deshmukh is back to doing what he does best: Comedy.
His latest film Bank Chor sees him play a 'religious chor', and he is quite excited about it.
Riteish teams up with buddy Vivek Oberoi to bring on the laughs; they have done it before in the Masti movie series.
"Bank Chor is a very small film," Riteish says. "It is a concept film, so we needed something to stay afloat in terms of the bigger films that are coming."
Like Salman Khan's Tubelight, which will be released around Eid.
There's also a "Baahubali 2 hangover," Riteish feels.
"So how do we stand out?" he asks.
The answer was in the promos, in the form of fun posters and even funnier 'celebrity interviews.'
Riteish chats about the film, his wife Genelia and their sons. Rediff.com's Jahnavi Patel listens in.
Have you stolen anything in real life?
I was a sketch pen chor.
I used to steal sketch pens when I was in Standard 6.
There was one guy whose father had come from London and got him these amazing Staedtler sketch pens.
I couldn't afford it and my father (the late Maharashtra chief minister Vilasrao Deshmukh) had never been to London then.
I loved those sketch pens so much that before the last lecture was over, I unpacked his bag and packed my own.
When I went home, my father asked me about it.
I told him that this guy came back from London and gifted us sketch pens, as it was his birthday.
I never took the sketch pens back to school and never invited him home!
VIDEO: Riteish 'interviews' Jacqueline Fernandez on Bank Chor's Oscar chances. Absolutely must-watch!
What was the experience like working with Yash Raj Films for the first time?
I got a call from Adi (Aditya Chopra), saying he was doing a film, and would I like to hear it.
I said, sure!
I was waiting for an opportunity to work with Yash Raj Films.
There was a film earlier, but it hadn't worked out. This was almost five years ago.
Then (director) Bumpy entered the room to narrate the script. He had these dreadlocks, and I thought, 'Mar gaye yaar!'
I liked the narration. I thought it was funny and had thrills; it was like a comic thriller. It is a genre that we rarely do.
It was quirky, fun and at time, stupid, because the character is stupid.
What is your favourite genre?
I enjoy films; it isn't about genres.
As an actor, I go to the sets to be that part and live it.
In Bank Chor, I tried to see if I could bring out the vulnerability in the guy, Champak Chilponkar, a common man.
He has his own issues -- loans to be repaid, and no way to do it -- and that's why he robs a bank.
People take drastic steps because of pressure. They either harm others or themselves.
You have tasted more success in comedy, as compared to other genres.
I am glad Ek Villain did fairly well because I was doing a negative role for the first time.
Lai Bhaari, a Marathi film, worked.
Yes, Banjo didn't work.
When something doesn't work, you go back to the drawing board to figure out how best to approach a subject.
Genres don't fail, films do.
Humshakals was a disaster in comedy.
In the same genre, Grand Mast worked while Great Grand Masti did not.
Yes, audiences sometimes get used to watching you in one genre.
There are actors who keep reinventing themselves.
I take great inspiration from Akshay Kumar. He started with action, then did a series of comedies, then he did action-comedies, then relevant dramas.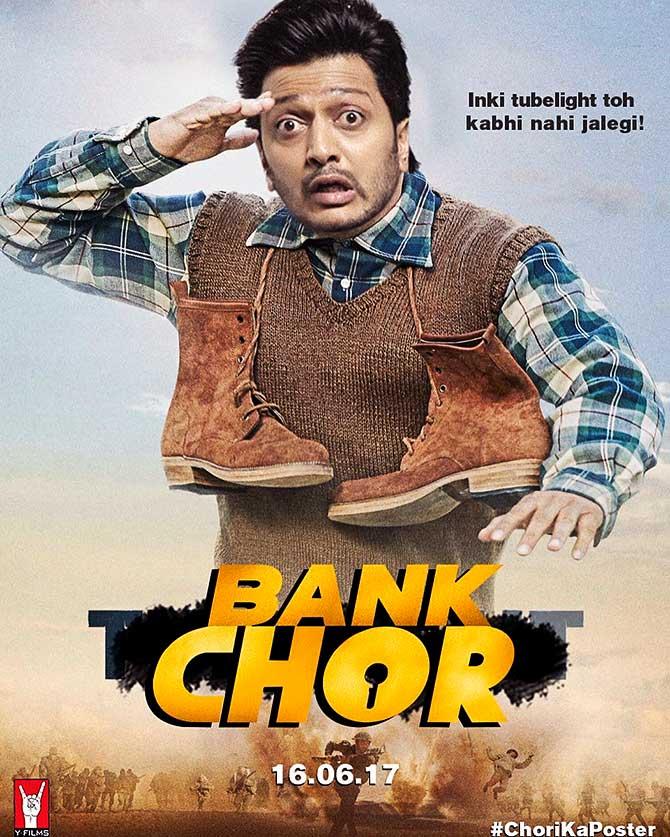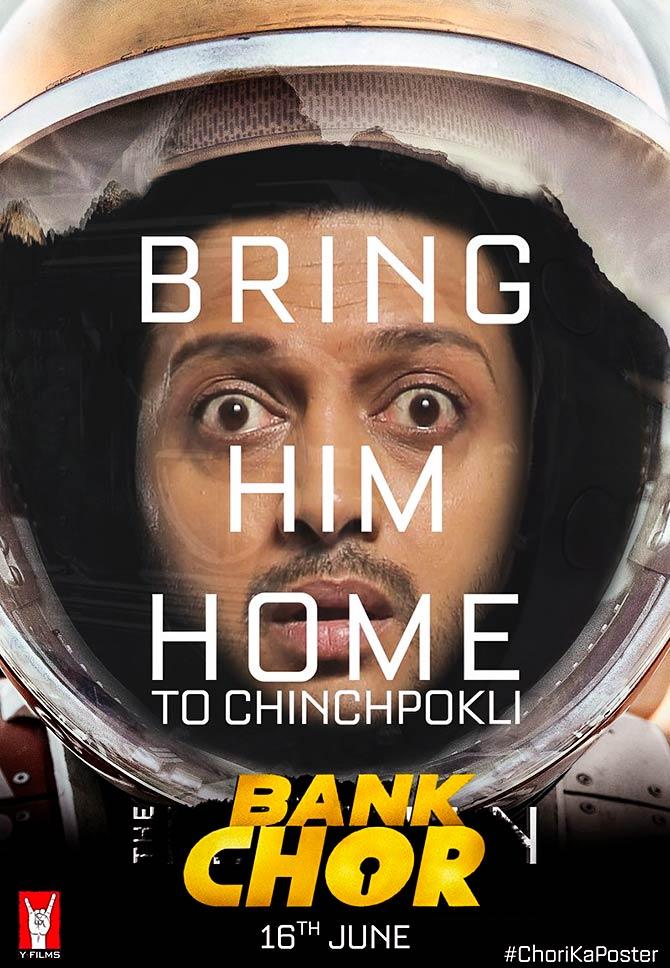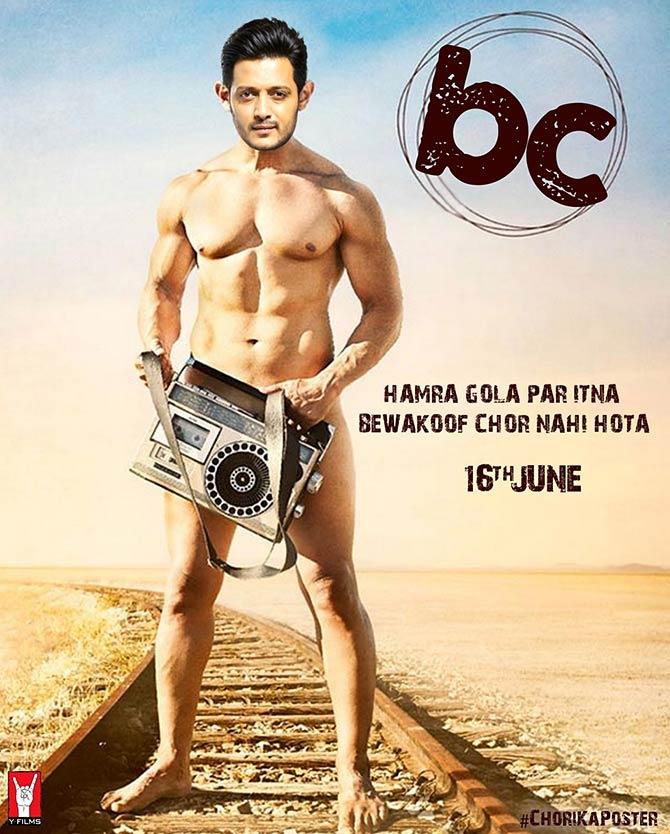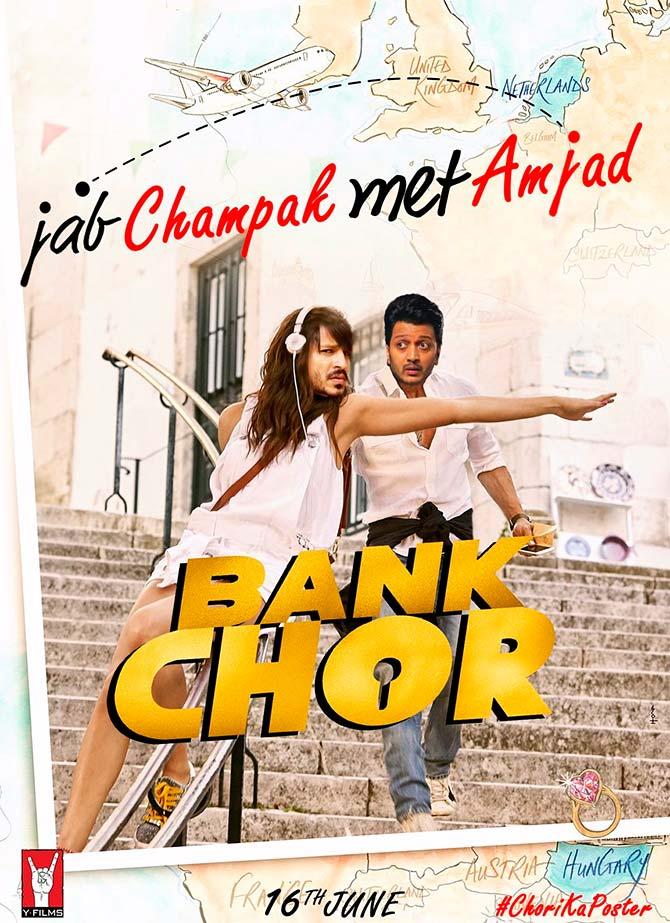 IMAGE: Bank Chor has some fun posters, taking off on other movie posters.
Take a break from your laughs, and see if you can recognise the original films.
Photograph: Kind courtesy Riteish Deshmukh/Twitter
In these sensitive times, has the creative process been restrictive in any way?
We are creative enough to find other ways.
As a creative person, I don't want to get into something that will hurt somebody.
Suppose I put out a poster and some actor doesn't like it, I will be the first person to say sorry.
You should know what the mood of the country is and be responsible towards it.
What values did you learn from your father that you would like to pass on to your sons?
There are many virtues. We love our parents so much that there are many things we like about them and would want to pass on.
Patience: Always wait. Don't be in a hurry; you will make a decision that you may later regret.
Anger management: Although I rarely get angry, whenever people do, you tend to make that one phone call and say, 'How dare you?'
But one must wait and revisit that emotion after 10 minutes. If you still feel strongly, then make that call.
Chances are, that 90 percent of times, you will not.
Smile: Always have a smile on your face. It not only calms you but also the other person.
What is the update on your film on Shivaji Maharaj?
We have locked the screenplay. We are now deciding on the VFX and what the war sequences and costumes will be like.
I am not approaching Chhatrapati Shivaji with Baahubali in mind.
Baahubali was fictitious and had the freedom to do many things.
Here, I have to look at a lot of things.
We want to make this with respect and sensitivity -- a film in which people see the glory of the man and his work and why he was worshipped not only in Maharashtra and India, but the world over.
Will Salman Khan be part of this film?
Yes, we are working on that part too.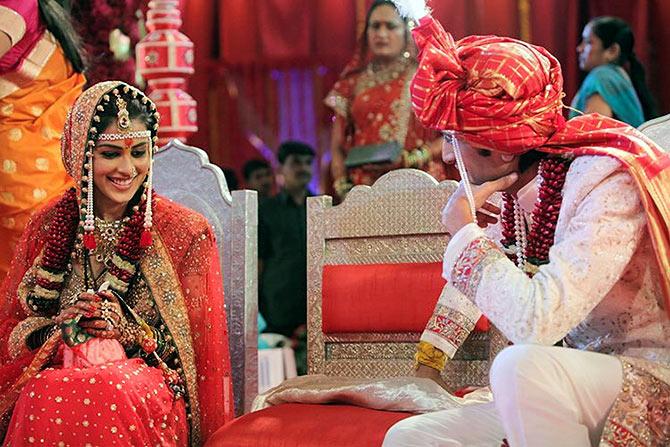 IMAGE: 'I look at you & find my self, a stronger self, a better self, a happy self, a blessed self. Happy Anniversary Baiko @geneliad #5Years,' Riteish captions this picture. Photograph: Kind courtesy Riteish Deshmukh/Instagram
How have you managed to make sure the pressure of showbiz doesn't affect your relationship with Genelia and your sons?
Showbiz has nothing to do with relationships.
Your relationships are intact because of you and they fall apart because of you.
Just because we see the film industry under a magnifying glass, we think this way.
But if you look inside a regular office, you may find a relationship happening there, but no one writes about it.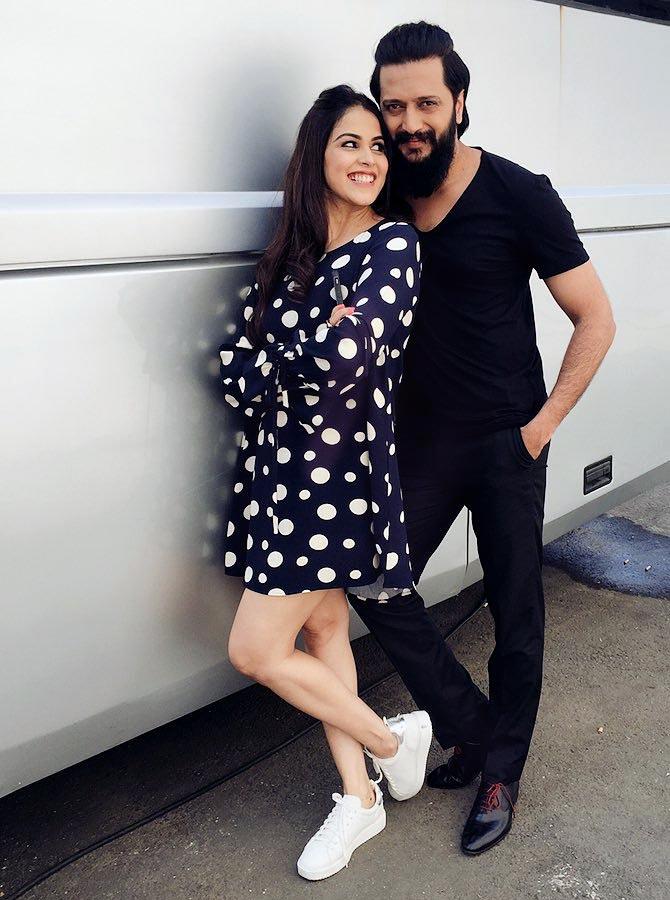 IMAGE: 'When your Baiko looks like a teenager & you look like her father.' Photograph: Kind courtesy Riteish Deshmukh/Instagram
How has your relationship with Genelia evolved?
It's been great. Geneila and I have grown together.
When we started dating, she was 18 and I was 23.
We got married after 10 years. Five years into our marriage, we have two kids.
It is growing every day and the maturity levels are changing. The dynamics keep changing.
We still like surprising each other.
Genelia wanted to make our son's first birthday special, so she asked me to bake a cake. That way, our son will remember his first birthday.
It was my first time baking a cake and it was great.
That's the beauty of a relationship. You reinvent and seek happiness within.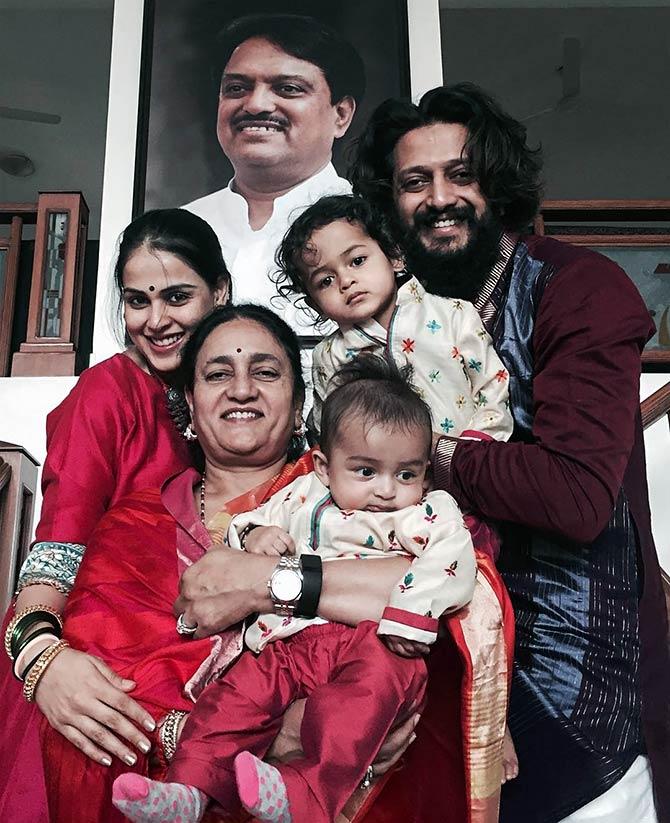 IMAGE: Meet The Deshmukhs: Riteish and Genelia, with his mother Vaishali, sons Riaan and Rahyl and the late Vilasrao Deshmukh (in the portrait). Photograph: Kind courtesy Riteish Deshmukh/Instagram
Who is naughtier among your sons, Riaan and Rahyl?
Both are amazing! One is crawling and the other is walking.
One is pushing and sometimes one wants the other one, and then doesn't!
My elder one thinks the younger one is a toy.
Whenever he wakes up, he feels the other should also be up. He feels he owns him.