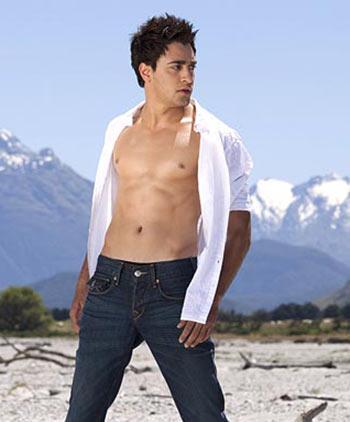 'Two years ago, people said I was making smart choices -- making films with the likes of Vishal Bhardwaj, Milan Lutharia... But what happened? Nothing. The choices were intelligent but we went wrong in making the films.'
Imran Khan talks about his big learnings, and more.
Kangana Ranaut may be the flavour of the season but Imran Khan is all set to make himself count in their latest film together, Katti Batti.
Directed by Nikhil Advani, Imran will be seen on the big screen after two years, his last outing being the big 2013 flop, Gori Tere Pyaar Mein.
The actor claims he has learnt from his failures, and will dedicate himself to making worthwhile films now.
He tells Rediff.com contributor Rajul Hegde his plans.
Any lessons learnt from your failures?
Yes. Listen to your heart.
There were many times when I was asked to do something on the sets that seemed wrong. But the director happened to be a big name and one ends up thinking maybe he knows something you don't.
Sometimes when I did raise a question, I was asked not to worry, as the director would take care of it.
So my learning is that whenever I feel something is going wrong, I should trust my guts.
What do think went wrong with your choices?
Two years ago, everyone was celebrating my choices. People said I was making smart choices -- making films with the likes of Vishal Bhardwaj, Milan Lutharia...
But what happened? Nothing.
The choices were intelligent but we went wrong in making the films, which often happens.
You sign on a film with the best intentions. But by the time you finish, you realise this is not what was originally intended.
What's the gut feeling for Katti Batti?
I have made a film that I am proud of. That's not something I can say of all the films I have done.
This is one of those rare films that I am happy to hold up in front of the world.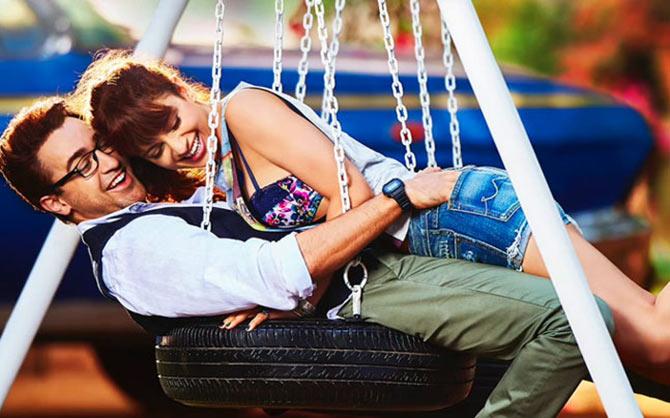 Image: Imran Khan and Kangana Ranaut in Katti Batti
People feel you are cashing in on co-star Kangana's success. Does that bother you?
It doesn't make me feel anything. You can't allow yourself to be affected by what people say.
Currently, Kangana is very hot and that's why everyone is saying this. Three years ago, if I was working with Kangana, people would have said that she is riding on Imran's success. Would that have made her a lesser actress then or me a lesser actor now? No.
In her interview, Kangana said that you are like your Katti Batti character in real life and your wife Avantika is a 'bad ass'.
Yes, that's probably an accurate representation of our relationship (smiles). I am the peaceful one and she's the fiery one.
Has there ever been a Katti Batti kind of a relationship between Avantika and you?
Yes, that is the nature of adult relationships.
In our romantic films, we tend to gloss over the ugly side of relationships and end up showing only candyfloss depictions of love.
But real adult relationships have struggles, ups and downs and stress. What defines real love is what you do when the honeymoon ends. Are you still willing to stand by this person when things get difficult, when you start seeing the flaws? Are you still in love with this person? Then, that's love.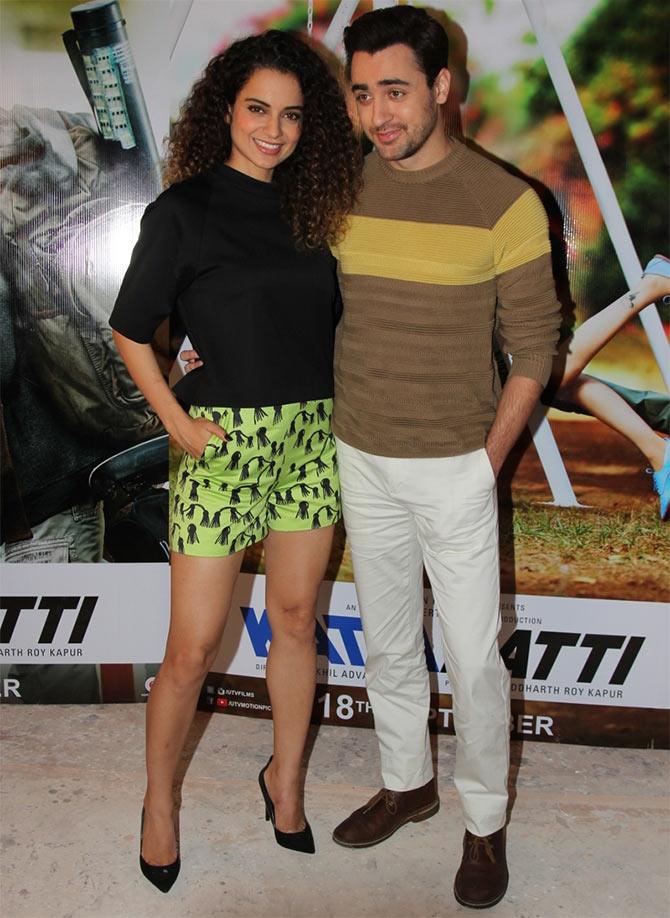 Image: Imran Khan and Kangana Ranaut during the Katti Batti promotions
There have been reports that Nikhil Advani really had to convince you to do this film.
I troubled Nikhil a lot. When I first read the script, I did not like it and told Nikhil so.
Nikhil wanted to narrate the film to me again. I didn't see any point in it as I had decided not to do the film. So I kept delaying it for a month or two.
When Nikhil finally narrated the story to me again, I started wondering if this was the same story I had read before. He described the story in a completely different angle. I started visualising the characters, and realised that I had been in this situation. It's like repeating my personal life.
I am glad I did the film. If I hadn't, I would have lost out on a good film because of my stupidity.
What do you like or even dislike about Kangana?
I like how seriously she takes her work.
I have grown up in the film industry and have a very high regard for this business. Everything my family ever had and has today has come from the film industry. As a result, I have great respect for those who value this.
Kangana takes her craft very seriously. I respect her work ethics.
In her process of acting, she cannot switch on and off. If there is a heavy scene, she will come on sets in that space; you cannot chat with her.
The way I work is very chilled out and laidback. I love being on sets. I would sit and chat with Nikhil, Tushar (Kantiray, Director of Photography)and other actors but we could never include her on those days.
So I feel I missed out on forming a close relationship with her.
I'm getting to know her now (during the promotions).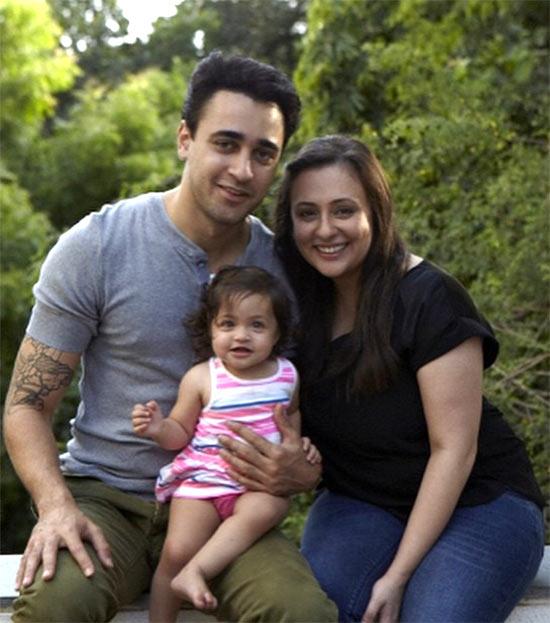 Image: Imran Khan and Avantika with daughter Imara
Your uncle Aamir Khan cried after watching Katti Batti?
He loved the film. It's an emotional film. The promos make you think it's a romantic film but the second half is very emotional.
He had watched my earlier films, Jaane Tu... Ya Jaane Na and Delhi Belly (both produced by Aamir). After those, I never felt I had done good enough work to show him. I am proud of Katti Batti, and wanted to know his opinion.
Are you open to direction in future?
I have done a course in direction and writing. Actually, in my heart, I am a director.
How has your life changed after fatherhood?
It is the purest form of joy to be a father. There is nothing more satisfying than seeing your daughter smiling, laughing or looking at you.
The changes are two-fold.
First, I have started looking at myself through her eyes. So, going forward, every decision that I make I would want her to be proud of me.
Secondly, the priorities have become easier. I can easily decide whether I want to do something or not because that would take me away from Imara and should be worth it.
Am I doing a film that my daughter would be proud of? Then, it is worthwhile.