'Having worked in this space for 25 years, I have become larger than life. It is difficult to get out of it at times. There was a lot of help to remove the shahrukhiyat out of me.'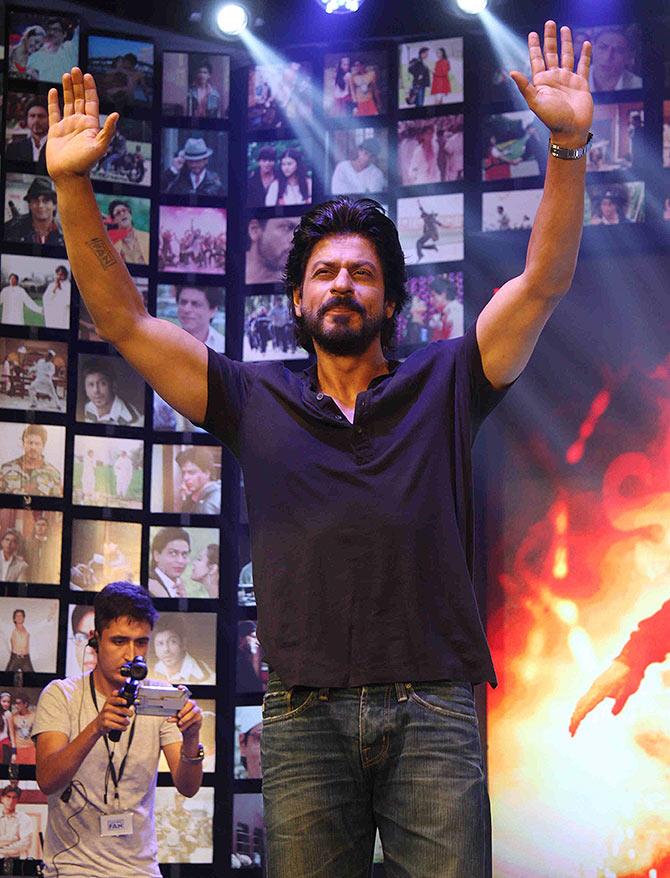 At the trailer launch of his latest film Fan, when Shah Rukh Khan was asked who he thought he looked like, he gave a surprising answer.
"When I was young, I thought I looked like Kumar Gaurav," the superstar said. "I would love it when people called me Kumar Gaurav. When I came to Mumbai for the first time, the first star I wanted to meet was Kumar Gaurav. When I grew up a little more, I thought I looked like Al Pacino. But then I thought my eyes were spoilt and got them tested. Now, at the age of 50, I think I look like my father. There will come a time in my life when I will be proud to look like myself."
The latest trailer of Fan was released at Mumbai's Yash Raj Films studio on February 29.
As usual, Shah Rukh launched the new trailer of Fan in a unique manner. It was unveiled only when his fans cheered the loudest on the Fan-O-Meter!

Fan, SRK said, was the story of a lookalike.
"It isn't a duplicate or a double role. It's a story of an innocent boy, who doesn't know how life would be when he meets his biggest star," he says.

The film does not have any songs nor does SRK perform his signature step. "This is the first film in 25 years in which I haven't done my signature step. Maneesh (Sharma, director) hasn't even kept a song in this film. I told him to keep at least one of two item songs but that isn't there either. It's a pure experience of story telling," SRK adds.

The trailer shows the obsessive side of fans.
Shah Rukh Khan has played obsessive roles in the past in Darr, Baazigar, Anjaam and others, but he says his character in Fan -- named Gaurav -- isn't on similar lines. "I was fortunate to play anti-hero roles in Darr with Yashji (Yash Chopra), Baazigar, Anjaam and to a certain extend Don. Gaurav isn't a psychopath running behind a girl. It's about innocence. When things don't happen the way they should, you get disturbed."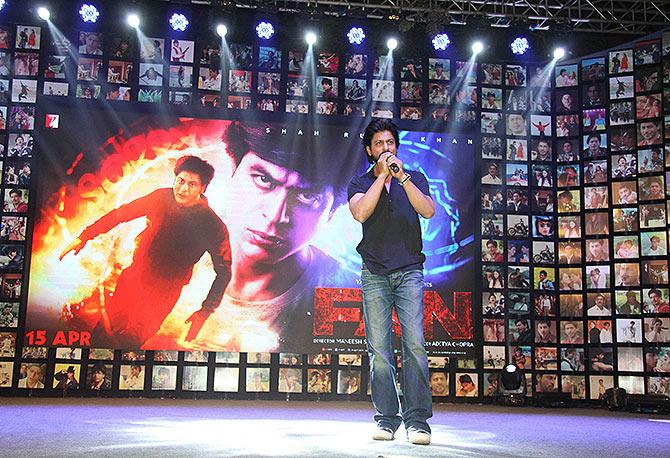 The actor claims he's trying to do something different in Fan.
"Maneesh was very clear about how this character should be played and I will not take any credit for having done it differently. The genre may be same -- as it is anti-hero -- but as a film and as a character, it is very different the earlier films," he says.

So how did it feel playing his own fan?
"When people work for many years, people say they become big. To say I am a superstar feels weird. I try to be happy in a film space and make people happy. I try to play my characters like how a normal person would. Yes, some are larger than life. Fortunately or unfortunately, having worked in this space for 25 years, I have become larger than life. It is difficult to get out of it at times. There was a lot of help to remove the shahrukhiyat out of me, but I am also happy being Shah Rukh. I can't take unkindly to being what I have become."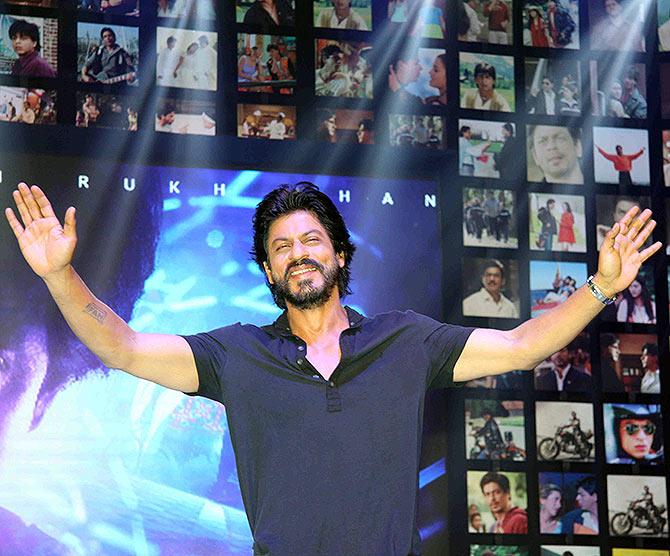 What would Shah Rukh do if he ever met a fan like Gaurav?
"Bahot maarunga main usko yaaar (I will hit him a lot), Shah Rukh says, and then laughs. "No, I will make him understand. In films, we extend reality a little, so in reality, this will not happen. This story is about Gaurav as well as a misunderstood movie star."

"When Maneesh first told me the story, I thought it was a very difficult film as he was very clear the character was a lookalike and not a double role. At that time, we did have the technology. I had met him while dubbing for Chennai Express at Yash Raj Studios. After three months of shooting, we saw the results, and they were really bad. We thought the film shouldn't be made. But then the entire team said we will go ahead and make it and it will be fine. It's a difficult film and we hope we've got it right," Shah Rukh said.
"As an actor, I have never said anything is challenging," he continued. "You're a professional actor, you're supposed to do it to the best of your capability. Having said that, this is a very physically challenging film. To run around at this age, play a 24-year-old and keep up that energy and then do the characters twice was difficult. But the team made it easy, except Adi (Aditya Chopra, producer). He wanted to shoot at that time only. Fortunately, he was abroad writing the film that he is shooting in Paris now (Befikre). So when he was there, we took a lot of leeway and shot the film."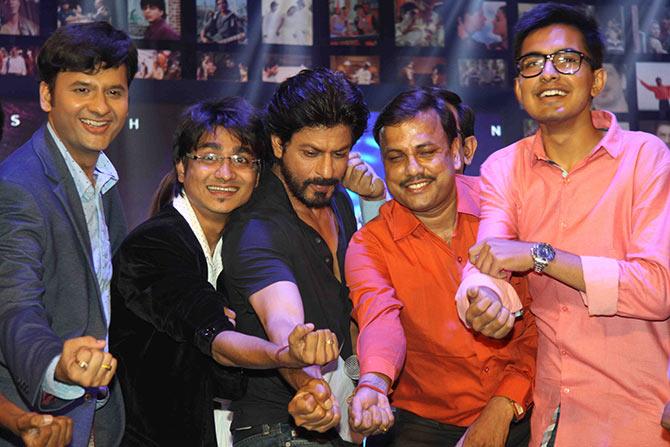 The trailer shows the fan in shades of grey, and some fans may not appreciate it. SRK feels it is not possible to please everyone.
"There will be some people who may not like the film because the fan is different from what they had thought. They may not like the superstar because he may turn out to be mean. But it is a film. I am not like this, nor am I like the characters I have played in 25 years. This is for entertainment, and you cannot please everyone all the time," he said.
Photographs: Pradeep Bandekar