'Ravi Teja is enthusiastic about living each moment. He is very inspirational.'
Bengal Tiger actress Raashi Khanna discusses her famous co-star.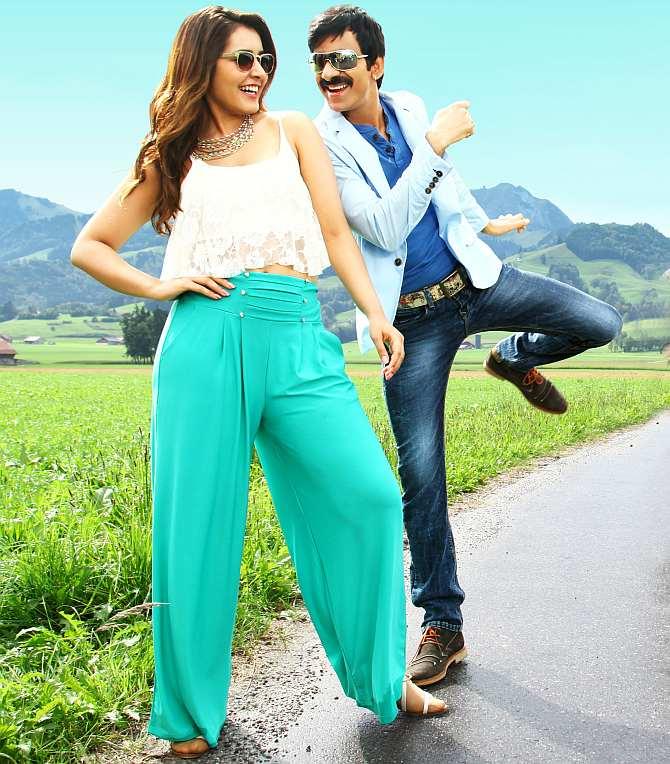 Image: Raashi Khanna and Ravi Teja in Bengal Tiger
After an impressive debut with Oohalu Gusa Gusa Lade, Raashi Khanna went on to work in films like Joru, Jil and Shivam.
Now, the talented actress is getting ready for the release of her next film Bengal Tiger, directed by Sampath Nandi and co-starring Ravi Teja and Tamannah. It will release on December 10.
In a freewheeling chat with Rediff.com contributor Radhika Rajamani, Raashi gets candid about Bengal Tiger.
After five films, are you comfortable in the Telugu film industry now?
Yes. Totally.
You started speaking Telugu from the beginning itself...
Yes, I had no option.
For my first film Oohalu Gusa Gusa Lade, I had a lot of lines. I love to act but cannot express without knowing what I am saying. So I learnt the Telugu language.
How did Bengal Tiger happen?
When I heard the story, I laughed throughout. The character was similar to what I am in real life, so I thought it would be a cakewalk.
Also, this character is totally opposite to what I did in Jil, where I was bubbly and talkative.
In Bengal Tiger, my character is calm yet she speaks her mind. She has a good relationship with her father. She is mature beyond her age but is stubborn. This character is like me in real life, so I connected with it.
I got to act with Ravi Teja. It's a big name, a big film, good character and a story.
This is a two-heroine film and the other actress is Tamannaah. Do you both have roles of equal importance?
Yes. Almost every Telugu film has two heroines. The media brands the actresses as second lead, so actresses think a lot and are afraid to be labelled as second lead. That's not justified. Every character is important. There should be no categorisation.
How was it working with Tamannaah?
It was a great experience. She treated me like her sister and took care of me. She would give me make-up tips and help me with my hair. Even in the song we did together, she helped me understand the dance techniques. It was a pleasure to work with her and I would love to work with her again. She is a honest person.
Is this film a love story or an entertainer?
It's a complete entertainer. Every character has an important place. The screenplay is the hero.
Ravi Teja is known to be very energetic. How did you match his energy?
You can never match up. I used to call him a charger. There is never a dull moment when he is around. After working with him, I have become a die-hard fan of his. He is an honest person and makes you laugh.
Ravi Teja talks about life, is enthusiastic about living each moment and is very inspirational.
Ravi Teja also speaks Hindi. Was that another plus point?
That was an ice-breaker. I thought, 'Wow! I have someone to talk to.'
He can talk a bit in Punjabi, so it was like a breath of fresh air.
How was it working with Sampath Nandi on his third film?
He is an extremely confident director and a good writer. He is clear about what he wants. He smiles all the time. I could talk to him about anything. The atmosphere on the sets was good.
What are you looking for in a film these days?
I am really excited about my next project where I play a cop.
I would love to do period films and character with grey shades.
How is the shoot of Supreme going?
It is going great. The cop I play is not clichéd. She fights, kicks and hits the goons. I love it!
People, who have seen the rushes, see me as a comedian. It is a great revelation to me that I am doing comedy.
Have you been approached by other industries -- Tamil, Kannada or Malayalam for films?
I want to enter the Tamil industry with a good project. I am not looking at the other two industries (Kannada and Malayalam) right now.
What's next on the cards?
I will be doing another film with Gopichand. The shoot will commence shortly.