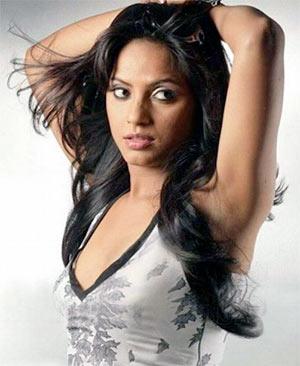 'If you are not doing a Hindi film, it doesn't mean you are not doing any work.'
'Success is all about saying no to what you don't want to do. Thankfully, I have been successful.'
Neetu Chandra has just won a National Award and she's hugely excited!
Neetu Chandra, who has starred in two National Award winning films, has been missing from Bollywood for a while now.
Well, the model-turned-actress has started her own production company Champaran Talkies and that's what's keeping her busy these days.
In fact, it is celebration time for the B-town beauty because her production Mithila Makhan recently won a National Award in the Best Maithili language category. The film has been directed by her brother Nitin Chandra.
In this exclusive chat with Rediff.com contributor Rajul Hegde, Neetu Chandra talks about her new film.
Congratulations!
Thank you! We didn't expect an award but we knew Mithila Makhan is good.
My Bollywood films like Traffic Signal and Oye Lucky! Lucky Oye! got the National Award as well.
I can't thank the National Awards jury enough to have given us this kind of positioning, which makes me feel stronger as an actor and producer.
You have not done Hindi films for a quite some time...
If you are not doing a Hindi film, it doesn't mean you are not doing any work.
I just did a Greek English film called Block 12. The promos are out. I have been doing theatre (Umrao Jaan) for a while where I am playing a character aging from 17 to 85.
When you are live on stage for more than two hours, you are the editor, director, producer and actor and it is in your hand to make it or break it.
I might have not got that kind of appreciation in my films but industry people like Kareena Kapoor, Kajol and Imitiaz Ali have come to watch my play and have appreciated it.
Are you being choosy with the films?
I don't want to be diplomatic. Coming from a non-filmi background, you have to choose your work. You are always known by the last bad film you did. No Problem was my last bad film.
Anees Bazmee directed the film, and it had Sanjay Dutt, Suniel Shetty, Akshaye Khanna, Kangana Ranaut, Sushmita Sen and Paresh Rawal.
Can you have a better proposal than that? But it didn't work.
Rani Mukerji waited for seven years after her first or second film. After that, she did some amazing films. I keep getting offers but I say no because I am not looking at those kinds of roles.
Today, people's taste for cinema has changed. A film like Neerja works.
Success is all about saying no to what you don't want to do. Thankfully, I have been successful.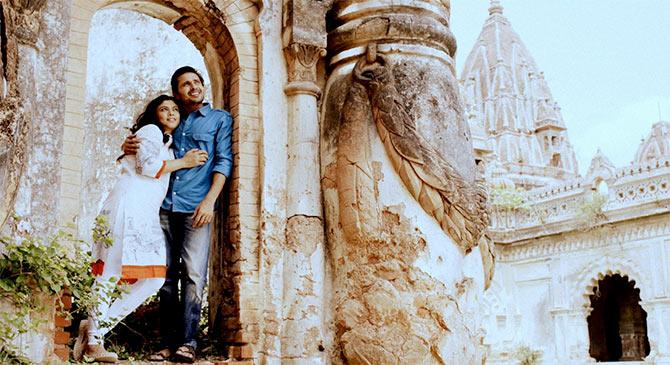 Image: A scene from Mithila Makhan

When did you start your production Champaran Talkies?
I have been producing films and documentaries under my banner Champaran Talkies for the last eight years. My Bhojpuri film Deswa went to 16 international film festivals. This is really exciting because I am doing quality work, and that takes time and is expensive.
I feel blessed as I am getting this kind of recognition at an early stage of my career.
Female-oriented films are doing well but mostly they are directed and produced by men. Thankfully, God has given me an opportunity to set up what I want to, as a producer.
There are a lot of female actors who have become producers now, and I'm the first among them to get a National Award. That is a great achievement. It's just the beginning but it comes with a lot of responsibility (smiles).
You are undergoing advanced Taekwondo training for your next film Ladaaku.
It's a female-oriented martial arts film. I am the Fourth Dan black belt holder in Taekwondo and have represented India in international championships. I am prepping up for the role before we start shooting. I will travel to US on April 9 for a month-long advanced regimen. After that, I will visit Korea and Philippines.
Tell us about your upcoming films.
I have just finished filming a Tamil film. Last year, I got a best actress award for a Tamil film.
I am doing Company Ustad with Naseeruddin Shah, Pankaj Kapur and Manoj Bajpayee. My brother is directing it and I am co-producing it.
We have finished shooting for Kusar Prasad Ka Bhoot with Paresh Rawal and Shooter with Randeep Hooda.
Are you in touch with your Traffic director Madhur Bhandarkar? Has he offered you any film?
Yes, I meet him during events and parties. He knows my potential and will offer me when there is something right for me.
Is there any Bollywood director you wish to work with?
I want to work with Sanjay Leela Bhansali. I like the kind of movies he makes, which involves dance. I am a kathak dancer and have been training for the last eight years.
Are you open to dance reality shows?
I am hyper and a spirited woman. You can not make me sit in one place for two-three months for a reality show. I like to do different things in life.