Pick your least favourite of the lot!
Dolled-up celebrities form a large chunk of the Cannes attraction.

Almost every fashionable woman at the heart of the festival is vying for a spot in the Best Dressed list.
Too much enthusiasm can be detrimental too. As in the case of these pretty women who made us balk with their bizarre picks.
We showed you the best. Now here are some of the most cringe-worthy Bollywood sightings at the Cannes red carpet.


Mallika Sherawat (2012)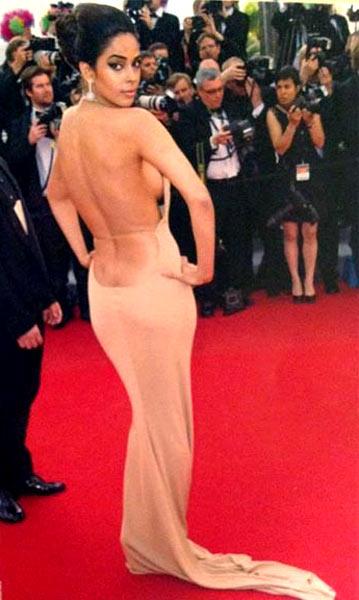 Image: Mallika Sherawat. Photograph: Mallika Sherwat/Twitter
Regardless of Mallika Sherawat's mandatory yet puzzling presence, her constant endeavour at the film festival is to regularly remind us of her not-so-secret assets.
Thrusting her voluptuousness from different angles into the camera lenses in (preferably) nude-coloured gowns is a sight we've grudgingly grown accustomed to.

Sherlyn Chopra (2013)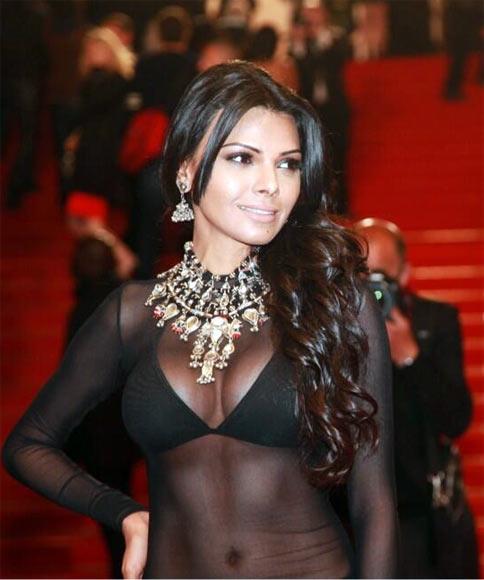 Image: Sherlyn Chopra. Photograph: Sherlyn Chopra/Twitter
Taking a leaf from Mallika's page, Sherlyn Chopra isn't big on modesty. The starlet flaunts her curvy figure in a tacktastic black sheer gown that grabs attention for all the wrong reasons.

Aishwarya Rai Bachchan (2003)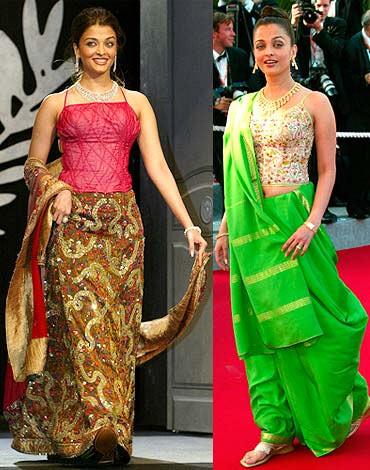 Image: Aishwarya Rai Bachchan. Photographs:

Evan Agostini/Getty Images
Few goof-ups are just not forgiven.
The usually stylish Aishwarya set the entire nation outraging with her dowdy, garish choice of clothing when she set foot on the Cannes red carpet as part of its jury.
Also on our best dressed, she's more than made up for the debacle through gorgeous designer outings over the years.

Ameesha Patel (2013)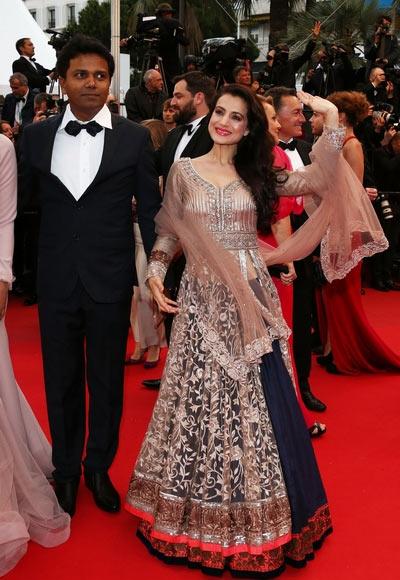 Image: Ameesha Patel along with director Susi Ganesan. Photograph:

Andreas Rentz/Getty Images
Ameesha Patel's body language may suggest she has a major fan following in France.

What we really noticed is her white vampire make-up and a dress that would make a great set of drapes in a home décor

Amitabh Bachchan (2013)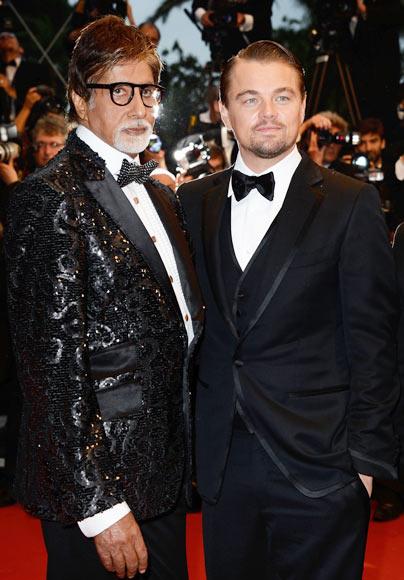 Image: Amitabh Bachchan and Leonardo DiCaprio. Photograph: Pascal Le Segretain/Getty Images

Amitabh Bachchan goes overboard on flamboyance in a jarringly sequined black tux at The Great Gatsby premiere.

It sticks out even more next to Leonardo DiCaprio's suave, clean-cut attire.

Sonam Kapoor (2011)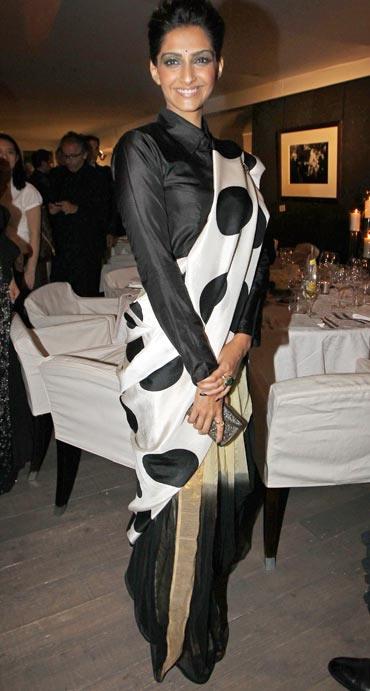 Image: Sonam Kapoor. Photograph: Andreas Rentz/Getty Images

Are we underwhelmed or what by the otherwise breathtaking Sonam Kapoor in this lacklustre Masaba sari? And the less said about her dull, drab makeup the better.
Meh multiplied by infinity.

Vidya Balan (2013)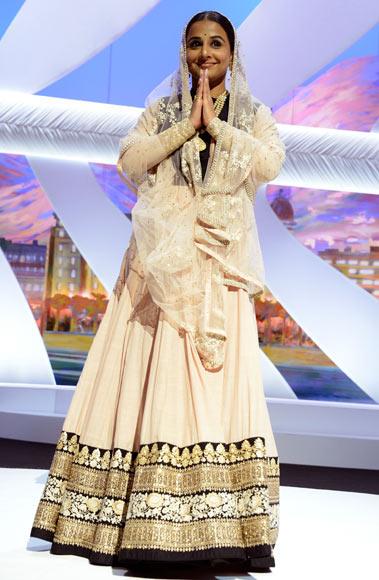 Image: Vidya Balan. Photograph: Pascal Le Segretain/Getty Images

Her ensemble in its own is inoffensive but Vidya Balan going for the needless drama in an overhead duppatta borderlines on costume-y.
Exotic overload for a Cannes jury member, don't you think?

Jesse Randhawa (2014)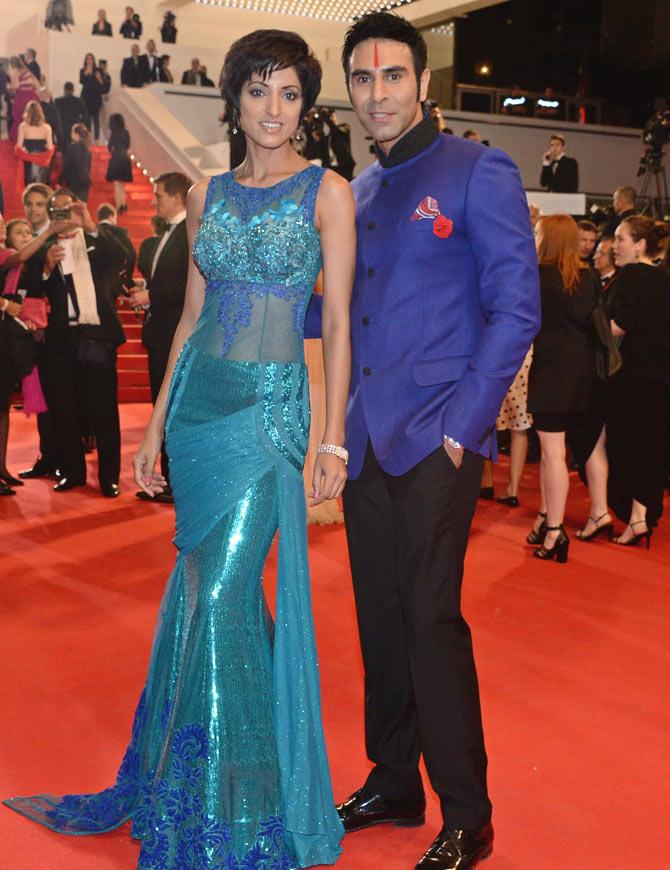 Image: Jesse Randhawa and Sandip Soparrkar
Model Jesse Randhawa is quite a clotheshorse on the ramp.

Too bad one cannot say the same about her personal choices.
The towering beauty appears to be channelling her inner mermaid in that shiny, iridescent concoction.

Pray, someone give her fins!

Jaya Bachchan (2008)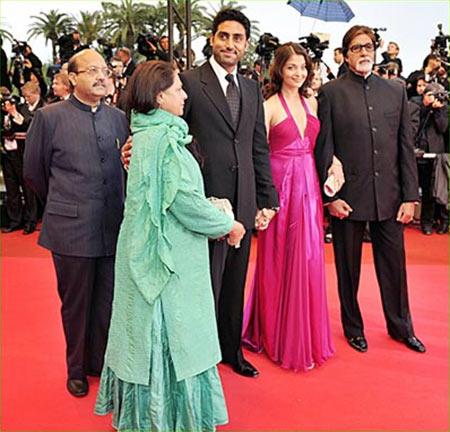 Image: Amar Singh, Jaya Bachchan, Abhishek Bachchan, Aishwarya Rai and Amitabh Bachchan. Photograph: Getty Images
If ever an image could convey self-explanatory more articulately than Jaya Bachchan's appearance to support daughter-in-law Aishwarya at her annual Cannes trip, this is it.
What in the name of blistering barnacles is this monstrosity?