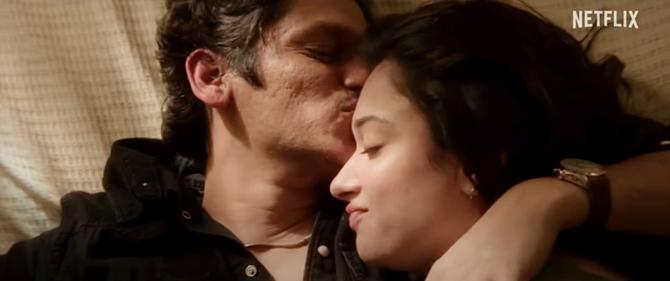 Tamannaah Bhatia has finally admitted to dating Vijay Varma.
The couple met on the sets of Sujoy Ghosh's segment in Lust Stories 2, and have sparked dating rumours for months now.
In a recent interview with Film Companion, Tamannaah set the record right, and said, 'He is someone I really look up to. He is someone with whom I bonded very very organically. He is someone who came to me with all his guard down. Then, it became very easy for me to put my guard down.
'With high achieving women, we have this problem that we think we have to work hard for everything. When something is so simple and you don't have to walk on eggshells to just be yourself because I think in India, we also have this that a woman has to change her entire life for someone.
'If you have to find a partner you might have to physically move or do so many things that serve that person's understanding but I was like I have created a world for myself and here, there's a person who actually understood that world without me doing anything.
'He's a person who I care about deeply and yeah, he's my happy place.'
Vijay was certainly special for Tamannaah, as she said, 'I don't think you can get attracted to someone just because they are your co-star. I have had so many co-stars. I think if one has to fall for someone, feel something for someone, it's definitely more personal, it's nothing to do with what they do for a living, I mean that's not the reason why this would happen.'
Here's congratulating the couple!