'I have stood there and boosted morale but I haven't changed a diaper yet!'
'Soha is hands-on and wants to immediately learn. Right now, I just hold my daughter and put her to sleep.'
Kunal Kemmu is enjoying fatherhood.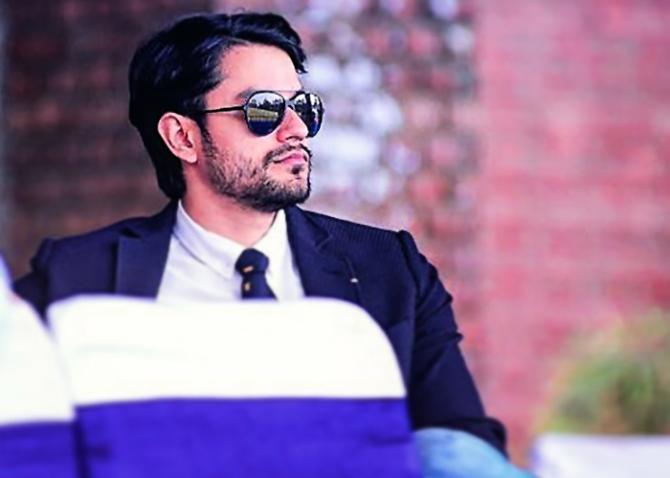 Photograph: Kind courtesy Kunal Kemmu/ Instagram
It's a double celebration for Kunal Kemmu.
He's got himself a hit in Golmaal Again!!! and he's also the proud daddy of a little girl.
Kunal talks to Rediff.com contributor Urvi Parikh about fatherhood, Golmaal Again!!! and the status of his zombie-comedy Go Goa Gone 2 with brother-in-law Saif Ali Khan.
Has fatherhood sunk in yet?
Sleep cycles and priorities have changed. I look forward to going back home and not watching TV or calling over friends but just spending time with her.
I know there is a lot of entertaining stuff in store for us.
Right now, she sleeps sometimes 18-20 hours and sometimes 22 hours.
Sometimes, it takes time to realise that 'Oh, I am a father and I have a child'. It is exciting.
I am happy that she is healthy and good.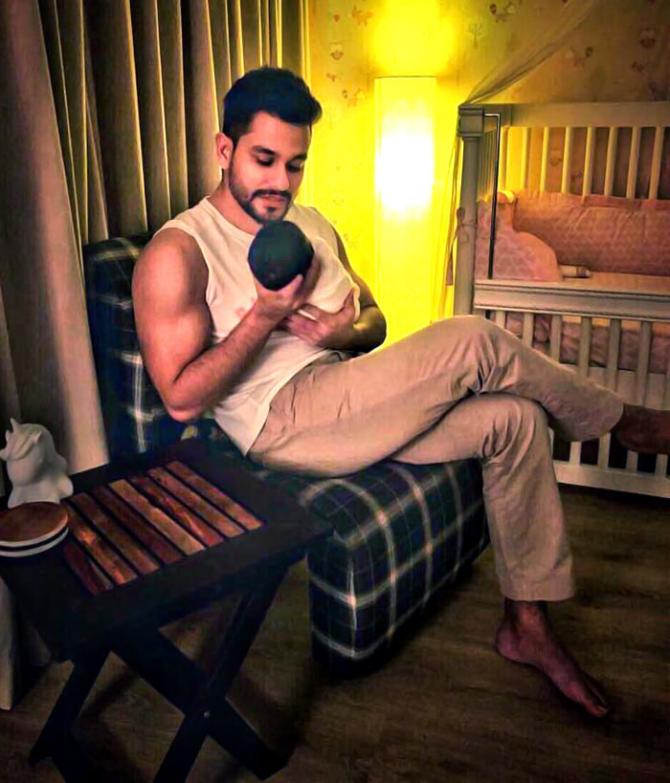 Photograph: Kind courtesy Soha Ali Khan/ Instagram
How did you decide on your daughter's name, Inaaya?
We shortlisted a few names for boys and girls, which is like the first thing to do.
Inaaya was a name which was universally liked by all. So we went ahead with it.
Have you changed diapers yet?
I have stood there and boosted morale but I haven't changed a diaper yet!
I'll do that soon.
I am nervous holding her because she is so delicate.
We are first time parents so we are getting a little help.
Soha is hands-on and wants to immediately learn. Right now, I just hold her and put her to sleep.
What was the first encounter between Inaaya and her cousin Taimur Ali Khan like?
Inaaya was sleeping when Taimur met her. He didn't know what was happening. He was more interested in playing with me.
But yes, they have met.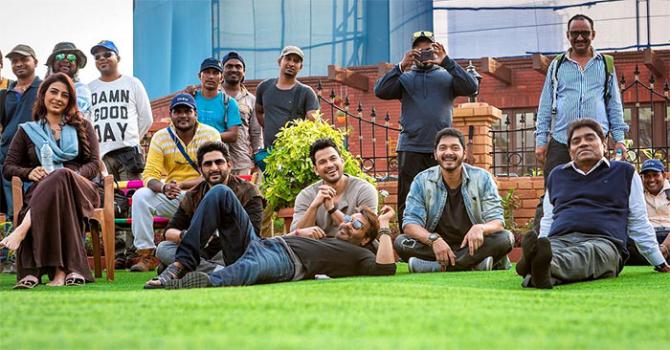 IMAGE: On the sets of Golmaal Again!!!. Photograph: Kind courtesy, Kunal Kemmu/ Instagram
Your new film Golmaal Again!!! explores horror-comedy.
Frankly, there have been comedies in the past but not all of them have worked.
A comedy film is a joke that needs to be told right, in a very funny and humorous way because its effects are different on different people. Some people will laugh, some will not find it funny, some will give it a standing ovation and some will not understand what the film is about!
I think the right team has come together for this film. We have done comedy and, now, we have taken horror and mixed it in comedy.
But it is not real horror as it is child-friendly. We have presented the film in a way that is suitable to all age groups.
Will your character have poetic lines like in the previous Golmaal?
Yes, there are quite a few bits of that but, in this film, he doesn't have too many of those muhavras. There are other quirks that we have incorporated into his character.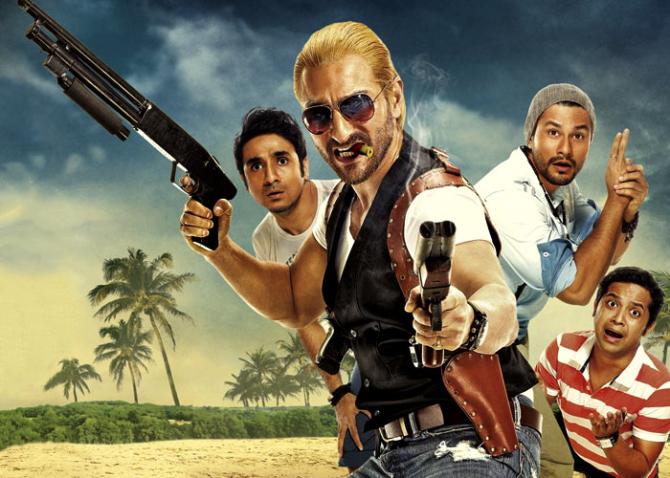 IMAGE: Go Goa Gone
What is the status of Go Goa Gone 2?
We have got a green signal from all parties involved but we were busy -- Saif was doing Chef, the directors (Raj and DK) were shooting A Gentleman and I was doing Golmaal 4. And, with a baby on the way, it wasn't possible.
We'll soon be sitting together and setting the timelines. Then, it will get official.
Right now, we are in the nascent development stage with just ideas and stuff.
Do you think Go Goa Gone 2 has a better chance to fare well, now that the audience knows it is a zombie-comedy?
Yes, it was unchartered territory with Go Goa Gone. On top of that, a zombie-comedy was a new genre that we attempted.
Over the years, many people have watched the film and will understand the type of humour and genre we are attempting to bring to the audiences. They will know what to expect from the sequel.
IMAGE: Kunal Kemmu with sister-in-law Kareena Kapoor, brother-in-law Saif Ali Khan and wife Soha. Photograph: Kind courtesy Kunal Kemmu/ Instagram
What else is on cards?
Apart from Go Goa Gone 2, we are co-producing a biopic on Ram Jethmalani. I have been writing that. There will be an official announcement about it in a month or so.