'I defy all the controversy. For me, it is meaningless. They say the students are unhappy that I have been appointed as the head of FTII. They have not seen my work so how can they be unhappy?'
Gajendra Chauhan tries to justify his appointment to head the prestigious Film and Television Institute of India.
Gajendra Chauhan landed right in the middle of a controversy the moment he was appointed the head of the Film and Television Institute of India (FTII) in Pune. He will replace Saeed Mirza.
Chauhan is best known for playing Yudhistir in the popular TV serial Mahabharat that aired a quarter of a century ago.
FTII's famously activist students are appalled by the choice of what they see as a lightweight to head such a prestigious institution. They have gone on strike, alleging that the appointment is political and Chauhan is not eligible for the post.
Filmmaker Anant Patwardhan even alleged that Chauhan has worked in soft porn films.
A very upset Chauhan tries to justify his eligibility to the post to Patcy N/ Rediff.com
From when do you take over at FTII? What are your plans for the institute?
The date has to be decided by the Ministry of Information and Broadcasting. I have been given my appointment letter, but no specific date has been mentioned.
They told me that the date will be fixed and I will be informed about it through another letter.
Once I go there, I will plan my strategy. I have a lot of things on my mind.
Your appointment is very controversial. What is your stand on it?
I defy all the controversy; for me it is meaningless.
They say the students are unhappy that I have been appointed as the head. They have not seen my work so how can they be unhappy?
People like Girish Karnad and Shyam Benegal have headed FTII. The students think you are not eligible.
What is the eligibility for becoming the chairperson of FTII that I don't have?
I have spent 34 years in television and films, and 20 years I have been in the administration of Cine and TV Artists Association.
It is the prerogative of the Information and Broadcasting Ministry to put anyone in the post that they think is fit for it.
Do you think the protest against you taking over is justified?
The protest is not justified. I have not yet got the chance to perform my duties in the post.
Till the time they don't see my work, how can they decide?
Even before sitting for the examination and appearing for the paper I have been failed. That is wrong.
I have sent a message to the students through the media that we must sit across the table and discuss the issue.
Are you upset at the strike called by the FTII students? How will you deal with it?
I have heard from the media only that a group of people from FTII and GraFTII -- Graduates of the Film and Television Institute of India, Pune -- are going to meet the minister on July 3.
I am the head. There are no second thoughts about that. There are some other issues to be discussed between the ministry and the students.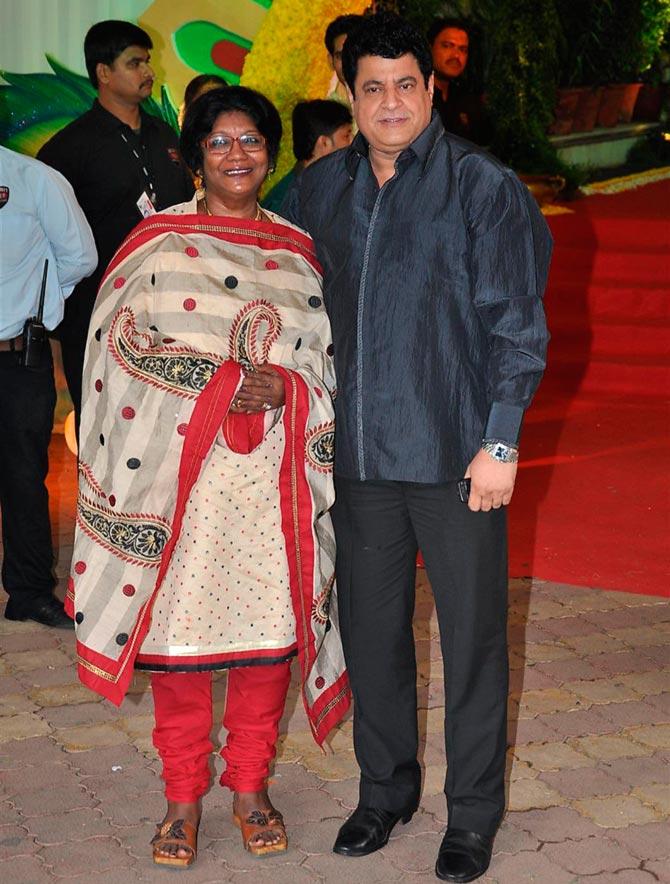 Image: Gajendra Chauhan with wife Habiba. Photograph: Pradeep Bandekar
The students have taken strong objection to a reported statement by you that "barring Rajkumar Hirani, the institute has not produced any important artiste". They say your statement shows the lack of knowledge and cinematic understanding of the designated president. What do you have to say about that?
I did not say that. My statement was that after Rajkumar Hirani, the graduates who have come out of the institute, the common man doesn't know them.
In the '60s and '70s the world knew the FTII students who passed out, as for example Shatrughan Sinha, Mithun Chakraborty, Raza Murad, Kiran Kumar... there is a long list.
But today, the common man doesn't know them. Especially after Rajkumar Hirani, the common man doesn't know, and that has to be changed.
FTII is a very premium institute of this country as far as film and television is concerned and it is difficult to get admission.
If there are 200 students in the institute then those are the 200 cream brains in the creative field and these students breathe cinema.
Once they are out of the institution, they may be rewarded well but they are not known to the public, and my question was why it is not happening now like it is used to happen in the '60s and '70s.
Why do you think the students don't want you to take the post? Why are they against you?
They are not against me. I feel the issues have been shifting.
First they were against me, later they were against the RSS governing council members. By the third and fourth day they were questioning the ministry. So, their demands have been changing.
There are two reasons. I am presuming that it is in somebody's personal interest. Somebody wants to be in the post and therefore they are against me.
Secondly, I feel there is lot of political motivation in this agitation. Many political parties have joined this protest. So it is just a political agenda.
The ministry has seen my credentials. They are the ones who have to decide who has to head the FTII and they have put me on the job and I am just waiting for a signal from them.
The moment I get a signal from them, I will go there and join.
Lyricist Gulzar and filmmakers Shyam Benegal and Adoor Gopalakrishnan were reportedly shortlisted by the Information and Broadcasting Ministry for the job of chief of FTII. Why do you think you got chosen?
I have no idea who was shortlisted.
The ministry informed me and I got a letter from them.
The only thing I know is that I was called for an interview a couple of times by the ministry.
So what was the selection process?
When the government changes, there are lots of seats under the power of the government where they can nominate people.
Before, the Congress was in power and they had their people in these seats and nobody questioned them.
The person before me (Saeed Mirza) was appointed by the Congress. Why didn't anyone question the Congress?
There are so many people in the BJP who are from different professions. From the film industry, I am not the only person who is associated with the party. There are so many other people from the industry who are from the party or at least are party supporters.
Among all these party supporters from the industry, the ministry decided who they should send for which post.
My name was decided for this post and I gave three interviews, after which it was decided that I be the head of FTII.
So according to you, you are the right candidate?
On the basis of my experience I can say that I will go there and do good work.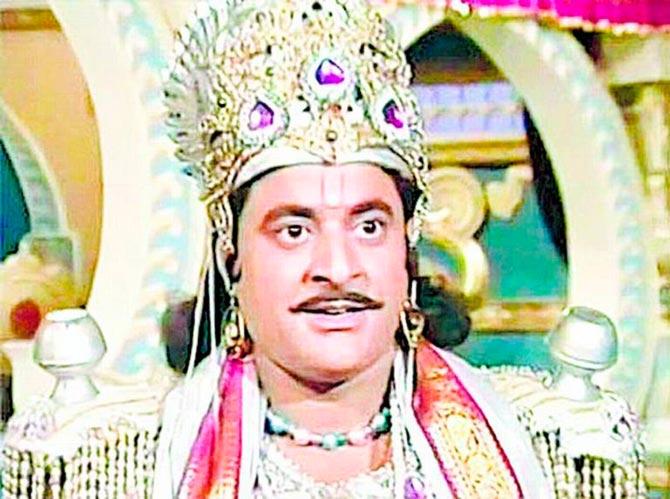 Image: Gajendra Chauhan in Mahabharat

Film personalities such as Jahnu Barua and Anant Patwardhan have been quite vocal in opposing you. Anant Patwardhan even said you worked in soft porn. What do you have to say to them?
All the films that I did were passed by this country's censor board. They were all directed and shot in India.
I want to ask Anant Patwardhan: can we release porn films in this country?
Yes, I have done a couple of adult films, and they are referring to this. Nobody is talking about the good films that I have done.
I have shot 94 hours of Mahabharat, with one of the biggest directors and producers, B R Chopra. A film is about three hours long. That means 32 films in a row with B R Chpora. Is that a small thing?
I don't think anyone can make that kind of Mahabharat. It has been tried five times in 27 years and has failed.
I have done big projects like this. How can anyone challenge my eligibility?
My post as the chairman is to give vision to the institution. I am not going to go there and teach.
Who are your supporters from the industry?
It is not about supporters. All the alumni of FTII who have worked with me in Mumbai have supported me, like Raza Murad, Paintal and director Vimal Kumar.
Shatrughan Sinha, alumnus of FTII, and Hema Malini have supported me.
Mukesh Khanna was appointed chief of the Children's Film Society, Suresh Gopi of the National Film Development Corporation, Pahlaj Nihlani of the Censor Board of India. Is the criterion for selection to these posts that one should be a BJP member or supporter?
No. But like I said earlier, when the government changes it has the right to change the people from some seats.
I have a question to ask: has the Congress ever appointed a BJP supporter or member to any important position? So how can BJP appoint Congress supporters?
BJP will give chance to their in-house talent from different fields and appoint them.
There are lakhs of people in the BJP and there are so many from the film industry and they have a selection process through which they decided who should be posted where.
Mukesh Khanna made Shaktimaan which is related to kids. Therefore he was made head of the Children's Film Society.
Pahalji is a producer and he understands the censor board well, that's why he was given that field.
How are you going to deal with the protests once you go there?
I promise that once I assume the post there will be no protest. By then, the ministry will have solved everything.
My intentions are good. My USP is honesty and I will work honestly.
Soon the kids will support me and work along with me as our aim is to take FTII to the forefront. I will finish all the pending work.
Did you see the graffiti by the students saying 'Chauhan Go Back!'?
I saw it on TV. I am sad that the students are wasting the precious time of their student life and I am not given chance to perform my duties.
We should utilise this time.
I feel people who are associated with art never sit on any kind of protest.
What film and television work are you doing right now?
I am doing three daily serials of Doordarshan. One is Paragati, based on girl education. It has a Rajasthan background.
In Khawabon Ke Darmiyaan, I play a mentally disturbed person.
Paltan is army based.
There is another serial Total Nadiyaan which is telecast on Big Magic.
The films that I am doing are Brahmand Nayak, a film on Sai Baba; Vikram Bhatt's 1920 London, and Radha.