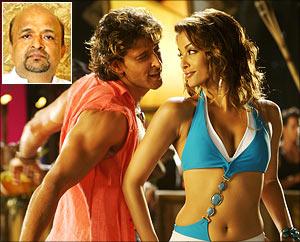 Lyricist Sameer, who has been in the Hindi film industry for more than 25 years, recalls with affection his working experience with the King of Romance, Yash Chopra, who passed away on October 21.
I was lucky to have worked with Yash Chopra in four films -- 
Aaina
,
Yeh Dillagi
,
Dhoom
and
Dhoom 2
.
The first time I met him was on the sets of
Aaina
. He was such a down-to-earth, simple gentleman. He knew how to respect others and adjusted to their temperament.
It was hard to believe that such a great man was so simple.
Whenever we gave him a song, he always listened patiently. If he liked it, he would take it or else say that it did not suit that particular scene.
He never criticised any song as he was a lover of poetry. He loved
shayri.
He made sure the songs suited the mood of the film or he would tell us to do it again.
Though he loved poetry, he never brought his own poems into the songs we wrote. Sometimes, he used to tell us lines from old songs to let us know what depth he wanted in a particular song.
Being a great director is easy, being a great human being is difficult, and he was both.
He used to treat us like children, with lots of love, and he knew how to get the best out of people.

Yash Chopra always had a smile when on the sets. He never got angry or lost his temper. If something was not working to his satisfaction, he used to walk up to the technician, pat him on the back and say, 'Don't worry, let's do it again some other time, today it's just not working out.'

Being on the sets with him was always fun, full of humour and jokes. The work atmosphere was fun-filled and friendly. He knew what he wanted and explained it to people in simple words.
In the picture: Hrithik Roshan and Aishwarya Rai Bachchan in Dhoom 2. Inset: Sameer.