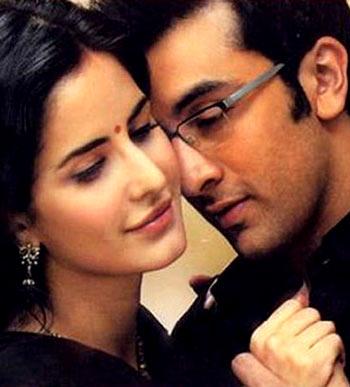 'This may seem like a lyrical lamenting of a writer, but it is the sad reality in and outside the industry. In films, nine out of 10 times the writer's name is not mentioned in posters, publicity or even reviews.'
Screenwriter Anjum Rajabali and actress-writer Preeti Mamgain hope to make way for Bollywood's writers.
Discourse is the first step towards change and realisation.
One such event to generate lots of interest within the film writer fraternity and remind why pen is, indeed, mightier than sword is the Indian Screenwriters Conference.
In its fourth year now, the two-day event scheduled to open on August 3 has an attractive menu of pertinent topics (Changing gender equation in film, Writer's rights and Little Big Films) and exciting speakers (Hansal Mehta, Meghna Gulzar, Neeraj Ghaywan, Juhi Chaturvedi and Varun Grover) to offer.
In addition to Magasaysay award-winning journalist P Sainath's keynote address, actor Rishi Kapoor will honour the memory and achievement of luminaries like poet Sahir Ludhianvi, filmmaker Vijay Anand and satirist Sharad Joshi.
In an email exchange, Rediff.com's Sukanya Verma caught up with Anjum Rajabali, acclaimed screenwriter (Droh Kaal, The Legend of Bhagat Singh, Raajneeti) and Executive committee member of Film Writers Association as well as actress-writer and convener Preeti Mamgain (who also happens to have penned the dialogues of Ashutosh Gowariker's upcoming Mohenjo Daro) to share their thoughts on the need and impact of the ISC.
How did the idea to organise such an event as Indian Screenwriters Conference come about?
Rajabali: By the turn of the millennium, screenwriting was being seen as a distinct well-defined profession, and awareness about the need for a good script was increasing. Many young writers had begun to enter the field.
However, there was also a sense of isolation that they were feeling, since there was no forum or platform on which they could meet other writers and interact about their issues.
In 2006, when FTII offered a budget, I grabbed the chance and initiated the first Indian Screenwriters Conference, intending it to be a recurring event.
Could you expound on the necessity for such a conference?
Mamgain: Writing is an art, a craft, and an expression. It has limitless potential to evolve. Writers, who mostly create in isolation, constantly seek inspiration, not just for content, but also to widen their own horizons.
What better place to get this than from their own community, from those with experience and insight, those who have proved their mettle and can open out newer perspectives? The idea behind these conferences is to collectively strive for better quality of scripting, for each person who attends to go back with thoughts and ideas that inspire them to explore newer and fresher spaces in their own craft.
To grow as an industry which is able to put our scripts at par with global content.
Rajabali: Apart from the creative issues discussed, we also take up professional concerns (contractual issues, fees, copyright matters, and other problems dogging the film and TV writer). Since producers and directors are also invited, a dialogue is initiated where both parties get to air their questions about the other. Such discourses also help sensitise producers about writers' concerns and vice-versa.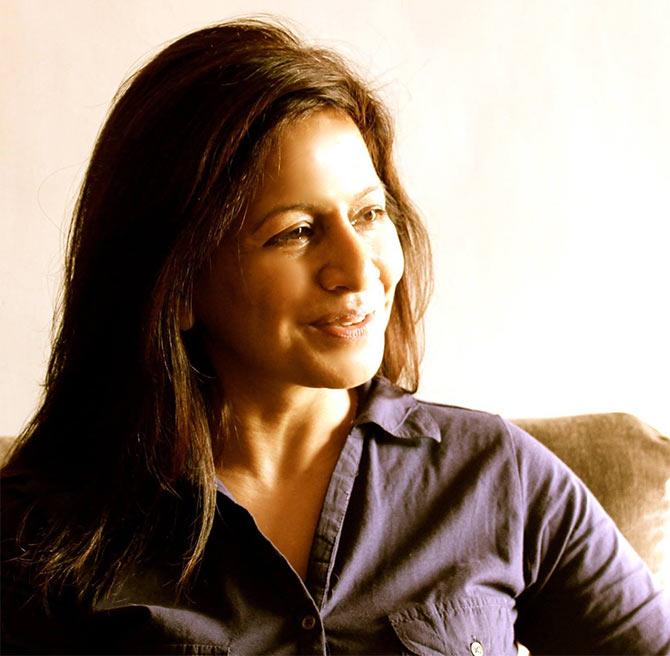 IMAGE: Preeti Mamgain/Facebook
How well and widely is the significance of screenwriting understood and recognised in our country and within the industry?
Mamgain: Everything starts with the touch of the pen to the paper, finger to the keyboard. Ironically, the moment the thought lands as the written word, it's like a child leaving the womb and put up for adoption. It's then nurtured and fostered by many mothers, and the birth-giver is forgotten. This may seem like a lyrical lamenting of a writer, but it is the sad reality in and outside the industry. In films, nine out of 10 times the writer's name is not mentioned in posters, publicity or even reviews.
While on TV, supposedly a writer's medium, the credit of the writer is the first one to be dropped in favour of channel creative teams, production house's ideation teams or even, the creative heads. Even award functions club the writers with the 'technical' team. This is exactly the attitude that FWA is fighting to alter through all its efforts in the last few years. To see that writers be given their due status in a glamour struck industry/society which lacks respect for the conceiver of all entertainment.
How did the selection for the awards to late legends like Sahir Ludhianvi, Vijay Anand and Sharad Joshi happen? What is the process behind it?
Mamgain: Every year we try to honour legends who have made great contributions to script and/or lyrics through their uniqueness and individuality, leaving an indelible mark on the minds viewers and becoming a source of education and inspiration for generation to come.
This year too we chose to felicitate three unforgettable talents who are an integral part of our cinema and TV heritage.
Rajabali: We choose those writers (from film and TV, as also lyricists) who have blazed new trails with their creativity, whose legacy has cast an influence on the succeeding generations. Last time it was Salim-Javed, Gulzar and Manohar Shyam Joshi. The decision is taken after much confabulation within the Executive Committee of FWA.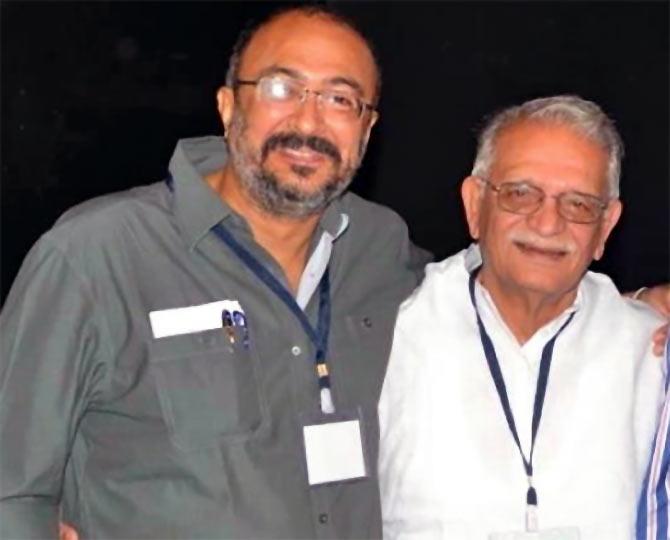 IMAGE: Anjum Rajabali with Gulzar. Photograph: Anjum Rajabali/Facebook
Are you happy with the support you have received from the industry?
Rajabali: See, the first screenwriters' conference in 2006 saw a lot of anger and anguish being expressed by young writers, who were feeling isolated and abandoned as the Film Writers Association wasn't seen to be acting like a writers' union.
Writers were resentful that given the unequal bargaining power, their contracts with producers were totally one-sided, their fees were abysmal and even their credit wasn't really guaranteed. There was no one to turn to for any protection, really. That anger gave rise to the Progressive Writers Group, which then stormed FWA at the next election in 2008, and took charge of the Executive Committee.
So, in that sense, the conference actually spawned this screenwriter's movement that has since grown and has made a significant difference to the status of writers in the film and TV industries. Every successive conference has further consolidated the leverage of FWA and made the industry sit up and take notice of writers' issues.
This year, we have TV channel heads coming in for sessions where there will be a dialogue with TV writers on their issues and problems.
Likewise, three big film studio heads will be there on the stage for a debate on whether they see writers as partners or as adversaries.
On our part, we too would like them to express their concerns about writers, so that a healthy, constructive exchange is set up which will lead to the resolution of a lot of issues, one expects.
Also, at each conference there has been a theme that sessions have addressed themselves to. This year it is about whether our narratives are getting increasingly disconnected from our reality. For that, we have journalist P Sainath delivering the keynote about precisely this disconnect. Ashok Vajpeyi -- the well-known essayist, poet, critic and Sahitya Akademi awardee -- addresses the issue in his own way. These speeches should set the tone for the discourse over the next two days.
The fourth Indian Screenwriters' Conference will be held on August 3 and 4 at St Andrews Auditorium, Bandra, Mumbai. For further details and registration, go to fwa.co.in
In the picture: Katrina Kaif and Ranbir Kapoor in Raajneeti, written by Anjum Rajabali.