'I want tonight to express gratitude to all the women who have endured years of abuse and assault because they, like my mother, had children to feed and bills to pay and dreams to pursue.'
Stirring speeches at the 75th Golden Globes.
The Golden Globe awards are incomplete without the strong, honest speeches by the winners.
This year, celebrities seemed to have a common cause, as they took a stand against abuse.
The speeches have been quite stirring and heartfelt.
Here's a look at some of them.
Oprah Winfrey
Winner of the Cecil B DeMille Award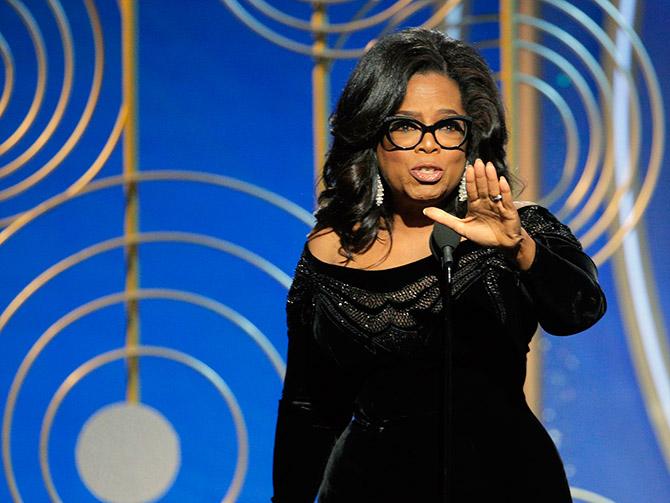 Photograph: Paul Drinkwater/NBC Universal via Getty Images.
Ah! Thank you. Thank you all. Okay. Okay. Thank you, Reese.
In 1964, I was a little girl sitting on the linoleum floor of my mother's house in Milwaukee watching Anne Bancroft present the Oscar for best actor at the 36th Academy Awards. She opened the envelope and said five words that literally made history: 'The winner is Sidney Poitier.'
Up to the stage came the most elegant man I had ever seen.
I remembered his tie was white, of course his skin was black and I had never seen a black man being celebrated like that.
I tried many, many times to explain what a moment like that means to a little girl, a kid watching from the cheap seats as my mom came through the door bone tired from cleaning other people's houses.

But all I can do is quote and say that the explanation in Sidney's performance in Lilies Of The Field: 'Amen, amen, amen, amen.'
In 1982, Sidney received the Cecil B DeMille award right here at the Golden Globes and it is not lost on me that at this moment, there are some little girls watching as I become the first black woman to be given this same award.
It is an honour -- it is an honour and it is a privilege to share the evening with all of them and also with the incredible men and women who have inspired me, who challenged me, who sustained me and made my journey to this stage possible.
Dennis Swanson who took a chance on me for AM Chicago.
Quincy Jones, who saw me on the show and said to Steven Spielberg, 'yes, she's Sophia in The Color Purple'.
Gayle who's been the definition of what a friend is and Stedman who's been my rock, just a few to name.
I'd like to thank the Hollywood Foreign Press Association. We know the press is under siege these days. We also know it's the insatiable dedication to uncovering the absolute truth that keeps us from turning a blind eye to corruption and to injustice.
To tyrants and victims, and secrets and lies.
I want to say that I value the press more than ever before as we try to navigate these complicated times, which brings me to this: what I know for sure is that speaking your truth is the most powerful tool we all have. And I'm especially proud and inspired by all the women who have felt strong enough and empowered enough to speak up and share their personal stories. Each of us in this room are celebrated because of the stories that we tell, and this year we became the story.
But it's not just a story affecting the entertainment industry.
It's one that transcends any culture, geography, race, religion, politics, or workplace. So I want tonight to express gratitude to all the women who have endured years of abuse and assault because they, like my mother, had children to feed and bills to pay and dreams to pursue.
They're the women whose names we'll never know.
They are domestic workers and farm workers.
They are working in factories and they work in restaurants and they're in academia, engineering, medicine, and science.
They're part of the world of tech and politics and business.
They're our athletes in the Olympics and they're our soldiers in the military.
And there's someone else, Recy Taylor, a name I know and I think you should know, too.
In 1944, Recy Taylor was a young wife and mother walking home from a church service she'd attended in Abbeville, Alabama, when she was abducted by six armed white men, raped, and left blindfolded by the side of the road coming home from church. They threatened to kill her if she ever told anyone, but her story was reported to the NAACP where a young worker by the name of Rosa Parks became the lead investigator on her case and together, they sought justice.
But justice wasn't an option in the era of Jim Crow.
The men who tried to destroy her were never persecuted.
Recy Taylor died 10 days ago, just shy of her 98th birthday. She lived as we all have lived, too many years in a culture broken by brutally powerful men. For too long, women have not been heard or believed if they dared to speak the truth to the power of those men.
But their time is up. Their time is up.
Their time is up.
And I just hope -- I just hope that Recy Taylor died knowing that her truth, like the truth of so many other women who were tormented in those years, and even now tormented, goes marching on.
It was somewhere in Rosa Parks' heart almost 11 years later, when she made the decision to stay seated on that bus in Montgomery, and it's here with every woman who chooses to say, "Me too."
And every man -- every man who chooses to listen.
In my career, what I've always tried my best to do, whether on television or through film, is to say something about how men and women really behave.
To say how we experience shame, how we love and how we rage, how we fail, how we retreat, persevere, and how we overcome.
I've interviewed and portrayed people who've withstood some of the ugliest things life can throw at you, but the one quality all of them seem to share is an ability to maintain hope for a brighter morning, even during our darkest nights.
So I want all the girls watching here, now, to know that a new day is on the horizon.
And when that new day finally dawns, it will be because of a lot of magnificent women, many of whom are right here in this room tonight, and some pretty phenomenal men, fighting hard to make sure that they become the leaders who take us to the time when nobody ever has to say 'Me too' again. Thank you.
Frances McDormand
Won the Best Actress award in the Motion Picture - Drama category for Three Billboards Outside Ebbing, Missouri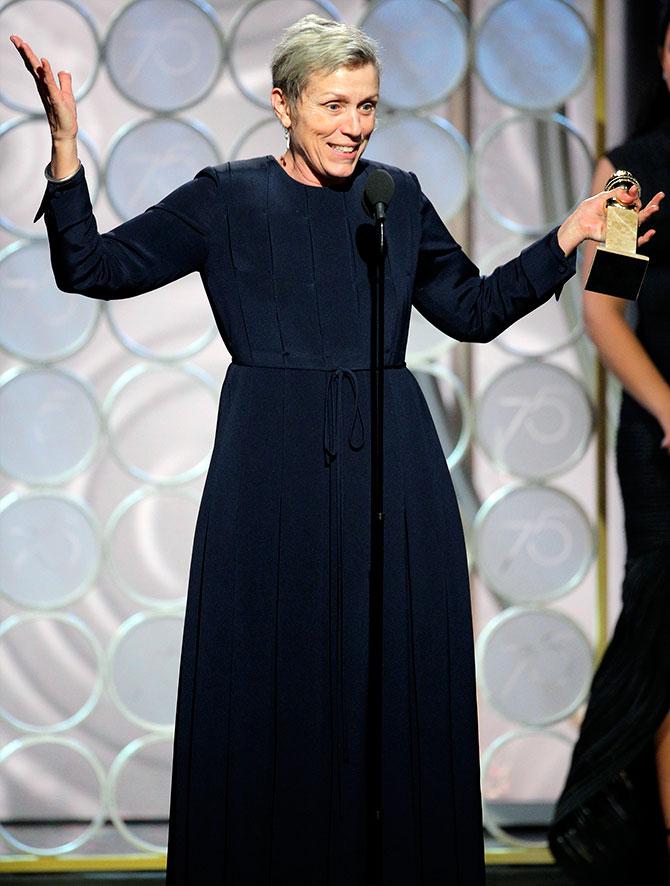 Photograph: Paul Drinkwater/NBCUniversal via Getty Images.
Well, I have a few things to say. I am going to keep it short because we have been here a long time and we need some tequila. All you ladies in this category: bar, tequila is on me!
Thank you to the Hollywood Foreign Press. I'm still not quite sure who they are when I run into them, for the last 35 years, but I love seeing their faces. And let's face it, they managed to elect a female president. I'm just saying.
Martin McDonagh, you know how I feel about being your Mildred Hayes. Her every ragged inhalation and fierce exhalation is evidence of my gratitude.
Our producer, Graham Broadbent, thank you for listening to me and valuing my input.
To Fox Searchlight, Film4, who allowed our film to find its audience and we are still putting people in the seats of brick and mortar cinemas around the country.
Call me old-fashioned, but I love that.
And have I mentioned my two favourite cowboys, Sam and Woody, because they are?
Then I will have to list the entire cast and crew of our film because everybody brought their best game to this one. The very best game. For instance, I cannot throw a baseball for shite across a two-lane street. That was really fun but don't try it at home.
So many of you know I keep my politics private but it was really great to be in this room tonight. And to be part of the tectonic shift in our industry's power structure.
Trust me, the women in this room tonight are not here for the food. We are here for the work. Thank you.
Laura Dern
Won the Supporting Actress in the TV-Movie or Miniseries category for Big Little Lies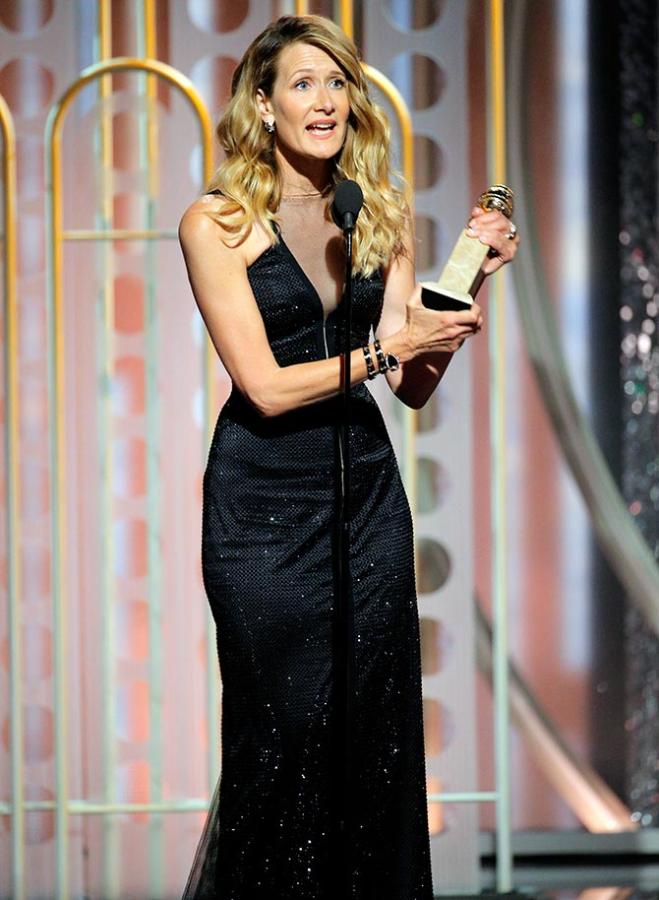 Photograph: Paul Drinkwater/NBCUniversal via Getty Images.
Thank you, HFPA, for the honour of joining in the company of these extraordinary fellow nominees who inspire me so deeply.
And namely to the brilliant Shailene, Zoë, Reese, and Nicole, my new family. To our fearless leader, Jean-Marc, to HBO, to our magical producers and especially for caring so much to make things work so I could be part of this. I'm so forever grateful.
To David E Kelley, our superhero who took Liane's words and gave me particularly the most outrageous, complicated woman and a terrified mother, terrified because her little girl was being abused and bullied, and she was too afraid to speak up.
Many of us were taught not to tattle.
It was a culture of silencing and that was normalised.
I urge all of us to not only support survivors and bystanders who are brave enough to tell their truth but to promote restorative justice.
May we also please protect and employ them.
May we teach our children that speaking out without the fear of retribution is our culture's new North Star. Bless you. Bless everyone who worked on this.
All the people who support me and my beautiful children, thank you for all of your work and love. Good night.
Nicole Kidman
Won the Best Actress award in the Television/ Movies or Miniseries category for Big Little Lies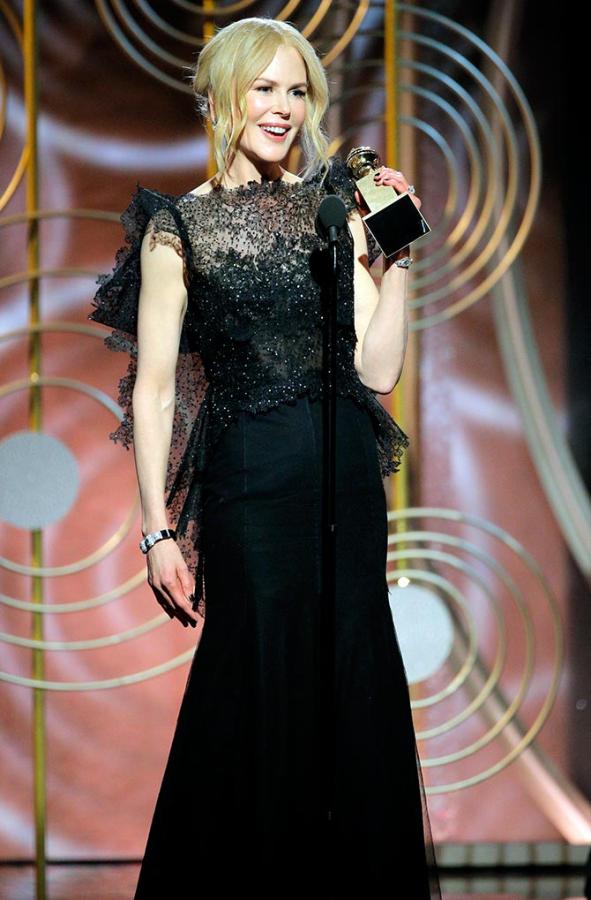 Photograph: Paul Drinkwater/NBCUniversal via Getty Images.
Thank you. Oh, first cab off the rank. That means my daughters are still awake. Sunny, Faith, I love you, I'm bringing this home to you, babies.
Thank you to the Hollywood Foreign Press for supporting us.
Thank you to HBO, Richard Plepler, for supporting and committing to us. When I say us, I'm talking about Reese Witherspoon and myself. We did this because of our friendship, our creative union and our support of each other. And I love you.
Also, I want to say Laura Dern, Shailene Woodley and Zoey Kravitz, we sat at a table, we pledged allegiance to each other and commitment to each other and this is ours to share.
Wow. The power of women.
Also, I speak on behalf of the five of us because we would not be in existence with this show and it wouldn't be as good as it has been without the mastery of Jean-MarcVallée and David E Kelley. And also Liane Moriarty. And I have to say, Bruna Papandrea and Per Saari, your tenacity is amazing. Thank you.
There's been people in my life, please, for decades, who I just, if I get a chance to thank them, I'm thanking them. Kevin Susan Batson, Alan Wortheimer, Chris Andrews, Wendy Day, all of you. Miranda. Liz, all of you, I love you.
And my mama. My mama was an advocate for the women's movement when I was growing up. And because of her, I'm standing here. My achievements are her achievements.
Antonia Kidman, my sister, and I say thank you, Janelle Kidman, for what you fought for so hard.
This character that I played represents something that is the center of our conversation right now: abuse.
I do believe, and I hope, we can elicit change through the stories we tell and the way we tell them.
Let's keep the conversation alive.
Let's do it, and Keith Urban, when my cheek is against yours, everything melts away. And that is love. It's true. I love you so much. God bless you. Thank you.
Gary Oldman
Won the Best Actor award in a Motion Picture - Drama category for Darkest Hour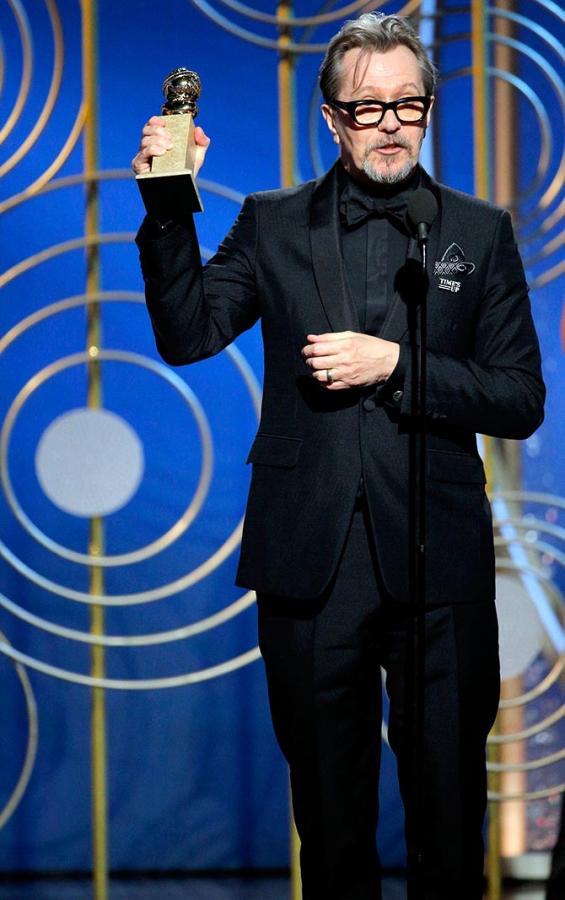 Photograph: Paul Drinkwater/NBCUniversal via Getty Images.
I feel very humbled and surprised to have been asked to this stage. I would like to congratulate my fellow nominees for your beautiful work, I am in very fine company this evening, indeed.
Winston Churchill said, 'My taste is simple. I am easily satisfied with the very best.' And I was surrounded by the very best.
Kristen Scott Thomas, thank you for my beautiful Clementine, your work is exquisite and thank you for putting up with all those awful cigars. Lily James, Ben Mendelsohn, Stephen Dillane, Ronald Pickup, you are gifted, you are supportive, you are passionate and it was a joy to work around you.
I want to thank my magnificent makeup team. Kazuhiro Tsuji, Lucy Sibbick, David Malinowski, your artistry has no equal. You were kind, you were funny and you were patient. And we got through 63 applications.
I would like to thank the producers: Douglas Urbanski, Tim Bevan, Eric Fellner, Lisa Bruce and Anthony McCarten
And my wife who put up with my crazy for over a year. She would say to friends, 'I go to bed with Winston Churchill, but wake up Gary Oldman.' Which is I supposed better than the other way around.
I'm very proud of Darkest Hour. It illustrates that words and actions can change the world and boy of boy does it need some changing.
Thank you the Foreign Press Association and thank you Winston Churchill.