'If you are dark, you can't be a hero.'
'If you have curly hair, you can't be a hero.'
'If you were muscular, you had to become a fighter.'
'Today if you are muscular, you can be a hero.'
'Salman Khan made being muscular fashionable.'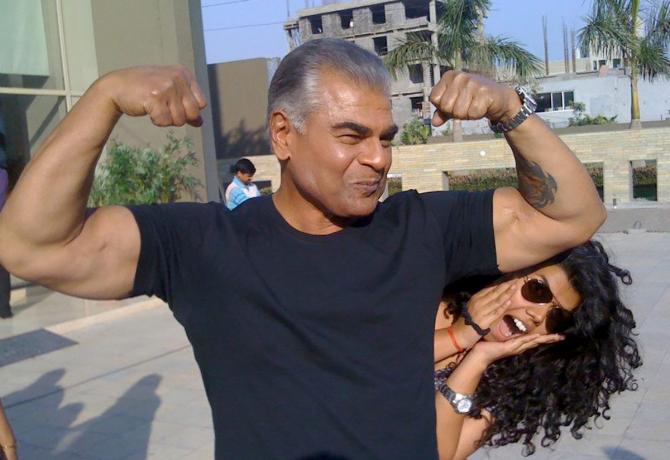 Sharat Saxena may have been given a name like Pintu in Sherni, but he packed quite a punch in the Vidya Balan starrer.
The 71-year-old actor plays a tiger hunter who is only interested in increasing his number of kills.
Director Amit Masurkar makes his role so impactful that one can't help but wonder if this character affected Sharat himself.
"We don't get affected by the roles we do. Otherwise, we will end up in a madhouse," he says.
In his long career, has any role ever affected him deeply?
"No, no, never! Americans ko hota hoga, hum logon ko nahin hota," he says with a laugh.
Even as he retains his humour in the interview, Sharat Saxena is refreshingly straightforward, as he takes Ronjita Kulkarni/Rediff.com through his career of almost 50 years.
The first of a must-read, multi-part, interview:
Did you always want to be an actor?
When I was in school in Bhopal, I decided that I was a very good looking man and that I wanted to be an actor.
I wanted to join FTII, but my father refused.
He said, 'First, become an engineer, then you could do whatever you want.'
So by 1971, I graduated as an electronics and telecom engineer from Jabalpur.
Then I asked my father again, if I could try for the film industry. He said yes.
So I came to Bombay.
I started going to various offices, trying to find work. Slowly and surely, I got small roles in films.
Because I was a muscular person, I used to get work as an action character. I used to do a lot of fights.
I used to get beaten up by the heroes.
In Kaala Patthar, I was in the introduction sequence for three heroes (Amitabh Bachchan, Shashi Kapoor and Shatrughan Sinha). Every hero would come, beat me up, establish himself as the hero and carry on with the film.
I was a punching bag of the film, and that was the story of my life for the first 35 years of my career.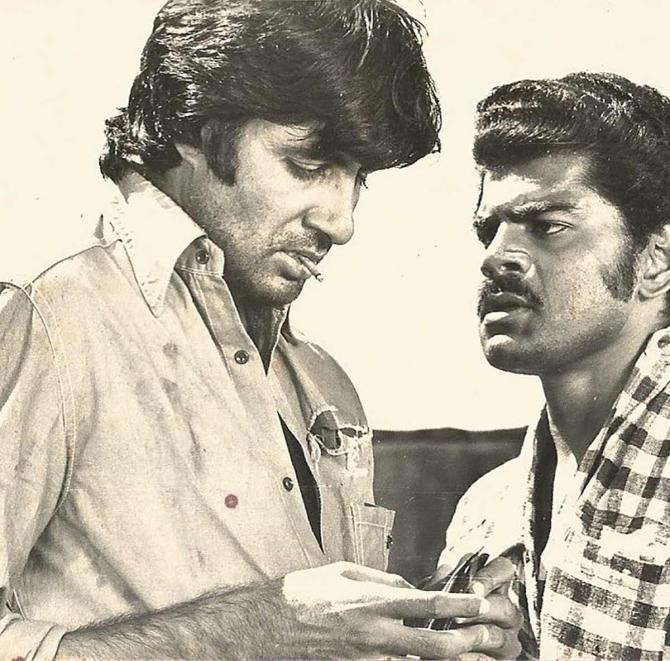 You came to Bollywood to be a hero, but you ended up being a fighter. Were you okay with that?
Nobody can be okay with that.
It is absolutely against your feeling of goodness. It doesn't give you a good feeling.
But that is what happened.
Anyway, one day, I got sick and tired of doing action sequences and I said I'm not going to do it anymore.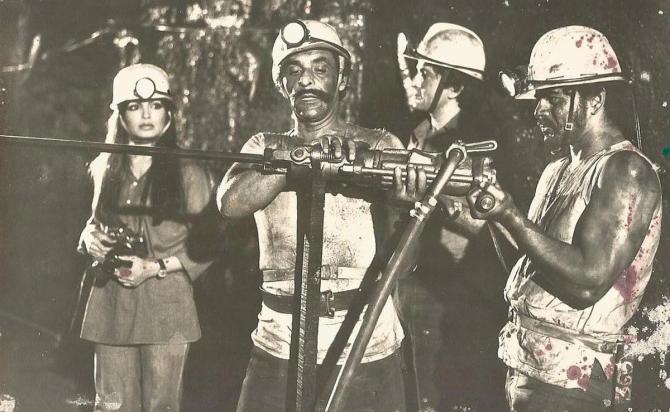 Did you ever try to change your image of a fighter?
It is not possible for anybody to decide what he wants to be in Bollywood. At least, not in those days.
When you are in Bombay, without any support system, you have to do whatever comes to you because you have to make a living. And I had to make a living because I was married and I had children.
When you are a family man, you have to think about income rather than dream about becoming a hero.
My dialogues would be 'Yes, Boss' and 'No, Boss'.
In India, we have this problem that if you are well built, you cannot be a good actor.
Have you noticed that?
Write down the names of all the good actors in India and see how many of them are muscular.
We are the most colour conscious country in the world.
If you are dark, you cannot be a hero.
If you have curly hair, you can't be a hero.
If you are muscular, then today you can be a hero. Earlier, you had to become a fighter.
Today, the world has changed thanks to Salman Khan.
He made being muscular fashionable.
So today, every man who wants to join the film industry goes to the gym first and then to coaching classes.
I joined the film industry at a time when it was the worst time for muscular people.
I continued getting that kind of work because once you work as a fighter in India, it's stuck on your forehead. So everybody wants to take you in that role.
So that went on for a very long time until this film called Saathiya.
Just before Saathiya, I had done a film called Aaghaaz. Suniel Shetty was the hero.
I get beaten up and then my head gets shaved off.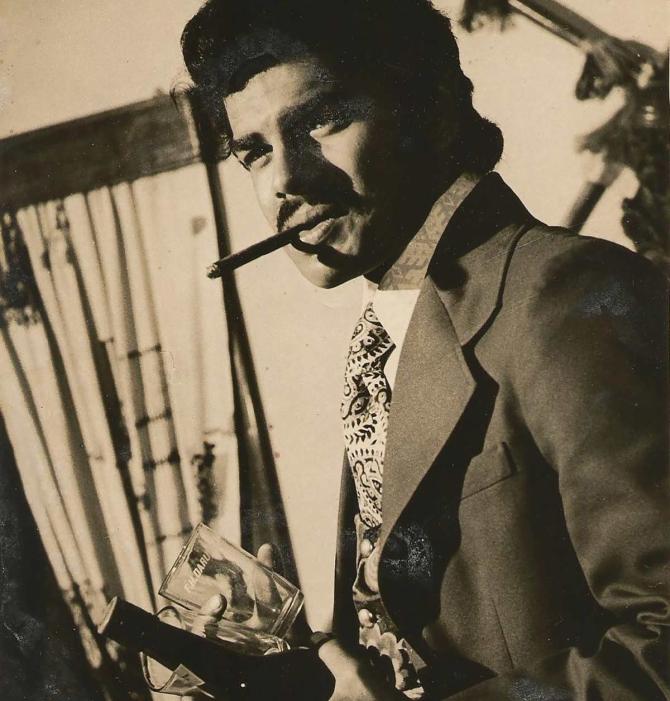 Did you feel humiliated while doing such scenes?
No, this is just a job. It doesn't hurt you.
You are doing an action sequence in a big film and that is what everybody would give his right arm for.
Anyway, after Aaghaaz, when my hair grew back, it was white.
So with this white hair, I got the role of a father in Saathiya.
That film became successful and my character was loved by everybody. In fact, people would stop me on the road and tell me that I reminded them of their father.
That started a new phase in my career.
Now, people were not calling me a fighter. They were calling me an actor.
Fortunately, it continued.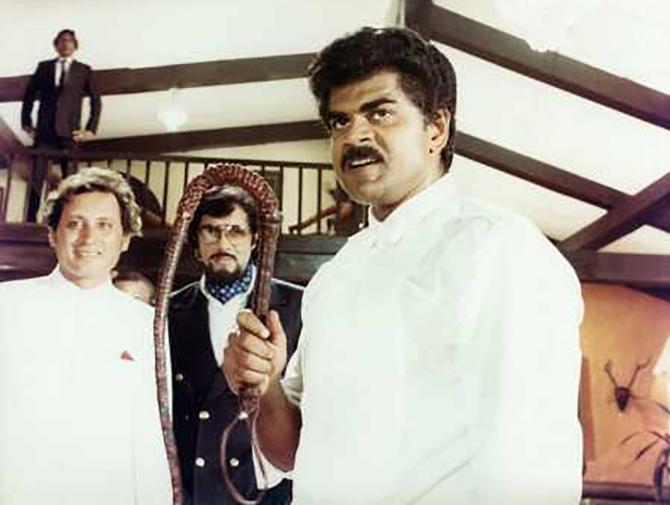 You played quite a few comic characters as well.
Mr India started this comedy thing because Shekhar Kapur told me that all of you guys are basically cartoons.
Mogambo is a cartoon, and so are Daaga and Teja.
So we were trying to make everything look a little cartoonish.
I started comedy there.
I did comedy in Tridev as well.
After that, I put in a little comedy in almost every film where I had a villain's role.
I had noticed that all the senior villains like Pransaab and Ajitsaab used to be villains but they would add a little comedy into it and that made them lovable.
So I did the same thing.
Whenever I played the villain's role, I put in a little comedy, and that makes even children love you.
When children love you, you become a star.
Abbas-Mustan had once told me, 'Sharatbhai, if you're a good actor, you will become a star. But if you want to become a superstar, you have to do comedy.'
See Amitabh Bachchan, Shah Rukh Khan, Govinda... all those who did comedy became superstars. Even Dilip Kumar became a superstar after he started doing comedy.